The PTSD marijuana study is now recruiting veteran volunteers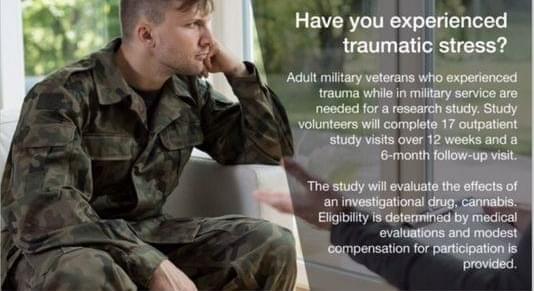 Recently there have been more anecdotal reports of PTSD victims using marijuana to treat symptoms, but now the first official DEA approved study is recruiting veterans with PTSD to smoke different strains of cannabis on and off for a 12 week program observing the effects. The study will be conducted at both Johns Hopkins University in Baltimore, Maryland, and Sisley's Scottsdale Research Institute in Pheonix, Arizona. The study has already recieved over 100 volunteers and is still accepting applicants. 76 combat veterans will be chosen next month and randomly assigned 1 of 4 different strains of marijuana to smoke up to 1.8 grams a day as needed and record the results.
Researchers in Maryland and Arizona are looking for veteran volunteers to smoke up to two joints' worth of marijuana a day in a new study designed to find out if pot helps relieve symptoms of post-traumatic stress disorder.

"We're not arguing that cannabis is a cure, but our hypothesis is that it will at least reduce the symptoms," says physician and study organizer Dr. Sue Sisley.