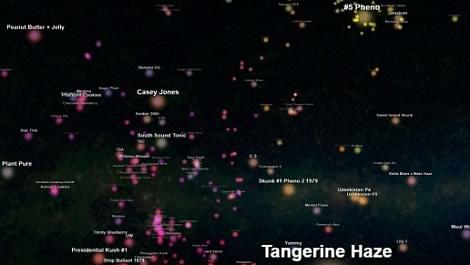 The 3D interactive marijuana 'Galaxy' researchers hope to use to create superstrains of the drug
Hoping to make a map of all the known and unknown strains of cannabis, Phylos Bioscience has been sequencing cannabis DNA samples from allover the world and making a digital 3-D marijuana "galaxy". Breeders can send in a kit with a stem sample of their bud to get properly tested and receive detailed results within 2-4 weeks. The researchers of Phylos have compiled the largest database of the marijuana genome in the world. The research could continue to expand on strains and give growers the ability to authenticate specific strains and protect their intellectual property.
According to Phylos, the genetic report will provide understanding on the strain's closest relatives, clonal relationships, its uniqueness, origin, and more.

This is updated as more strains are added to the database, which was recently made open source through the Open Cannabis Project.

It can also help breeders to protect themselves, the site explains, by providing a certificate of authenticity.
And, it could help to protect breeders' intellectual property, Holmes explained.

They're hoping to establish prior art for the strains that have been collected, keeping the varieties in the public domain and protecting them from patents, according to Vocativ.

'As plant scientists, that's what we care about,' Holmes told Vocativ.