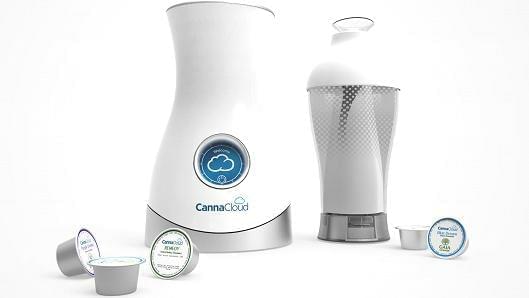 Start-up creates 'the Keurig of marijuana'
A new startup based in Stoneham, Massachusetts is taking the simplicity of the Keurig coffee machine and bringing it to the cannabis industry. CannaKorp is a company with 3 former Keurig executives. With a successful business model similar to the Keurig's, you will likely see the company's first product, the CannaCloud, very soon. The CannaCloud will simplify the entire marijuana experience for users by using prepackaged pods filled wih the ground bud of your choosing. Insert the pod into the machine and in about 1 minute the user can remove the canister and inhale clean cannabis vapor. The canister features a one-way mouthpiece for securing the vapor. CannaKorp expects the CannaCloud to retail for about $150 with each individual cannabis pods for $6-7.
According to the company's website, customers can choose from various types of marijuana — including sativa, indica, hybrid and CBD-only strains. "The pods are pre-ground cannabis flower that are sealed to lock in flavor, aroma, and freshness.