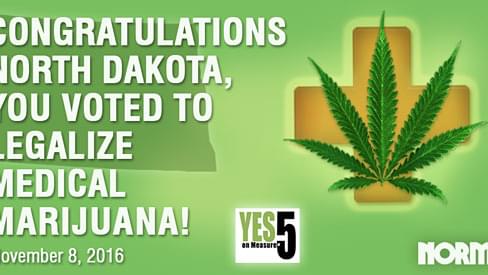 Health Department names medical marijuana division director
During this past election many states passed new marijuana laws including North Dakota who passed a medical marijuana bill with 64% of voter approval. It will take nearly 2 years for the program to become fully regulated and operational, and the North Dakota Department of Health has named a leader to bring the program to fruition. With 33 years experience in the Health Department, and a background in licensing, regulation, and lab management, Kenan Bullinger was named the director of the state's medical marijuana program last week. The Senate has introduced a bill to amend the voter-passed law, which advocates say changes too much of the original bill, and will hold it's first hearing this week.
"Kenan's background in licensing, regulation and lab management all make him an ideal person for the job. He has also been in discussions and provided valuable input regarding the measure, and now law, since the beginning," Arvy Smith, interim co-director of the health department, said in a Friday release.

The first hearing on SB2344 is scheduled for 9:45 a.m. Wednesday in the Brynhild Haugland Room. Lawmakers and state officials say the changes are needed to run a viable program. Measure 5 proponents plan to lodge their complaints, claiming the bill overrides the intent of the law as passed.

The new division will oversee the issuance of medical marijuana cards, licensing and regulation of manufacturing and dispensary facilities, and regulation of medical marijuana products.