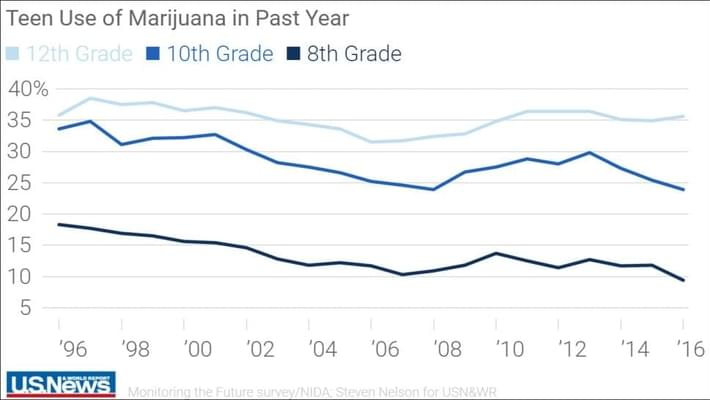 Marijuana Is Harder Than Ever for Younger Teens to Find
One of the greatest fears of anti-marijuana legalization advocates is increasing teens' access to marijuana, but to everyone's surprise the data is showing a consistent decrease. According to the Monitoring the Future survey filled out by 8th, 10th, and 12th graders, teens have shown a fairly consistent decline in access to and use of marijuana since the survey began collecting data in 1992. In 2016, only 64% of 10th graders said marijuana was easy to get making 2016 the lowest amount ever recorded for both 8th and 10th graders, with 12th graders setting their record low in 2015. The data is promising but the explanations are lacking. Legalization has become more prominent without making teen access worse, making the situation a win from almost any angle.
"We're seeing that more people in the U.S. except for teenagers are taking it," Volkow says. "The rates of increases are highest among young adults 18-24, so one would expect that would translate to the adolescents, but apparently it has not."

"Every time a state considers rolling back marijuana prohibition, opponents predict it will result in more teen use. Yet the data seems to tell a very different story," says Mason Tvert, a spokesman for the Marijuana Policy Project. "The best way to prevent teen marijuana use is education and regulation, not arresting responsible adult consumers and depriving sick people of medical marijuana."