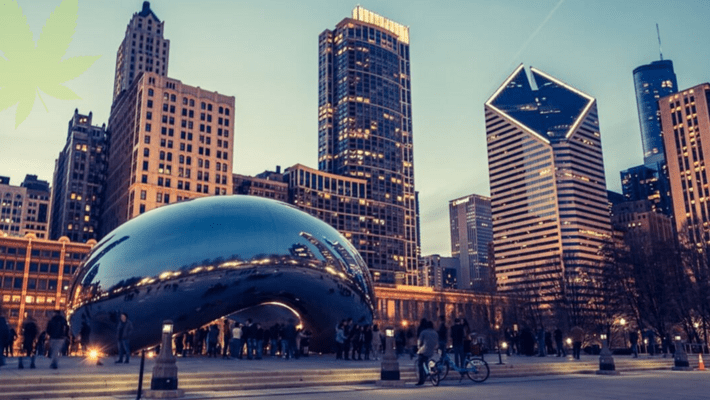 Downtown Chicago Could Miss Out on Recreational Cannabis Despite Legalization
Illinois made history at the start of 2019 by becoming the first state to legalize recreational cannabis through an act of the legislature rather than through a citizen led ballot initiative. With cannabis retailers set to open at the start of 2020, many cities are scrambling to create adequate legislation before the first eighth is sold.

The Windy City has been slow to make any announcements on plans for dispensary licenses and locations until recently. Chicago Mayor Lori Lightfoot released a proposed zoning ordinance earlier this week that outlines districts for recreational cannabis dispensaries that will be opening across the city next year.
Under her plan, the city of Chicago will be divided into seven zones, with each region allowed seven dispensaries. However, most of downtown, including the Loop and the Magnificent Mile, are located within an 'exclusion zone.' Under Lightfoot's zoning plan, one of the most populated areas of the city would be excluded from recreational marijuana sales.

Numerous city officials and marijuana businesses owners are already voicing their opposition to Lightfoot's cannabis zones, as many believe that downtown is a prime area for cannabis dispensaries. Due to the increased foot traffic and tourism that is often found in downtown districts, estimated tax revenue from centrally located dispensaries are in the millions. Alderman Brendan Reilly, who represents the 42nd Ward, says he believes Chicago needs cannabis storefronts in the city's central business district to ensure that his district receives tax revenue from legal weed.
City officials are stating that downtown Chicago should be excluded from recreational cannabis sales due to the population density of the area.


Outside of Chicago, Illinois cities such as Naperville and O'Fallon have recently voted to issue an outright ban on the sale of recreational marijuana in their cities.
Illinois legal recreational cannabis sales are slated to begin on January 1st, 2020 in the state. Many cities are taking preemptive actions and banning sales before they even begin, much to the dismay of many citizens and cannabis business owners.
What do you think about cities banning cannabis despite the state's decision to legalize? Let us know what you think in the comments below!