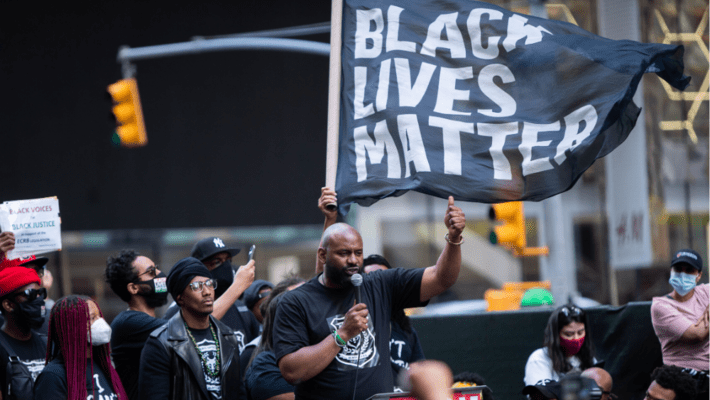 Cannabis Industry Stands in Solidarity Amidst Protests
On May 25th, 2020, a black man named George Floyd was killed by police officersafter being pinned by the neck for almost 9 minutes. As footage of the murder circulated through social media, much of the general public became enraged. How could an unarmed man be killed by a police officer in broad daylight with so many people watching? Sadly, the fact that this happened is nothing new and not a surprise to many. In fact, black people are 3 times more likely to be killed by police than white people. To make matters worse, 90% of police killings end up without the officers being charged with any crime. This terrible reality for many people of color finally came to light in a way that was impossible to ignore. Soon, people took to the streets to make their voices heard.

As protests in support of the Black Lives Matter movementbegan to spread throughout the U.S., some have taken advantage of the general chaos and have turned to looting. The marijuana industry has been hit hard, with over 40 dispensaries across the nation suffering significant losses. While many news outlets group these robberies with the protest movement, we wanted to take a deeper look at what's really going on. Considering the cannabis world is no stranger to racism, we think it's important to understand what Black Lives Matter stands for, what the protests are fighting for, and what the dispensaries are saying.
What is Black Lives Matter?

At the heart of these protests is Black Lives Matter, an organization created after the acquittal of Trayvon Martin's murderer in 2013. The organization states, "We work vigorously for freedom and justice for Black people and, by extension, all people. We intentionally build and nurture a beloved community that is bonded together through a beautiful struggle that is restorative, not depleting." Black Lives Matter also seeks to implement change by organizing peaceful protests through their social media accounts and helping to introduce legislation to end systemic racism.
Why the Protests?

Although there have been protests fighting for justice and equality for years, the recent protests were sparked after the murders of Ahmaud Arbery, Breonna Taylor, and George Floyd. Communities all over the world have grabbed signs and marched the streets shouting for justice. The movement has sparked local schools, the LGBTQ+ community, and many other groups to get involved in making change. In Denver, the public schools came together to march with over 3,000 people in attendance. One student, Ava Motarjeme, said, "I think it's important to show that we're all together in this fight. We all just want to show our support toward the black community and show that we really believe in Black Lives Matter." These protests hope to make a loud statement that is impossible to ignore like the U.S. has been doing for years.
Protests & Looting

While many of the protests have been peaceful, some people have used the general unrest as a means to get away with looting. Unfortunately, this criminal behavior has taken away from the general message of the Black Lives Matter movement. Many news sites fail to report the looting as a separate issue from the protests and group the two together, causing the general public to believe that the goal of the protests is to incite theft. In reality, the goal of most protests is to be peaceful and promote change, not to provoke violence and looting. The Black Lives Matter Chapter 757 in Virginia responded, "We would like to let the world know that we were in no way, shape, or form involved in any type of violence or misconduct that took place."
Dispensaries Hit By Looters
Sadly, the cannabis industry has been hit hard by looters across the country. Over forty dispensaries have been robbed of merchandise, and many have suffered serious losses. Because cannabis is still considered a Schedule 1 drug by the federal government, many dispensaries must operate with cash due to banks being unable to work with them. This fact makes these businesses vulnerable to looting, as they are known to keep cash inside the store.
Although they have had considerable damage from lootings, many dispensary owners have still responded with words of support toward the Black Lives Matter Movement. Debby Goldsfield, the owner of Magnolia Oakland, said, "Our shop can be rebuilt, but the black lives taken by the police, again and again, are gone forever. Simply put, the police are murdering people right before our eyes." Both the local and cannabis communities have risen around Magnolia Oakland and offered to help clean up and donate funds and goods to restore the business.
Another store hit by theft was Cookies Melrose in Los Angeles, owned by the famous rapper Berner. He responded in an Instagram post "I can't expect anything less until justice is served. We can rebuild our store, but you can't bring someone back to life."
Other owners, such as Kris Krane of Mission South Shore Cannabis Dispensary in Chicago, have pointed to the fact that these lootings have nothing to do with the protests. Krane stated "The people that looted the store in Chicago, these are not the protesters. This was a planned attack...I worry that incidents like these detract from the goals of the protests and the very important goals of fighting for social justice and police accountability and racial equality."
What Next?

Although there's a long way to go, signs of progress are starting to form as the protests continue. In Minneapolis, where George Floyd was killed, the city council has vowed to dismantle the police force. In New York City, the mayor has pledged to divert funding from the police departmentinto public programs for youth. Furthermore, the Denver Public Schools have decided to end their contract with the Denver Police and have opted to go with private security instead. These changes are small steps of progress toward ending systemic racism, and are a direct result of the continued protests.
Have you been to the protests? What was your experience like? Tell us your story below!