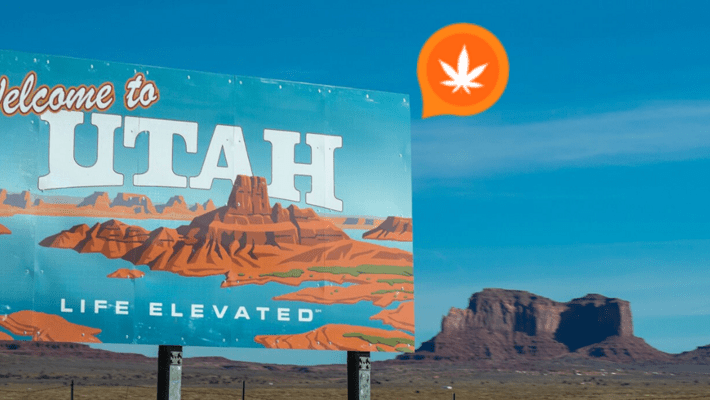 Utah's First Medical Cannabis Dispensary Opens in Salt Lake City
Although Utah's groundbreaking medical marijuana initiative, the Utah Medical Cannabis Act, passed in November of 2018, the rollout has been painfully slow for the state's patients. It has taken nearly two years for the state to finalize the rules, laws, and regulations associated with its marijuana program, with the first Utah dispensary finally set to open its doors early in March 2020. This grand opening was a long time coming for the more than 23,000 medical cannabis patients in the state.
Utah's program has improved since the first legal medical dispensary opened its doors for customers in March 2020 by approving home delivery and drive-thru pick-up in the wake of the COVID-19 pandemic. Advocates quickly point out areas where the Beehive state can still improve. As a prime example of that current push for improvement, a piece of legislation that would protect workers' rights with medical cards is being advanced and discussed at the time of writing.
To understand where Utah's program is going, what patients are fighting for, and how it can continue to improve. It's vital to understand the complicated history of legal weed in Utah. Thankfully, we here at Where's Weed are here to provide that valuable context to both current and prospective medical patients in Utah.
The History of Legal Weed in Utah
It's fair to say the state of Utah had a problematic relationship with cannabis before legalization efforts that would eventually lead to the medical program that exists today.
Before 2019, Utah was one of only 19 states that still punished simple possession charges with jail time. Simply put, it was precarious to carry around cannabis of any kind while in Utah. Getting caught with as little as an ounce or less could land you in jail for six months, a severe punishment for a minor crime. What's worse is that, just like the rest of the racist and failed War on Drugs, these policies disproportionately affected people of color.
According to the ACLU, Black Utahns were over three times more likely to be arrested and jailed for possession charges than their white counterparts. What's even more insane is that this form of aggressive and outdated, racially-biased policing was still occurring while most Utah citizens supported full-on adult-use legalization of cannabis.
So when reform did finally come in the form of a medical cannabis program, Utah legalization advocates were quick to throw their support behind the initiative. Finally, on November 6, 2018, Utah voters approved Proposition 2, which would legalize medical cannabis for patients all over the state as of December 1, 2018. Unfortunately for patients, however, it was not that simple for the program to get up and running.
Delays in Establishing the Program
Immediately following the passage of Prop 2, Utah lawmakers called a special legislative session to replace it with a "compromise bill" agreed upon by both proponents and opponents of the newly passed bill, a new piece of legislation that included tighter restrictions on patient access and more state-level program oversight.
This delay pushed the opening of licensed dispensaries back significantly, with the original opening date of December 1, 2018, turning into March 2020. Since dispensary doors have opened in Utah, however, it's been evident that the program is a big hit for the state. While things started slow for Utah medical dispensaries, with only 14 opening their doors, sales projections sat at only a measly $3.5 million for 2020. As the state has handed out more medical cards for patients and more growing/operating licenses for Utah-based cannabis brands and dispensaries, that projection for 2021 exploded to between $20-24 million.
Today, the program is thriving. There's a wide variety of dispensaries all over the state for patients to visit and enjoy, and more patients who need access to their medical cards can receive their certifications thanks to program expansions. No matter how you slice it, medical cannabis in Utah is a hit for patients in the state.
To apply for your medical cannabis card in Utah, visit the state's Medical Cannabis Program website.
Where to Find Medical Cannabis Dispensaries in Utah in 2020
Due to the growth of Utah's medical cannabis program over the past few years, those looking to visit medical dispensaries have a few great options to consider. While it's fair to say that the number of dispensaries in Utah might be low compared to other states, it's certainly better than nothing.
So with that in mind, here's a comprehensive list of each medical cannabis dispensary open for customer purchases!


Brigham City
Cedar City
Lehi
North Logan
Ogden
Park City
Payson
Provo
Salt Lake City
South Jordan
Springville
St. George
West Bountiful
For a more comprehensive list of medical dispensary locations, phone numbers, addresses, and exact spots in Utah, click here.
The Bottom Line
Finding a quality medical dispensary in Utah can be a challenge. Thankfully, we here at Where's Weed have your back. Our website has a complete list of medical dispensaries, their menus, location, and prices. We can direct you to helpful resources like medical cannabis doctors, pages about Utah's medical cannabis laws, and helpful blog posts that inform you about important topics!
Available on both IOS and Android products, the Where's Weed app is a must-have for medical patients trying to get a hold of their medicine when they need it most! No matter where you are in the Beehive State, Where's Weed is there to help you find the dispensaries and medical cannabis resources you need to track down a perfect Utah dispensary!