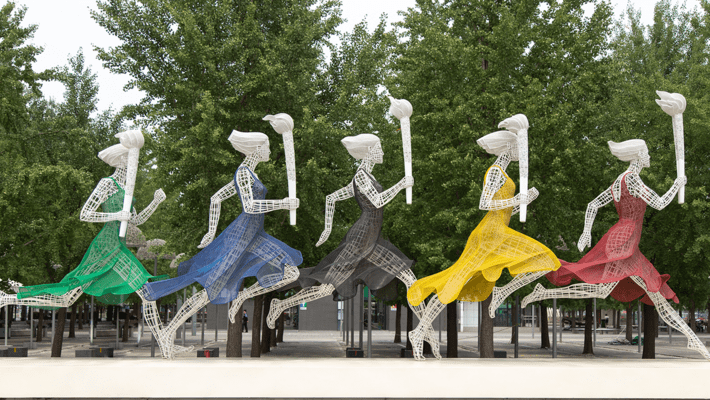 What's the Deal With Sports & Cannabis Testing?
Sha'Carri Richardson is one of the fastest women in the world. She qualified for the 2020 (2021) Olympics in the 100m and was America's hope for a gold in the event for the first time since the 1996 Olympics. Then, just after her qualifying run, she was suspended for one month due to testing positive for marijuana, effectively ending her 2020 Olympic run. The decision caused a nationwide uproar with many believing that the disqualification is too steep for marijuana. So, we're here to take a look at the current state of cannabis acceptance across sports, how the Olympics handle drug testing and recent changes that have been made in certain American sports in the wake of increasing US cannabis legalization.
Sha'Carri Richardson & the Olympics Drug Testing

Several days before her first Olympic Trials, Richardson found out her biological mother passed away. This revelation led her to use marijuana while in Oregon for the U.S. Olympic Trials. She has since stated that she's not looking for an out and wants to take responsibility for the actions she knew were against the rules, but she has also focused on the ethics of being human and the rigidity of an outdated marijuana policy.
Because the World Anti-Doping Agency and the United States Anti-Doping Agency both ban the use of marijuana during competition periods, Richardson received a minimum one-month ban for testing positive. If she receives the minimum one-month ban, she may still be able to qualify for the 4x100 meter relay team. The decision is up to the USA Track and Field management, who has stated that they will work with Sha'Carri to ensure she receives any necessary help to overcome current and future "mental health challenges."
Campaigns to Change the Olympics Drug Testing Policies
After the 2012 London Olympics, the threshold for positive marijuana was increased to ensure that only in-competition was detected, not use during the days and weeks beforehand. But marijuana is still on the banned substances list because it is deemed to meet two of these three thresholds: potentially enhances performance, violates the spirit of sport, and/or poses a health risk to athletes.
However, the Sha'Carri Richardson incident has rekindled the conversation of why marijuana is still tested and penalized like other performance-enhancing drugs. There are countless petitions out there right now to remove the ban of marijuana from the Olympics doping list. Even the United States Anti-Doping Agency (USADA) is now looking to start negotiations with the World Anti-Doping Agency (WADA) for more relaxed marijuana restrictions. While nothing can be done to reinstate Richardson into the 100m, what has happened may lead to it not being an issue for athletes in future Olympic Games.
Cannabis & Professional American Sports

Especially when compared to the major sports leagues in America, the Olympics Drug Policy might easily be seen as behind the times. There have been major changes in drug testing policies for professional sports in America over the last several years, so let's look at some of the biggest sports leagues in America: National Football League (NFL), National Basketball Association (NBA), Major League Baseball (MLB), National Hockey League (NHL) and their marijuana policies.
National Football League
The NFL is one of the most recent leagues to relax its drug testing policy. A CBA was passed last year that loosens restrictions, and the league has stated that NFL drug testing for marijuana won't occur during the off-season, from April 20 to August 9. Moving forward, if a player tests positive for marijuana during the season, his results are reviewed and may receive treatment depending on the findings. While there's still room for improvement compared to other sports, the NFL marijuana policy is looking up.
National Basketball Association
Drug Testing in the NBA was recently relaxed due to COVID-19 precautions. Players are not being randomly tested during the 2020-21 season, and many within the industry believe it will be a permanent change. Before this, the NBA drug policy had already been loosened so that a player earns suspension from the league only after testing positive for marijuana three times.
Major League Baseball
In December 2020, the MLB officially took marijuana off the banned substances list. Baseball players within the league will be assessed for marijuana the same way they are for alcohol -- treatment will be provided if it is determined to be an issue. It has also made progressive steps forward with its overall MLB drug testing policy, referring players to treatment if they test positive for opioids or cocaine, rather than penalizing them.
National Hockey League
The NHL was the first professional league to loosen restrictions, and they've had a treatment-based policy since 2016. The league's official stance is that drug tests are meant to identify who needs help, not who needs to be punished. After testing positive, a player's results are sent to the league's Substance Abuse and Behavioral Health (SABH) Program, which decides if the player's NHL drug testing results show concerningly high levels. Up until the point a player's results are flagged as concerning, all tests are conducted anonymously.
Sha'Carri Richardson's situation has incited a nationwide discussion on marijuana and drug testing in professional athletics. What is your opinion on the matter? How do you feel about the NFL weed policy and other professional sports? Comment below!