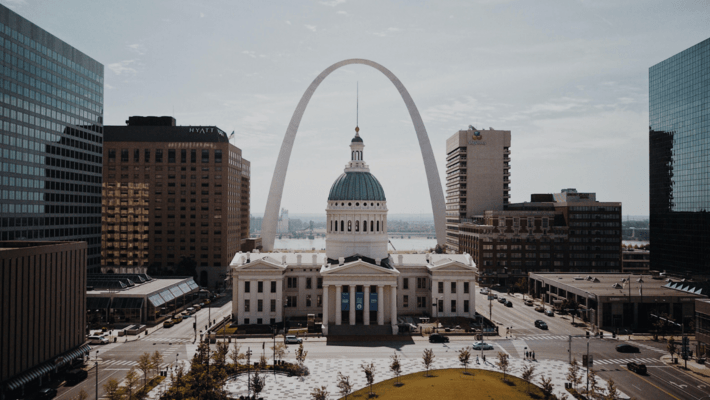 St. Louis Mayor Signs Historic Bill to Decriminalize Marijuana Possession and Cultivation
Now that the western and northeastern states have led the way towards cannabis reform, with many of them fully legalizing marijuana, states between them in the Midwest are starting to follow suit. Plenty of evidence that decriminalization reduces jail populations and saves tax money is now available and increasingly getting harder and harder to ignore. Mayor Tishaura Jones of St. Louis, Missouri, has taken the next step towards ending prohibition by signing an edict that would decriminalize weed in one of the United States' largest cities, a city where its use has long been controversial. How does this affect policy in the area and broader national policy?
History of St. Louis

If you travel to any American city with the prefix "Saint," "San," or "St.", you know that you're in a city that once belonged to another country, specifically a Catholic country. Just like San Diego once belonged to the Spanish, St. Louis once belonged to France. Named after King Louis XIV, it was a key center for French trade at a time when they were one of the most powerful nations in the world, controlling pretty much everything between the Gulf of Mexico and the Great Lakes. Like all other French cities, including New Orleans, it was signed over to the United States in 1803 when Thomas Jefferson enacted the Louisiana Purchase. Echoes of history remain in the form of street signs and the city flag, which bears a fleur-de-lis.
During the 19th century, St. Louis was one of the largest and most important cities in the U.S. Prior to railroads and highways, most shipping in the U.S. took place on actual ships, sailing up and down rivers. Since St. Louis lies at the intersection of the Ohio, Missouri, and Mississippi rivers, it was a valuable trade center for boats going up and down the river carrying cargo. The city remained important as a railroad hub and a gateway to the western states, which is why it commemorated its anniversary with its iconic arch.
Laws and Lawlessness

St. Louis weed laws, like those of many other cities in the 1900s, followed the national prohibition that limited the growth and consumption of marijuana. Given the racial discrimination against marijuana, due to its perception as a "black" drug that could corrupt whites, Stl weed laws were particularly harsh given its high African-American population: making up 45% of the population, St. Louis is one of the few major cities in the U.S. where blacks are the majority. Punitive Missouri cannabis law remained the norm, leading to high incarceration rates and poverty. Even today, East St. Louis is one of the country's poorest and most violent places, with a murder rate higher than any other American city (and behind only eight other cities worldwide). Missouri cannabis prosecutions have been high historically.
Missouri medical marijuana only became legal in 2018 with a ballot measure approved by voters. This made it one of the latecomers to the legalization effort; Missouri passed a medical cannabis law an entire decade earlier. However, this initial step led towards greater and greater freedoms. The same year, the city of St. Louis voted to levy a $25 fine on marijuana usage, meant to cut down on the drastic number of arrests and imprisonments for a drug we know is far less harmful than alcohol or tobacco.
Mayor Changes

With the election of Mayor Tishaura, pro-cannabis advocates gained a sympathetic ear. The mayor criticized "outdated" cannabis laws that were punitive and discriminatory. However, as mayor, her powers are relatively limited: while she has the authority not to order arrests or jail time for cannabis, she cannot change the laws on her own. For that, she needed the city council, which in turn required a bill from the city's aldermen. St. Louis' aldermen, like those of Chicago, are responsible for individual districts, making them function roughly in the same manner as a senate. Their 23-0 decision to decriminalize cannabis and expunge all cannabis-related crimes put the legislation quite literally on the mayor's desk.
With decriminalization comes change, but what does decriminalize mean? For starters, it is not the same thing as fully legal, as cannabis is in Colorado or Oregon. In the decriminalization vs. legalization fight, St. Louis has chosen not to go as far as the nation's most progressive cities and states. St. Louis may have eliminated the penalties for smoking weed, but that does not mean that dispensaries are going to pop up throughout the city. It will also remain illegal to sell marijuana to underage persons (although this is typical of areas with full legalization and not unique to St. Louis).
Full legalization may be coming soon, however. Multiple ballot initiatives have failed to gain state-wide support, but as the state's largest city changes its laws, so too will voters change their minds, a process that has been seen in many other cities and states. However, full legalization cannot happen until the 2022 election, meaning the law would not take effect until 2023; those who wish to start their own pot business will have to look across the river to Illinois, where it is fully legal.
Have you been to St. Louis or have friends and family there? How does it compare to your other favorite cities? Let us know in the comments below!