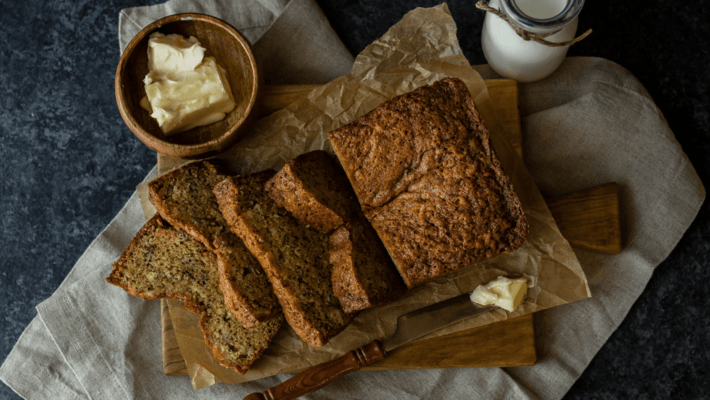 Cannabis Recipes: Infused Banana Bread
We try not to bring up the insane year that was 2020, but sometimes you just must. There were many different chapters of 2020, and the global pandemic, one of our favorites of deep quarantine was when everyone (and we mean everyone) decided they were going to make bread. Whether it was wrestling with a sourdough starter or attempting a classic banana bread, people were in the kitchen like never before. As an ode to 2020, below is an easy guide for how to make edibles with weed: banana bread edition.
Don't Forget Decarboxylation
When it comes to making edibles, your baked goods are useless without this process. "Decarbing" your weed is paramount because it uses a specific amount of time, heat and light to transform THCA into THC. THCA is the precursor to THC, so without this process, you won't feel all the wonderful effects that can accompany the usage of cannabis. The removal of the carboxyl ring results in THC, so you can feel all the feels - whether that is the euphoria, paranoia or increased heart rate.
How to Make Easy Edibles: Dosing 101

While decarboxylation may sound straightforward, the process of correctly dosing an edible is not. Properly dosing an edible will determine whether your friend has the best or the worst time. Still, it is unfortunately not an exact science due to bodies metabolizing everything differently. Here at Where's Weed, we recommend trusting an online dosing calculator or perusing our in-depth article on the process. Remember, starting low and going slow is always advised, and reaching for a high CBD, low THC strain may be the best option to start with.
Cannabis Recipes: Banana Bread
With all cannabis recipes, they will always call for an infused base. Here you'll need a cannabutter base (sometimes its oil), and while you may be wondering how to make cannabutter, refer to our article for how to make it here.
Ingredients:
2 to 3 very ripe, peeled bananas
1/3 cup cannabutter, melted
1/2 tsp baking soda
1 pinch salt
3/4 cup sugar
1 large egg, beaten
1 tsp vanilla extract
1 1/2 cup all-purpose flour

Instructions:
Preheat the oven to 350 degrees Fahrenheit and grease a 4x8-inch loaf pan.
Using a fork, mash the bananas in a bowl until smooth. Stir in melted cannabutter.
Mix in baking soda and salt, then stir in sugar, beaten egg and vanilla extract. Finally, mix in the flour.
Pour batter into loaf pan and bake for 50 minutes to 1 hour, or until a toothpick inserted in the center comes out clean.
Remove from oven and let cool.
Add some optional chocolate chips on top for a bit of sweetness.
Enjoy.
Is banana bread a go-to recipe for you, or do you get rid of the bananas when they go bad? Tell us your favorite weed-infused recipe in the comments below!