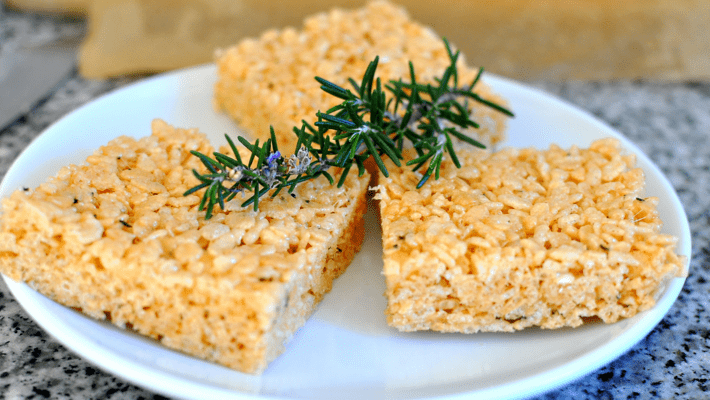 How to Make Cannabis-Infused Rice Krispie Treats
There is only one way to improve our absolute favorite childhood treats as adults: add weed to them. Today, we're diving deep into one of the gooiest and most popular desserts at the bake sale: Rice Krispie treats. Rice Krispie treats, as you likely already know, are dessert bars primarily composed of melted marshmallows and the classic cereal mixed together and cooled to form the perfect on-the-go bar-shaped snack (be sure to bring a napkin).
Cannabis-infused Krispie treats are even better than the original, bringing joy to your tummy and your mind with the many life-improving benefits of marijuana. While you might be able to find similar edibles in a dispensary near you, there are quite a few advantages to using a Rice Krispies recipe to make your own delightful stoner snacks.
Why Make Your Own Edibles
Saving money
One of the top reasons that many stoners choose to make their own edibles instead of buying them is to save on the high markup and taxes that many dispensaries charge for a similar product. Edible Rice Krispie treats prices can be as high as $40 for a single serving of the snack, whereas making them at home will give you a whole tray for just the cost of weed and supplies to save for yourself or hand out to friends.
Dosing
With some commercial edibles' THC percentages skyrocketing to as high as 500 mg per serving, it can be nice to decide your dosage at home to control the level you're trying to reach. Though it requires a bit of math, correctly dosing is paramount to making edibles at home. Especially if you're planning on sharing your creations with your pals, having the proper dosing information is crucial so everyone can make informed choices on how to consume cannabis.
This in-depth guide on how to dose your edibles at home is an excellent resource for determining your Rice Krispie edible milligrams. If you're new to taking edibles or have a low tolerance, be sure to start with a low dosage and allow plenty of time before you decide to increase it. Also, keep in mind that these snacks are delicious, so if you aren't able to resist digging into the pan for another one, go lighter on the strength.
How to Make Infused Rice Krispie Treats

Ingredients
Cannabutter: 1 stick (see below)
Cannabis: 3.5 - 7 g (depending on dose)
Rice Krispie Cereal: 6 cups
Marshmallows: 5 cups
Vanilla Extract: 1 teaspoon
Salt: 1/4 teaspoon
Supplies
8x8 baking pan
Large saucepan
Parchment paper
Silicone spatula
Sharp knife
Air-tight container
"Decarb" Your Cannabis
Before you can infuse your butter or fat, an essential step in creating any edible at home, you must first decarboxylate your cannabis. Often called "decarbing" for short (and because stoners can't resist a nickname), you lightly bake marijuana at a low level of heat over a long period of time to activate the compound which exists naturally in the plant as THCA into the cannabinoid we all know and love: THC. To decarb: bake your nugs on a parchment-lined baking sheet at 240 degrees Farenheit for 25-45 minutes (drier cannabis will require less time). Then, stir/flip cannabis halfway through to ensure even baking.
Prepare the Cannabutter

Now, for one of the most exciting steps in the Rice Krispie edibles process: infusing your butter with THC. Once you have cannabutter, you can use it to make any recipe - sweet or savory - into your new favorite edible. To prepare:
Add your decarbed cannabis and butter to a heat-proof bowl and place in/on a pot of approximately 2 inches of water to create a double boiler.
Bring to a boil, then reduce heat to low and simmer for at least 40 minutes.
Strain through cheesecloth to remove as much planter material as possible.
Directions
Line your 8x8" baking pan with parchment paper and set aside.
Add cannabutter to saucepan over medium-low heat. Warm until melted completely.
Add the marshmallows, stirring with your spatula to prevent burning, until they are completely melted.
Add in vanilla extract and salt, stir, and remove from heat.
Stir in the cereal slowly, fully incorporating with marshmallow mix before adding more. Continue until the mixture is combined.
Pour the mixture into your prepared pan. Use the spatula to press down the mixture into the pan to create a layer that is as even as possible.
Allow the mixture to sit and cool for at least 1 hour before cutting, refrigeration is optional.
Using a sharp knife, cut into evenly sized pieces.
Remove from the baking pan and serve or store in an air-tight container for up to one week.
What's your favorite cannabis-infused edible? Let us know in the comments below!