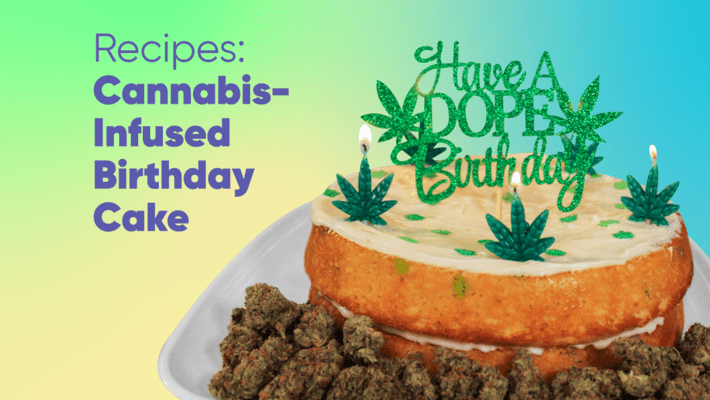 Recipes: How to Make a Cannabis-Infused Birthday Cake for Your Favorite Stoner
Despite what people say, you can have your cake and eat it too....nbsp;Cannabis-infused goodies are a favorite in the stoner community. If there's a friend of yours whose birthday is coming up, we have a fun stoner birthday cake idea just for you. Help make their birthday the most stoned yet!...nbsp;
Baking from scratch, especially when infusing cannabis-infused birthday cake, can initially seem daunting. But don't be intimidated. Below are all the recipe ingredients and step-by-step directions....nbsp;
Ready for the opportunity to make your first weed birthday cake? When it comes to dosing, it's important to take note of the butter you need to use - cannabutter....nbsp;
What is Cannabutter?

Cannabutter is butter infused with cannabis. This butter is what allows tasty treats (like edibles) to be infused with THC....nbsp;In this recipe, the cannabutter will be the main ingredient. Without it, your stoner birthday cake will be a plain ol' cake.
Where to Buy Cannabutter
Your local dispensary will likely have cannabutter pre-made for purchase....nbsp;Note that cannabutter does, in fact, taste like cannabis, and the flavor can sometimes be overpowering. This is one reason why cannabutter tends to be "hidden" in the batter of edibles rather than used in icing....nbsp;
How to Bake a Cannabis-Infused Cake
Before you start baking, ensure your cannabutter is ready to go at room temperature....nbsp;This recipe is a yellow cake with sprinkles (funfetti), but it can easily be customized to your stoner friend's liking. Add the icing, topping, or filling of your choice!...nbsp;
Ingredients
3/4 cup cannabutter (room temperature)
2 1/4 cup cake flour
2 tsp vanilla extract
1 tbsp baking powder
1/2 cup sprinkles (of your choice)
1 tsp salt
1 1/2 cup sugar
1/4 cup vegetable oil
2 eggs with the whites and yolks separated (don't discard either)
4 egg whites
1 Cup Milk
Directions

Preheat oven to 350 degrees Farenheit....nbsp;
Butter two 9-inch cake pans or use cooking spray.
In a mixing bowl, sift the cake flour in. Add the salt and baking powder. Mix.
Cream the cannabutter and Sugar together until it's fluffy and light in color.
Add in the vegetable oil and mix in the two egg yolks....nbsp;
Mix in the vanilla extract, then set aside.
In a separate bowl, using an electric mixer, whip the six egg whites on high speed until you get medium-stiff peaks.
Add 1/3 of the flour mixture into the cannabutter and mix....nbsp;

Add in a 1/2 cup of milk and mix....nbsp;
Add another 1/3 of the flour mixture and mix....nbsp;
Add the remaining milk and mix again....nbsp;
Add the last of the flour mixture and mix to combine.

Add egg whites and sprinkles. Fold them into the batter.
Divide the batter evenly between the two cake pans. Bake for 30-35 minutes or until an inserted toothpick comes out clean.
Let cool.
Decorate as you wish!
Notes About This Cannabis Cake

This recipe can easily be turned into cannabis-infused cupcakes if your stoner friend prefers dessert on the go. One batch of mix will make 24 cupcakes. Be sure to watch the timer, as they'll be done in half the time, about 15 to 25 minutes....nbsp;
A weed birthday cake is sure to be different and a guaranteed hit for your stoner community. If your favorite stoner's birthday is around the corner, do something different for them this year. The bulk of the ingredients are no different than that of a standard birthday cake recipe, so don't think it's too complicated! And cannabutter is relatively easy to find at a nearby dispensary.
Remember to consume safely and inform your friends how much THC is in the cake before anyone grabs a slice....nbsp;
Also, keep in mind that edibles (like cake and cupcakes) can have a delayed effect after eating. This is because the food is first digested in the body before absorption. Depending on factors such as the last time you ate, the absorption process can take anywhere from 30 minutes to 3 hours. Consume responsibly ...amp; enjoy, friends!...nbsp;