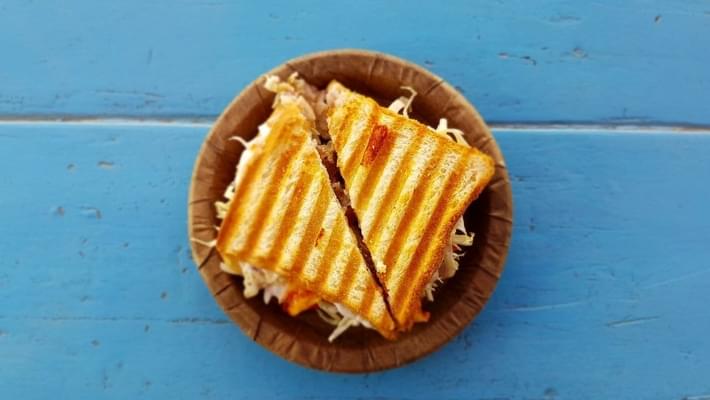 Three Variations of Cannabis Infused Grilled Cheese
While we might currently be in the midst of the dog days of summer, with the temperature getting higher and higher each day, the sun shining bright, and people out and about soaking up the blazing summer sun, we all know that cooler temperatures are on the horizon. Once the Fourth of July passes, it's a downhill slope into football season, apple and pumpkin patch adventures, and hoodie weather....nbsp;
Simply put, Fall is fast approaching, and here at Where's Weed, we're all about prepping our readers for what's to come. Information is power, after all! So while you're swapping out your summer wardrobe full of shorts, tank-tops, and open-toed shoes for flannels, jeans, hoodies, and footwear fit for raking leaves, we wanted to provide you with a quick and tasty classic recipe with a cannabis-fueled twist....nbsp;
That's right, folks! We're here with an easy and delicious infused weed grilled cheese recipe that not only will satisfy that nostalgic urge for a crispy, melty grilled cheese but will also come with a built-in cannabinoid punch....nbsp;
We'll break down what ingredients you'll need and how to make a weed grilled cheese sandwich of your own step-by-step, along with touching on the process for how to make your own cannabutter and other infused edibles at home, saving your time, money, and trips to the dispensary in the process! Just think of this article as your go-to guide for all things weed grilled cheese, your handy step-by-step guide for how to make a weed-infused childhood classic....nbsp;
So, with all that in mind, let's get right into it!...nbsp;
The Basics of Making Your Own Infused Edibles...nbsp;

Before we do a deep dive into what ingredients and processes you'll need to take for making a cannabis-infused grilled cheese of your own, you'll first need to know how to make your own cannabutter. After all, it's an essential building block of all three of the cannabis-infused grilled cheese recipes we're about to provide for you!...nbsp;...nbsp;...nbsp;...nbsp;
While we've covered how to make cannabutter at home with just a few basic ingredients and even in an instant pot here at Where's Weed before, we think it's worth providing a simple, bare-bones breakdown of how to make it for yourself here. After all, it's tough to put together a tasty, crunchy, and cheesy cannabutter grilled cheese without having some cannabinoid-rich butter on hand, right?...nbsp;
All you'll need to make some cannabutter of your own is traditional butter, some weed of your choice, and an oven. You'll decarb your cannabis in the oven, then mix it into melted butter. This process will transfer the cannabinoids from the weed into the butter, allowing you to get all of the benefits and effects of standard cannabis consumption without the need to light up. Perfect for folks living in apartments who want to be discrete or just health-conscious folks who aren't looking to smoke, that cannabutter is the key to making all different types of cannabis-infused treats, not just your standard weed-infused grilled cheese....nbsp;...nbsp;
Not only will keeping that cannabutter on hand be great for making delicious edibles, but it will also save you lots of money in the long run. After all, dispensaries aren't exactly the most affordable for many, especially when picking up edibles. Setting aside an afternoon and making some cannabutter of your own is well worth the time spent and will give you some serious ROI in terms of long-term enjoyment and options!...nbsp;...nbsp;
If you're looking for a more in-depth, step-by-step style guide, we highly suggest checking out our website for resources on making your own cannabutter or other infused fat sources perfect for cooking!...nbsp;
How to Make Your Own Cannabis-Infused Grilled Cheese
Not only are we coming in clutch for you here at Where's Weed by providing a top-notch tasty cannabis-inspired treat right before the start of the cold weather, but we're doubling down and providing three different delicious variations. Variety is the spice of life, after all!...nbsp;
So we'll introduce each recipe, the ingredients you'll need to make one of your own, and a quick breakdown of how to go about making one of your own! Let's get right into it!...nbsp;
The OG Grilled Cheese
Before we get too fancy, let's start with the basics. All you'll need to make the OG Grilled Cheese is two pieces of white bread, a slice of cheddar cheese, and a few tbsp of your infused cannabutter....nbsp;
From there, you'll want to follow the standard, easy process of making grilled cheese. You'll spread the weed-infused butter onto both sides of the bread, then place that bread in a well-greased hot pan for just enough time to let the bread toast golden brown....nbsp;
Then, add your cheese to the middle of the sandwich, then grill until melty and delicious. That should take only about 3 minutes on each side, giving you a tasty, delicious, and simple-as-pie cannabis-infused grilled cheese to snack on when the weather starts getting chilly....nbsp;
Now that we've got the basics out of the way, let's get a little fancy with our next few variations, shall we?...nbsp;
Caprese Grilled Cheese
If you're looking to take your grilled cheese up a notch with some Italian-inspired flavor, this next entry on our list is for you! To make one of your own, you'll need two slices of bread, some fresh mozzarella cheese, basil, and tomato. While it might seem a little much for grilled cheese, the added flavor of those fresh ingredients will take your taste buds to nirvana along with that healthy dose of cannabinoid power....nbsp;...nbsp;
Here's how to make one:
First, you'll want to prep your ingredients. Slice your tomatoes and mozzarella cheese, then dice your basil. Let rest for a minute while you butter your bread with cannabutter and toast it in a well-greased pan. Once the bread is golden brown, put a slice of the mozzarella and tomato onto the bottom piece of bread, then sprinkle some of that diced basil on top....nbsp;
If you're looking to add even more flavor, consider greasing the pan with a bit of garlic-infused olive oil before you put the sandwich on the pan and heat for about 3 minutes on each side....nbsp;
Let cool for a minute or two outside of the pan, then enjoy this Italian-inspired cannabutter grilled cheese!...nbsp;
Spinach and Feta Grilled Cheese

Last but certainly not least, we have a veggie-fueled weed grilled cheese with a kick of spice and a cheesy, tangy punch. Trust us, this one is worth expanding your palate for if you're usually not a fan of leafy greens that don't come from the dispensary. All you'll need to make one is two slices of bread, 2 tbsp of cannabutter, some shredded mozzarella cheese, feta cheese crumbles, about 1/4 lb of spinach, and some spices to take things to the next level....nbsp;
Here's how to make one:
Start by applying some cannabutter to the bread. Grease your hot pan with olive oil and throw the spinach in with salt and pepper to taste. While it might look like a crowded pan at the moment, don't worry. That spinach will wilt and shrink up as it cooks....nbsp;
While the spinach is cooking, go ahead and sprinkle some shredded mozzarella cheese onto one side of both pieces of your bread, followed by the feta. If you're feeling fancy and want to add even more flavor, go ahead and sprinkle a pinch of red chili flakes to taste as well....nbsp;...nbsp;

Once that's done, take your now cooked spinach, put it between the bread slices, and close it up. Then toast that sandwich on the well-greased pan for about 3 minutes on each side, allowing the cheese to melt.
Once that sandwich comes out of the pan, let it rest for a few minutes to allow those flavors to melt and come together, then go to town and enjoy!...nbsp;
The Bottom Line...nbsp;
With ordering out getting increasingly expensive and folks looking for delicious budget solutions to often overpriced dispensary-bought edibles, investing some time into learning how to make easy and tasty treats of your own should be high up on every stoner's priority list....nbsp;
All three of these sandwiches are perfect for a late night snack to satisfy the munchies without costing you an arm and a leg when it comes to delivery fees....nbsp;
As the weather cools down and hoodie weather approaches, you can go wrong with any of these cheesy, tasty, weed-infused treats!...nbsp;