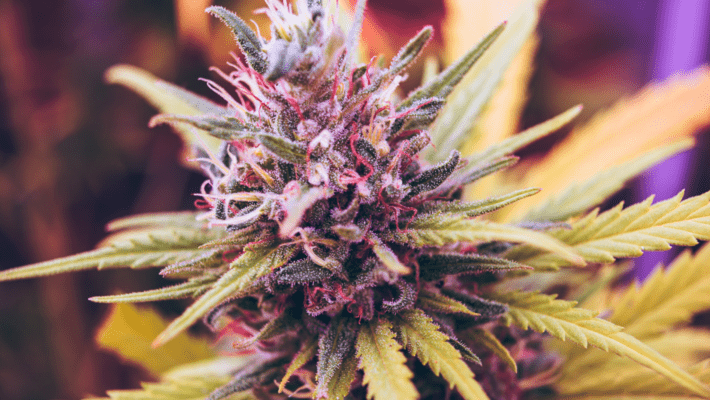 Top Six Best-Smelling Cannabis Strains
Cannabis has sure come a long way, right? Long gone are the days when the cannabis business was an underground, black-market affair run by shady drug dealers growing a few sketchy-looking plants in their broom closet under grow lights. Today, the legal U.S. cannabis business alone is worth $61 billion, with sales nationwide for cannabis in 2020 increasing by 67 percent. Along with those sales numbers, it's fair to say that cannabis has gone mainstream. Dispensaries are opening up on street corners in every legal state, legislation is in the works to legalize federally, and more Americans of all ages use and approve of legal cannabis.
Just like with everything, however, there's a group of people who get a higher enjoyment (pun intended) of the finer things when it comes to cannabis. This class of cannabis aficionados is to weed what a sommelier is to wine. These folks are looking for the subtle flavors, scents, and differences between cannabis strains that make them unique and special from one another. This article is for them.
We're going to highlight some of the best smelling cannabis strains around, from the underground GOATS to the most popular strains. We will break down what makes these different strains of weed so uniquely fragrant and give you a comprehensive list of strains that smell just as good as they smoke.
What Gives Weed Its Smell?
While this next bit might seem a bit niche, it's pretty valuable information for the average cannabis consumer as well. Just like with wine, there's nothing wrong with just picking up a bottle at the grocery store and enjoying it without understanding why it has the aromas, flavors, and such that it does. However, that added layer of complexity adds to the enjoyment for some. So on that note, let's talk about terpenes.
These naturally occurring chemical compounds give the cannabis plant its aromas, flavors, and even colors. That means, depending on the terpenes in your particular strain of cannabis, the smells and tastes will be different from one another.
Here are some common terpenes and their potential effects:
We've gone over some common terpenes and how they impact the smell of our cannabis. Now, let's break down some of the best weed strains out there on the market today!
Blackberry Gum

For the first entry on our list, let's highlight one of the best hybrid strains regarding smell and taste, Blackberry Gum. This sweet and incredibly fragrant strain is excellent for people with a sweet tooth because this stuff tastes and smells like candy.
Those with keen noses will be able to pick up on the many layers of fruit goodness here, along with some interesting hints of sour balsamic notes. Blackberry gum is easily one of the most fragrant and best smelling hybrid weed strains out there overall, let alone in the battle of sativa vs. indica.
Do-Si-Do OG

If you're looking for a more indica-dominant strain with a classic cannabis scent, then his entry on the list is for you. This strain is for the cannabis OG's out there who love that classic pungent, slightly sweet, classic cannabis smell.
Not only does the Do-Si-Do OG have that classic cannabis taste and smell, but it's got an outstanding balance of cannabinoids to get you stoned effectively and efficiently. It's one of the best cannabis strains out there today, point-blank.
White Tahoe Cookies

If you're on the indica side of the indica vs sativa debate, then this next entry on the list is for you. Not only is the White Tahoe Cookies strain a THC-heavy strain that helps users feel relaxed, but it's a beautiful smelling plant.
This strain has an early scent, offering sweet and harsh fragrance notes that blend into a wonderful combo with distant OG undertones. This strain is a mash-up of top-notch genetics, giving it a grape and berry sweetness with undertones of mint and pine to add to that earthy scent.
Sugar Candy

This next hybrid strain is a great mix of scents into one convenient nug of happiness. This calming and well-balanced strain is known for its exciting selection of flavors all combined into one.
The hints of butter, citrus, and other earthy scents will hit you hard as soon as you open the wrapper for anything containing this product. Packed with limonene, the dominant terpene present in this strain, this strain is full of exciting scents to perk you up.
Blueberry Pancakes

If you love baked goods but don't want to go through the trouble of making cannabis-infused edibles, then this strain is the way to go. As its namesake would suggest, this strain gives off the sweet aroma of blueberries, freshly made dough, and a refreshing influx of pine. Simply put, this weed smells like a blueberry muffin.
Not only does this strain smell delicious, but it's loaded up with enough THC to alter your mindset and put you in the mood to sit down on the couch and chill out instead of baking.
Chemdog (aka ChemDawg)

For the last entry on our list, we wanted to highlight a strain that might not smell fruity, sweet, or piney. Instead, we wanted to highlight a strain that smells like the skunkiest of dank weed because everyone likes different smells from their cannabis.
This Chemdog strain is an OG of the weed industry itself. Crafted back in the early 90s, before some of the people reading today were even born, this strain is easily the oldest one on this list.
This strain is easily the skunkiest and heaviest on this list in terms of scent. Chemdog is the way to go for those who love the dank stuff.
Have you tried any of these strains? What's your favorite terpene? Share with us your thoughts below!