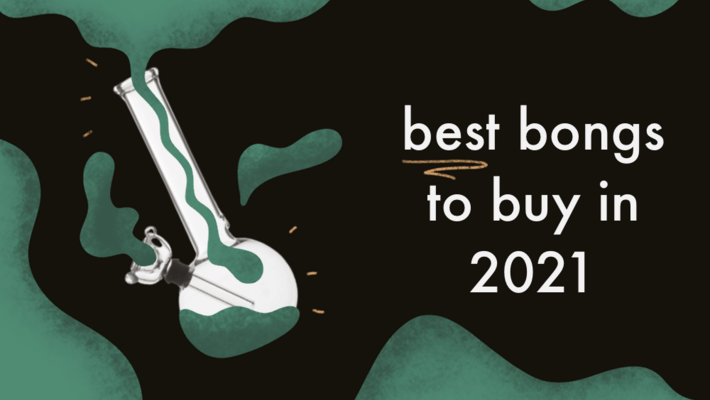 Best Bongs to Buy in 2021
Every new year is a clean slate, and an opportunity to refine and expand your cannabis consumption experience. With most of us still spending more time inside than out and about, 2021 is the perfect year to splurge on a new bong for all those homebound smoke sessions.
If you've tried searching online or looking in headshops for a water pipe, there's a good chance you've left the experience overwhelmed and confused. There are so many options, each with its own set of percolators, ice catchers, shapes and sizes, not to mention a price range that spans anywhere from $10 to $10,000. To simplify the process of purchasing your next bongs online, we've broken down the different types of water pipes on the market, what kind of glass bongs you should look for, and finally, give you a list of what we consider the best bong brands and best water pipes to add to your collection this year.
Different Styles Of Bongs For Sale

The first decisions you want to make when looking for a new bong are about material and size. We prefer glass bongs for their stability and because they are easy to clean, but there are also quality ceramic bongs that might be better for your situation. Size is all about personal choice and adapting to your own space. Think of your next bong like a piece of furniture and consider where it might live in your house or apartment.
For glass bongs, the next set of decisions will have to do with the shape and special features. Thanks to media stereotypes, we often think of cool bongs with large bubble bottoms as the standard, but other common shapes include a beaker (like you might see in a science lab) or a simple straight cylinder.
As far as extra filtration or additional features, the most common add-ons are percolators, which have internal filtration paths, and ice catchers, which allow you to add ice and cool off the smoke during every session. Percs and ice catchers are not necessary, but they do improve the smoking experience for some and often improve the aesthetics of the piece.
What To Look For When Buying A Water Bong
Each bong purchase should take a toker's personal needs into account, but when it comes to quality, there are a few distinguishing factors that put some pieces in a class above the rest. As we noted earlier, glass bongs are the water pipes of choice for most enthusiasts, but there are huge differences in quality between domestically produced US glass and cheaper, imported water bongs. If you're looking for the best bongs 2021 has to offer, you want to look for a piece made out of borosilicate glass blown in the US.
Best Bongs To Buy In 2021

If you want a classic bong that is large, in charge, and reminiscent of the smokey basements and bedrooms filled with blacklight posters and incense, this 16" multi-colored glass piece from Twisted Sisters is ideal. The bubble bottom bong doesn't feature any percolators or an ice catcher, but if you're looking for a heavy-hitting daily driver, the $79.99 bong is a great choice.

Few people know weed better than Snoop Dogg, and if you're looking for a small, tabletop bong that can also help you dive into the world of dabbing, the half-dome rig from Snoop's Pounds brand is for you. The strong glass bong comes in a unique shape and features bowl attachments for both flower and wax. Priced at $139.99, just add a blowtorch and you'll be ready for multi-purpose sessions instantly.

A unique bong that still packs the power of its larger counterparts, the Grav Helix is a simple, tapered beaker style glass bong with a quality showerhead downstem and a secret up its sleeve. Three small air holes in the mouthpiece combine to spin the smoke before it reaches your mouth, cooling and filtering each hit. Grav is one of the best bong brands on the market and at $159.99, the sneakily impressive Helix will wow everyone who uses it.

There are no tricks or complications when it comes to the Higher Standards Heavy Duty Beaker, just a classic, plain bong that gets the job done better than most of its convoluted competitors. The $160 beaker style water pipe is made of heavy-duty glass comes with an ice catcher at the bottom of the stem and should last for years on end with regular cleanings.

Just because you want to have a water pipe nearby, doesn't mean you need to advertise to everyone who walks into your house that you love to get stoned. If you're a discreet smoker, the glass bongs from My Bud Vase double as ornate flower displays, giving you the perfect cover. At $177.99, the Shelly Glass Piece is a small yet effective and pretty tabletop bong.

Marley Naturals has made a name for itself in the cannabis accessories space thanks to the imagery of cannabis and reggae icon Bob Marley, but this 16" beaker bong in black glass speaks for itself. With thick reinforced glass and spiffy gold accents, the classic beaker is well worth the $159.99 price tag.

If you're looking for a bong with all the bells and whistles that money can buy, the Your Highness piece for Glass City is packed with enough percolators to make your head spin. The ultra-filtered water bong is a thin cylinder standing at 18 inches tall, and at $299.99, it is safe to say the Your Highness bong is ready to put a crown on the head of anyone who splurges.

This 13-inch tall beauty combines the best aspects of a cylinder with a beaker bottom. Medicali is one of the biggest brands in the industry, and this highly decorated and heavy percolated bong is ready to rip. If you need a centerpiece for your coffee table that lets people know you take your cannabis seriously, this $370 Medicali is an ideal choice.

This gorgeously colored beaker bong from ROOR is an elegant piece for any collection or a classic high-end stand-alone piece. Made of high-quality glass with a fixed down-stem equipped with built-in percolators, this 14" piece is well worth the $434.00 price tag.
Do you have a specific bong on your 2021 wish list? Let us know more about it in the comment section below!