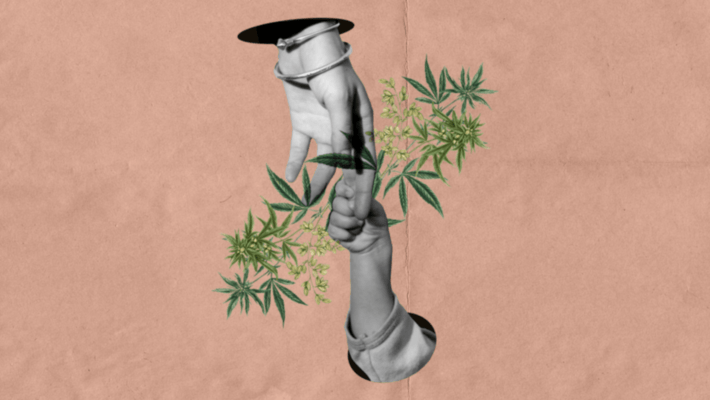 Mother's Day Gift Guide: Top 8 Cannabis Gifts for Moms
Each year, it seems like Mother's Day springs up on us. Luckily, this year we've done a little preparation to make sure we show them some appreciation on their special day. Whether your mom is biological or adoptive, they shape the way we are and how we grow up to be. If you're not sure where to start shopping for your favorite Canna-mom, check out this gift guide!
Miss Grass "Good at Weed" Sweat Set

Got your smoking habits from your momma? Show the world that she's Good at Weed with this sweatsuit from Miss Grass! Created in honor of their third birthday, this set is perfect for those stylish moms who like to stay comfy. This limited-edition soft cotton sweat set comes in a dreamy dark green color and features artwork from Geneva Finklea. Perfect for running some errands (and hitting up the dispensary) on a busy day! The Miss Grass sweatshirt is $72 and the matching "Good at Weed" sweatpants cost $69.
Broccoli Magazine Subscription

If your mom loves art, fashion and cannabis - this is the gift for her! Broccoli encourages the discovery and appreciation of cannabis through experimental and engaging explorations of art, culture and fashion. Created by an all-woman team with global contributors, Broccoli connects those who are ready to participate in a new era of weed. A year-long subscription to Broccoli is about $35, and it releases 3 issues in March, July and November.
Flowers Roach Clip & Kushkard Set

Give mom the flowers she really wants this year for Mother's Day: cannabis. This set features a handmade flower roach clip from Hippie Clips and a Kushkard, complete with two match strikers and a spot for a pre-roll joint. This Kushkard set is only $21.50, but keep in mind that you'll need your own joint!
Barbari Herbals Mini Trio Pack

This trio of herbal blends from Barbari will allow mom to chill out, glow up or find inspiration.
Even better, she'll love the multipurpose use of these blends. She can smoke it alone (or add some bud) to bring on the entourage effect, steep in boiling water for a calming tea or take a pinch to light and blow out as incense to cleanse the aura. Perfect for truly any occasion, the Barbari Mini Trio Pack costs just $35.
YewYew Graphic Grinder

Has your canna-mom used the same old gray grinder for years? Spice things up a little with this Graphic Grinder from YewYew! This 3 piece grinder has a section for grinding, ground herb storage and a bottom storage compartment to catch all of that good kief from your bud. Complete with a scraper and brush, this 2.5 in grinder is the perfect size for all of her grinding needs. This "Yew Deserve" grinder was designed by Tessa Forrest (@subliming.jpg) and costs $45.
Allume Botanique Reversible Robe

This belted satin reversible robe is perfect for the mom who likes to live in luxury! One side features a cannabis leaf botanical kaleidoscope print and the other a warm olive green tone. What's even better about this robe is that it's size-inclusive, featuring sizes from S to 4XL, and it stays true to size. Pre-order Allume's Botanique robe for $69.21 but keep in mind that it won't ship until May 15!
Lit & Luxury x Vabe "High Class" Scented Candle

After she lights up a joint, let your mom light up this candle from Lit & Luxury x Vabe! "High Class" is a sweetpea and cannabis scented flower, perfect for lifting the mood in any room. This 6 oz. 100% soy candle is a Lit & Luxury exclusive that costs $28.
Elevate Jane "Mimi" with Double Tulip Bowl

Gone are the days of ugly smokeware, and we bet no one is more thankful than your favorite canna-mom! Mimi is a sleek 12-in waterpipe with two percolators allowing for excellent airflow and the smoothest hit possible! This bong's minimal design is ergonomically fit for the hand and is easy to clean. Hand-blown in Orange County, California, this set comes with two 14 mm bowl pieces: one to match your Mimi waterpipe and a Double Tulip Bowl for twice the fun in one session! Even better, this set is currently on sale for $189 from Elevate Jane.
Did you find a cannabis-themed Mother's Day Present that you think we should add to this list? Let us know in the comments below!