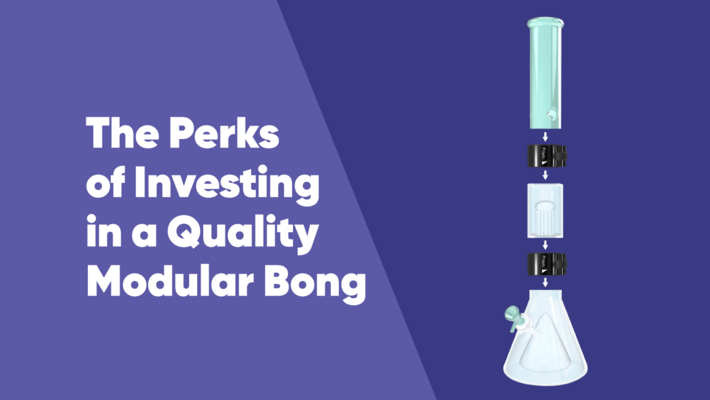 The Best Perks of Investing in a Quality Modular Bong
In partnership with Prism Waterpipes. Where's Weed may receive affiliate commissions from purchases made from this article.
Humans and cannabis have been linked since the beginning of time. Researchers show that ancient civilizations used cannabis for rituals, healing, and even recreational just like we do today. It might shock many, however, that those ancient people were smoking cannabis out of what we today call a bong! That's right, water pipe smoking has been around for thousands of years.
According to archeological evidence, researchers have found a few different versions of an ancient water pipe that date back at least 2,500 years! Talk about weed industry innovators, right? Researchers have even found some old-school bongs made of pure gold. Talk about an expensive piece...
When it comes to the love of water pipes for smoking cannabis, it turns out not much has changed over the past few thousand years. These days, however, stoners have a much larger array of options when it comes to what material their bong is made of, how big or small it is, and whether they want to wrap their piece in a cool or colorful design to take things to the next level. The shining jewel in the crown of modern-day bongs, however, is the modular bong.
What is a Modular Bong?
Simply put, modular bongs are the Mr. Potatohead of water pipes. It's easier to think of modular bongs as just a collection of different parts of a standard bong that are held together by clamps. While that might sound like not a big deal on the surface, modular bong parts being able to easily come apart whenever the user likes is one of the many things that makes a modular bong so special.
The Perks of a Modular Bong
Easy to Clean
The first and possibly the most important reason why a modular bong is the shining example of a modern-day water pipe bong is how simple and easy they are to clean. Instead of trying to get to the bottom of a standard glass bong with some weird pipe cleaner-style tool or an old toothbrush, you can just un-clamp your modular bong and have easy access to clean it out properly. The best part is that you can do that with every part of the modular bong.
For the stoner with a clean freak streak, it's clear that the modular bong is the way to go.
Easy to Repair
For those reading who have broken a bong before and have tried to go through the long, drawn-out, and incredibly annoying process of water pipe repair, this aspect is hugely underrated by too many.
If, for example, the mouthpiece on your modular bong chips or gets cracked you can easily pop that piece off, get a new one, and snap it on without any other issues. You can't do that with any other type of bong. You'd need to either repair it or end up throwing the whole thing out.
For modular bong brands like Prism, every single piece of their bong is 100 percent interchangeable. So not only can you mix and match parts to optimize your smoke session, but you can sub in other pieces and parts as needed when you have a Prism bong.
Easy to Store and Travel With
If you've ever wanted to take a road trip or bring your bong with you on the go, you know exactly how important this next bit is.
Unlike a traditional glass bong, which can be big, bulky, and difficult to travel with since they're so fragile, modular bongs are by far the better option. They can easily be broken down and unlatched, which makes them much easier to store safely and effectively while traveling.
Even if you're not traveling and you're just looking to store your bong safely in your living space without too much trouble, a modular bong is the way to go!
Our Favorite Prism Bongs
Now that you know the upsides and advantages of getting a modular bong of your own, the next step is actually putting that into action! Lucky for you, Prism has a customer-friendly and easy-to-use 3D custom bong builder on their website where customers can build the modular bong of their dreams on their website. Each bong is made to order, so you can know that your bong is made just for you!

Let's say you're looking for a super simple, no-fuss modular bong. All you would need to do was pull up their 3D builder, choose a single under the "bong size" category, pick your standard beaker base and mouthpiece, and pick the color of your connector. Just like that, you're good to go for only about $135. Talk about a great deal for a top-notch, glass modular bong.
Let's say you wanted to customize your modular bong completely -- from size to the color of the glass and decals on every part of the bong, you even get to choose whether the mouthpiece is curved or not. With Prism's 3D builder, you have that much control!
Klein Incycler Double Stack with Drippy Tree Perc and Blueberry Drippy Mouthpiece

Let's say you wanted to get a little bit wilder with your bong. After all, not everyone is content with the simple standard bong. Maybe they want to spice things up a bit. What we love about Prism pieces is the number of options that you can choose from! In this custom build, we chose a Drippy Blueberry mouthpiece, Blueberry clamps, Tree perc with drippy decal, and a Klein Incycler base. All in all, you can get this piece for less than $300! Such a steal for a bong with multiple percolators!

A personal favorite of the Where's Weed team, Pretty Done is an artist based in Las Vegas who collaborated with Prism to create this custom work for their water pipes! Featured with a Mint Pretty Done Tall Mouthpiece, Black Clamp, Pretty Done Big Honeycomb Base, and Mint 18mm Bowl, this piece is perfect for anyone who likes cool art! This is Prism's premier setup for function and size for custom bongs. The beefy size of this bong is perfect for a milky smooth hit! With two honeycomb percolators and a straight percolator downstem below the honeycomb pairs evenly distributes the smoke throughout the piece for the best hit, all for less than $230!

Looking to blast yourself out of this world with your new bong? The Spaced Out collection from Prism is one of our favorites! Shown with White Spaced Out Tall Mouthpiece, Gold Clamp, Spaced Out Beaker Base, Midnight 14mm Bowl, and a White Downstem, this quality piece comes in at only $209! Is gold not your thing? No problem, the best part about Prism each piece is fully customizable -- feel free to pick from several different colors.
At the end of the day, it's hard to beat a modular bong like the one you'll get from Prism. With a range of options and price points, it's clear that modular bongs are the wave of the future!
Have you ever used a modular bong? Share with us your experience in the comments below!