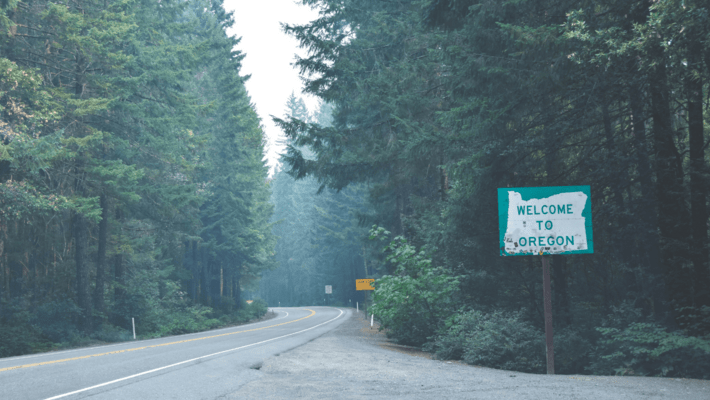 Oregon's Top 5 Edibles To Try in 2022
Few places in the country combine progressive ideas with fantastic cuisine, like Oregon, a state with ample table-to-farm operations on top of world-class seafood. Oregon was one of the first states to get into the cannabis industry, legalizing recreational weed in 2014, just two years after the pioneering legislation of Washington state and Colorado. Today, the edibles culture is renowned for its high potency and high quality, with strong strains producing fantastic munchies. Here are some of the biggest and best edibles in Oregon on the horizon for 2022.
From the Start
Oregon's cannabis policy has long been lenient. They were the first state to officially decriminalize cannabis, passing an Oregon marijuana law all the way back in 1973 that decriminalized the possession of up to one ounce of reefer. Medical Oregon marijuana legalization followed in 1998, four years after the first medicinal cannabis club had set up roots in the community. Use skyrocketed during this time, with estimates that usage of Oregon cannabis was perhaps 50% higher than usage across the rest of the nation. However, dispensaries in Oregon would not be able to sell legal recreational cannabis until the 2010s after many setbacks. A 2012 ballot initiative to legalize recreational marijuana in Oregon failed narrowly, while the 2014 measure passed narrowly. However, it would not be until 2017 that recreational marijuana in Oregon hit the shops and permitted the legal sale of bud and edibles.
Today, Oregon is one of the significant cannabis hubs of the country. Oregon cannabis laws follow much the same as other states that have legalized weed: only persons over the age of 21 with a valid driver's license can buy cannabis or edibles, with limits on edibles of 100mg THC per serving. Additionally, driving while high gets a person charged with a DUI, as the state police are not so lenient as the lawmakers. Those who visit Oregon in search of infused edibles should take it slowly: edibles take longer to kick in and longer to leave your system. Ask a budtender at one of the many Oregon marijuana dispensaries for advice and recommendations. Once you're set, enjoy some of the best products on the market.
Chocolates by Gron

When it comes to marijuana edibles for sale, you often don't have to look much farther than chocolates for the best taste and potency. Gron (pronounced "grown") is an edibles company founded by former architect Christine Smith. They provide all your favorite sweet and tasty treats with quite the punch to go along with them. They're Clean Green certified, meaning that all the processes that go into their cannabis cultivation are organic. They market their chocolate as made from hand-harvested cocoa instead of industrialized production.
Flavor options from Gron range from dark chocolate espresso to white chocolate blueberries to peanut butter and chocolate pretzels. These treats are famous for melting in your mouth but also for melting your brain: dosages range from just .5mg THC to a whopping 70mg THC, while CBD infused or CBD/THC blended chocolates have as much as a full percentage of CBD for those who want to relax while they are baked.
Laurie & Maryjane Cheese Crisp Crackers

Some of the best Oregon edibles on the market today aren't sweet treats. As the industry diversifies from the traditional gummies and cookies, some entrepreneur chefs are doing their best to provide savory snacks that are great when you want a different taste experience. Laurie & MaryJane Edibles are made by, as the name suggests, a tandem chef Laurie Wolf and her daughter-in-law named, Mary. They aren't shy about the punch that their product packs, with a warning on the side of the package that tells stoners they may find it hard to eat just one - plan accordingly.
If you have the munchies, they're a great setup, but you might want a box of Cheese-its handy to pivot too because each cracker has about 3mg of THC, and with 15 to 20 crackers per package, you're looking at quite the odyssey if you snarf them all down. It's not just that they are tasty: they won the 2017 Oregon Dope Cup as the Best Savory Edible category, and they come in spices and flavorings that every stoner should try. If you decide you've had enough of a savory snack, you can always switch to the company's fudge bites or brownie truffles, which have also won their own state competitions.
Snickerdoodle Cookies by She Don't Know

Company founder Jill Trinchero stated that she started the business of making cannabis edibles with the goal of relaxing and enjoying life without needing to take it so seriously. Relaxation is on the menu with her 50mg sativa snickerdoodle cookies, a change from the ordinary cookies you find at most dispensaries. Sold by She Don't Know, along with chocolate chip cookies and herby crackers, this company provides customers with a lot of diversity once they get the munchies. Like many other cannabis companies, She Don't Know prides themselves on their environmental impact (or lack thereof): these snickerdoodles are gluten-free and have no artificial ingredients.
District Edibles

"Are you ready to depart to Planet Paradise Punch?" asks the landing page for District Edibles, a company based out of Oregon (with products also available in Colorado). A lot of companies sell cannabis gummies, but not many go as far as District Edibles does in their quest for new flavors. Featuring no fewer than 11 different flavors of gummies, from Watermelon Wormhole to Cosmonaut Mule, this is an excellent choice for anyone searching for a specific flavor or just a lot of space puns. Their edibles include fully activated cannabis oil, making it easy to blast off once they're in your system.
HapyKitchen Brownies

Think cannabis brownies are cliche? Think again. HapyKitchen has won the CannaChef Edibles Cup and the High Times Cannabis Cup because they've pushed the boundaries of what you can do with chocolate, butter, and flour. Their fudge brownies aren't stale or dry, instead featuring a soft, creamy center sporting 50mg of cannabis. They also sell a smaller version with 25mg, featuring two brownies in the tin, because sharing is caring.
Do you live in or close to Oregon and its dispensaries? What are some of your favorite edibles the state has to offer? Let us know in the comments below!