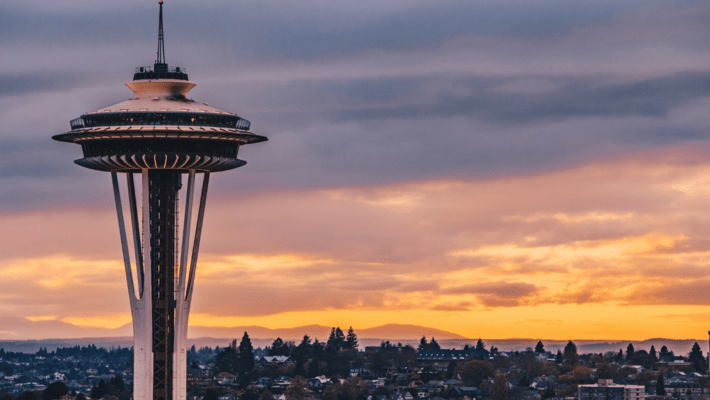 Washington's Top 7 Edibles to Try in 2022
When it comes to legal cannabis, it's fair to call Washington state an innovator. While other states still consider cannabis a "gateway drug" due to Reefer Madness-era disinformation, Washington state marijuana legalization was a settled issue for residents and legislators of the Evergreen State.
Washington was one of the first states to recognize that cannabis can be used as a safe and effective form of medicine and established its medical cannabis program back in 1998. Still, they were also one of the first two states to legalize recreationally! It's impossible to argue that Washington state marijuana laws are not some of the most progressive and forward-thinking in the United States. As a result of being early adopters of legal cannabis, Washington state has one of the most mature and well-developed legal cannabis markets in the world. And that mature and developed market means massive profits for the state government.

According to Washington's Liquor and Cannabis Control Board's 2020 Annual Report, the state collected a total of $473.9 million in legal marijuana income and license fees in the fiscal year 2020, including $4.8 million in cannabis license fees alone. But that's just the tip of the iceberg. A Washington State University study found that legal cannabis in Washington added an estimated $1.8 billion to the state's economy, and this figure is expected to rise to $2.12 billion in 2021. Plain and simple, recreational marijuana in Washington is an absolute cash cow!
It's been well-documents that sales for cannabis spiked during the start of the COVID-19 pandemic back in 2020, but if you take a closer look at those sales figures, it's clear that edibles exploded in popularity as well. Headset, a Seattle-based cannabis analytics firm, found that sales numbers for edibles grew by 60 percent across seven different state markets, Washington included. That's a massive growth in sales from $767 million in 2019 to $1.23 billion in 2020, which means edibles outperformed the total cannabis market with an astounding 54 percent growth spike! That's a whole lot of pot brownies, gummies, and other tasty snacks being sold at Washington marijuana dispensaries.
When you think about it, it does make sense. People still want to enjoy the anxiety-reducing, relaxing effects of cannabis without putting their lungs at risk by smoking it. And, especially these days, the health of our lungs and overall bodies tend to be a priority. That's why we here at Where's Weed want to highlight some of the best edibles available in dispensaries in Washington state.
We wanted to put together a list of some of the best-infused edibles in Washington state, breaking down what's in them, where to get them, and going into detail about what makes these Washington edibles worth going out of your way to pick up the next time you're in the Pacific Northwest. So with that in mind, let's highlight a few of the top marijuana edibles for sale in the Evergreen State that you should try in 2022!

There are very few people who can say that they don't love the taste of chocolate with a straight face and total sincerity. That's why we wanted to highlight these cannabis-infused chocolates as the first entry on our list.
Crafted by Washington state cannabis company Ceres Garden, these chocolates are top-notch when it comes to both flavor and overall cannabis experience. Made from locally sourced all-organic ingredients and created with medical patients in mind. Their chocolates come in tasty flavors like macadamia nut, malt ball, salted caramel, coffee bean, and "dragon," which is a spicy mix of caramel and ghost pepper. Ceres chocolate has something for everyone. Available in both indica and sativa options, these chocolates have a little bit of something for everyone!

Sometimes edibles can be a bit overwhelming. With lots of chocolate and other sugary flavors, sometimes it can be nice to take things down a notch and opt for something more simple. That's where Flav comes in!
Not only are these gummies delicious, with a natural, non-synthetic taste that does an excellent job of masking the often skunky and overpowering cannabis flavor that comes with some edibles, and they're super simple to dose and enjoy. With a well-balanced 1:1 ratio, you can take these types of edibles without worrying about getting your dosage wrong. They're as simple to dose and enjoy as they are delicious!

If you're a fan of sour or sweet candies, this entry on the list is for you! While most edibles focus on how they can get sweeter, these infused edibles take the exact opposite approach. These vegan and gluten-free snacks come in a variety of flavors with each package containing 100 mg of cannabis, giving you a dose of cannabis to go along with the tasty flavors.
Crafted by Seattle-based cannabis brand Journeyman, these top-shelf edibles are a great way to discreetly enjoy the perfect mix of taste, potency, and quality when it comes to an edible.
Here at Where's Weed, we're all about providing variety. So far, we've touched on some hard candies, some gummies, and chocolates. Now, we will move on to some other flavors and textures that might tickle your fancy the next time you stop into your local dispensary. We'll focus on taffy and soft chews from Uncle Roaner's.
Available in flavors like banana cream, blue raspberry, bubble gum, buttered popcorn, chai latte, green apple, huckleberry, lemon, lemonade, peanut butter, peach mango, and more. These chewy, delicious edibles are a great way to soothe your sweet tooth while satisfying your need for cannabis!

The legal cannabis industry has come a long way since pot brownies and hash-infused edibles. These days, cannabis edibles come in many shapes, sizes, flavors, and forms. Take these cannabis-infused drinks from MAJOR as a prime example.
With each bottle packing a punch of 100 mg of THC and other cannabinoids, these little drinks are perfect for either taking all at once to get SUPER high or sipping on throughout the day to microdose. They're delicious, available in flavors like pink lemonade, passion fruit, grape, blue raspberry, and orange mango, and don't taste or smell like cannabis at all. They're a delicious and discreet way to have a great time and take your cannabis edibles in a different form!

Drinkables have exploded into popularity over the past two years, which means that cannabis consumers have a massive range of options to consider when it comes to how to enjoy their cannabis. Another tasty liquid-based version of the standard cannabis edibles is these flavorful sodas from Evergreen Herbal.
Available in flavors like Orange Cream Pie, Moscow Mule Ginger Beer, Stoney Mt. Root Beer, and Blaze Vanilla Cola, these flavors come in either 30 or 100 mg offerings. They even come with a shot glass for easy dosing if you're not looking to get mega-high at that exact moment.
These sodas are simple, tasty, and easy to dose if you're looking to drink instead of chewing your edibles while you're in Washington State.

Last but certainly not least, we wanted to highlight an edible that's as unique as it is tasty. These full-spectrum treats allow you to not only enjoy the effects of THC and CBD separately but combine to empower one another, thanks to the entourage effect.
Available in flavors like watermelon kiwi, pink lemonade, ruby grapefruit, pineapple crush, sour cherry, black and blueberry, and lemon-mandarin, these chewy treats contain 10 mg of full-spectrum cannabis power. They're a well-balanced and delicious way to get lifted while enjoying a tasty treat!
Do you think you'll try some of the edibles on this list? Did we forget one of your favorites? Let us know in the comments below!