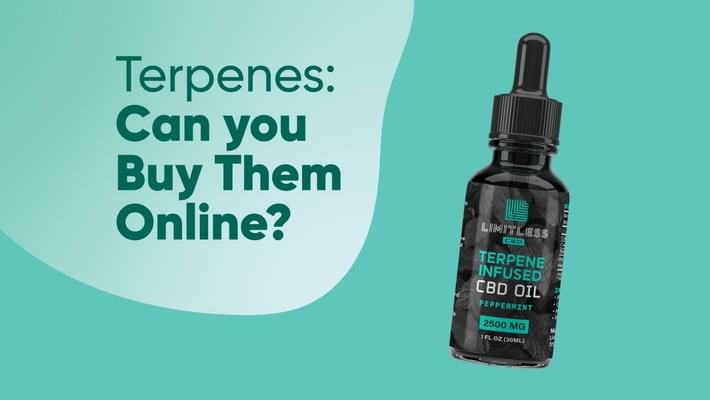 Terpenes: Can you Buy Them Online?
The legal cannabis industry in North America has come a long way over the past two decades. Long gone are the days when cannabis was an underground counterculture drug shunned by the masses and steeped in Reefer Madness-era government propaganda. Today, the vast majority of Americans have some form of legal access to cannabis, whether it be via a state or U.S. territory that has approved recreational use or decriminalized, or thanks to a state-sanctioned medical program, and cannabis is more popular than it has ever been before.
As a result of that push into the mainstream, more and more folks are looking to get involved in the ins and outs of the legal cannabis industry. However, there are still worries about the legality of cannabis. Our readers here at Where's Weed are no exception!
We've seen your questions about buying your own terpenes and wanted to come through with what we do best - answers to all of your pressing questions! That's why this article is going to break down the legality of buying terpenes for sale online, the best terpenes to pick up to give your cannabis a much-needed boost, and highlight some of the best terpene companies on the internet today for buyers to check out.
Think of this as your one-stop shop for anything and everything terpene-related. Whether it's picking up the best terpenes for vape or finding the best terpene store online, we've got your back! So without too much further delay, let's get right into it!
Is Buying Terpenes Online Legal?
Thanks to the passage of the 2018 Farm Bill, it is perfectly legal to purchase some terpenes on your own from the worldwide web. Just like hemp-derived CBD and Delta-8, it's legal to purchase terpenes as a consumer as long as the products are hemp-derived and contain less than .3 percent THC. Just like we've discussed before, a legal loophole like this is the result of our outdated Schedule 1 classification for cannabis, putting it on par with drugs with no recognized medical benefits like heroin, LSD, and ecstasy, and the patchwork state-by-state nature of cannabis laws here in the United States.
Legal grey areas aside, what's important is that contrary to what you might think, it's actually legal to buy terpenes, terpene oil, and other forms of flavorless terpenes online in any state in the U.S.
So now that we know, it's perfectly legal to buy terpenes, let's dig a little deeper into why a cannabis aficionado like you might want some in the first place!
What Exactly is a Terpene & How are They Used?

As we've covered more in-depth before here at Where's Weed, terpenes are general chemical compounds that naturally occur in cannabis that give the plant its rich, complex aromas and additional supplemental effects.
Linalool, for example, is a common terpene present in strains like Granddaddy Purp and Purple Kush that gives cannabis its iconic, skunky odor. Another example is Camphene, a terpene that produces a damp, herbal smell similar to rosemary, spruce, and sage. It is known for its antifungal properties and usefulness as a natural cough suppressant.
Those are just two examples of two of the more than 150 terpenes that naturally occur within the cannabis plant, with more than 50,000 different terpenes spanning beyond cannabis and into the broader world of plants.
So now that we know exactly what they are, how can buying these terpenes online enhance your experience with cannabis? Well, as we touched on earlier, each of these chemical compounds adds to the existing effect of cannabis and brings something unique to the table. Buying different terpenes from reputable vendors online and adding them into your packed bowl of cannabis, joint, or anything else will add side effects and flavors that might not have been there originally.
A good way to think about buying terpenes online is like buying spices or seasonings for a dish that's already pretty good. Adding those spices and extra flavoring can make it pop and turn a dish into something special. True terpenes will add rich flavor and an added intensity to any cannabis strain or product you add them to!
Best Places Online to Buy Terpenes
So now that you know that buying terpenes online is perfectly legal, along with what they are, what they do, and why they'll enhance your cannabis smoking experience, the next step is to go ahead and pick some up for yourself, right? After all, as long as you're buying from a reputable online vendor, you'll be able to quickly and easily pick up some terpenes of your own and take your next smoke session to the next level.
With that in mind, we know it can be confusing, time-consuming, and downright annoying to try and find the best places online to pick up some terpenes. That's why we did the hard part and took care of all that research for you! Below are a few of the best online outlets for terpenes anywhere on the internet today, giving you a mix of value for your consumer dollar and plenty of different options to choose from, all from the comfort of your home!
So with that in mind, let's get out list started!

When it comes to simplicity and reliability, it's hard to go wrong with an online outlet like True Blue. They have a massive collection of terpene flavors, like apple fritter, banana, and birthday cake (to name a few). They also carry specific cannabis flavorings and aromas like Blue Dream, Banana Kush, and Gorilla Glue.
They have a massive array of flavors and aromas to choose from, all at reasonable prices for the amount you're getting. We highly recommend this site as a go-to option for picking up some tasty, fragrant, and delicious terpenes online.

If you're on the hunt for terpenes with variety that are unique and interesting, then you can't go wrong with this next entry on our list. Not only is Floraplex Terepenes a reputable and reliable source of standard terpenes, but they take things up a notch and offer blends, terpene isolates, their unique "amped up blends" for added flavor and aroma, and their botanically derived offerings.
On top of that, they offer water-soluble terpenes, meaning they can be dropped into your drinks and consumed separately from standard cannabis flower for added effects. That means you can easily add some terpene flavor and aroma to an already cannabis-infused beverage or give your water that extra kick.
No matter how you slice it, Floraplex Terpenes is a great resource for picking up some unique offerings you won't be able to find elsewhere.

Perhaps the most well-known and used outlet for buying terpenes online, True Terpenes is a customer favorite. Not only is their website really simple and easy to navigate, but they also offer incredibly unique, one-of-a-kind terpene additions that can take your cannabis experiences to the next level.
The site offers more than 100 complete terpene profiles, such as cereal milk, cantaloupe haze, and unicorn piss, to name a few, for amateur cannabis chemists like you to explore during your next smoke session.
Their prices are perhaps the lowest on this list, and they have a massive variety to choose from, along with their wholesale and bulk purchase options. Simply put, there are few finer resources on the internet for finding top-notch terpenes than True Terpene. We very highly recommend them!