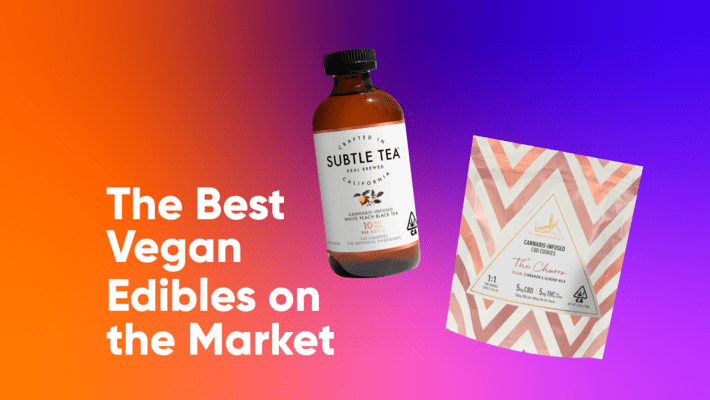 The Best Vegan Edibles on the Market
In today's day and age, looking after our health is more important than ever. Coming out of a two-year pandemic and months-long lockdowns, many had the time to take a long look in the mirror and think about how they wanted to preserve their health for as long as possible. Longevity, overall healthy living, and watching what we eat are essential to that mix. That's a key reason why we've seen a massive surge in the popularity of veganism. According to a recent survey, as much as 6 percent of U.S. consumers say they're vegan, a massive 500 percent increase from just 1 percent in 2014. Outside of the U.S., it's estimated that about 1 percent of the global population, or around 79 million people, are vegan. To compound those stats, 60 percent of vegans have adopted the lifestyle in the last five years, and an astounding 45 percent did so for health-related reasons. Simply put, it's clear that veganism is very popular and here to stay.
But even the most health-conscious vegans must find ways to cut loose and have fun, right? Well, that's where vegan edibles come into play! After all, there's nothing about cannabis that these health-conscious vegans can't enjoy, right? Cannabis is a cruelty-free plant that helps promote their appetite for more tasty non-animal sourced treats and can be easily consumed and enjoyed! On top of that, for those especially health-conscious folks out there, consuming cannabis in the form of an edible is way healthier than smoking it!
So with all that in mind, we here at Where's Weed wanted to highlight some of the tastiest vegan cannabis edibles on the market today. We're talking a full-on deep dive into what vegan weed edibles are, what vegan-friendly and cruelty-free ingredients typically go into vegan cannabis recipes, and which ones on the market are worth trying in the first place!
Just think of this list as your go-to guide when it comes to anything and everything vegan cannabis-related!

Who doesn't love the tasty, cinnamon-packed taste of a churro? Well, thanks to VCC Brands, we have these delicious vegan mini churro cookies that are as delicious as they are potent! With each cookie containing 10 mg of both THC and CBD, these full-spectrum cookies are enough to transport your taste buds to a cruelty-free paradise! We highly recommend these treats the next time you're looking to get toasted while satisfying your sweet tooth!
The next entry on our list is as tasty and delicious as its name is suggestive. Not only do these scrumptious hard candies come in delicious flavors like fruit punch, watermelon, pink lemonade, orange, blue raspberry, and strawberries & cream, to name a few, they pack a real cannabis-infused punch. Each tasty suck-it contains 2.5 mg of THC and is made with vegan ingredients like sugar, food coloring, and cannabis oil, ensuring that these products are as potent as they are tasty. These hard candies are delicious, non-GMO, and as vegan as it gets when it comes to vegan THC edibles.

Sometimes less is more. Simplicity is king sometimes. The same concept applies to edibles. These delicious Dr. May's Balance Hearts lozenges are packed with butterscotch and maple flavors, 5 mg of THC and CBD, and have enough cannabis power to give users about five hours of edibles-induced fun! Instead of calorie-rich cookies and brownies packed with vegan cannabutter, these treats are low-calorie, pack a real punch, and are about as tasty as it gets! However you slice it, these 1:1 vegan edibles are delicious!

It's undeniable that people love their coffee. And one of the hottest trends when it comes to coffee today is the cold brew. So when a brand like Somatik adds a hefty dose of 5 mg of CBD and THC into the mix, you get a heck of a tasty beverage. On top of that, not only are these cold brews energizing and packed with cannabis power, but they're vegan as well! These cannabis-infused vegan treats are hard to pass up.
Sometimes a cannabis-infused drink or sweet treat doesn't quite hit the spot. What happens when you're looking for something a little more calorie-dense and hearty? That's where these delicious and potent cannabis-infused nuts come in! Zendo's brand of sweet and savory almonds come in two flavors, Honey Cocoa and Spicy Sea Salt, and each container holds a shockingly potent 100 mg of THC. So not only are these almonds tasty and come in multiple delicious flavors but they're packed with cannabinoid power. Simply put, these are some of the simplest, most delicious, and most potent vegan cannabis treats on the market today!

Now that we've covered perhaps the most potent THC-infused treats on the list, let's break down a more subtle and low-key entry next. As their name would suggest, Subtle Tea's are a simple cannabis-infused flavored tea. They come in various flavors and doses, from white peach black tea flavors with an added 10 mg of THC per bottle, a less potent jasmine green tea with 5 mg of CBD and THC, and three specialty broad spectrum infused beverages with 25 mg of THC per bottle.
If you're looking to feel a steady, hard-hitting high that's not overwhelming, these drinks are the way to go! These tasty little vegan cannabis-infused teas make for great, easy sipping no matter where you are or what you like!
Last but certainly not least, we wanted to highlight a sour candy entry on our list. We know that sometimes something sweet or savory might not hit the spot. It would help if you had a bit of a sour kick to pucker up those lips. Thankfully Kiva has you covered with their delicious Camino sour gummies.
Available in three flavors, watermelon spritz infused with uplifting sativa, citrus breeze with a touch of relaxing indica to help you chill out, and tasty orchard peach flavor with a hybrid infusion of cannabinoids. Each of the three is good for helping you relax and take the edge off after a busy day!
With each gummy containing only about 5 mg of cannabinoids, these are great for microdosing or just taking the edge off after a long, hard day. We highly recommend these delicious vegan treats!