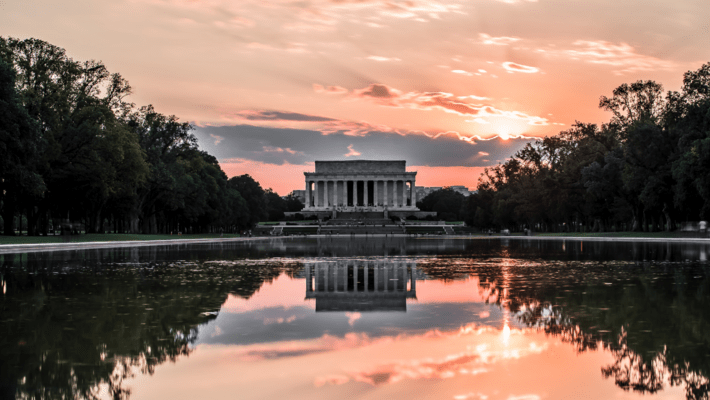 Top 7 Edibles to Try in Washington D.C.
Washington D.C., the nation's capital, is known for quite a few things. D.C. is a well-known tourist destination, bringing in approximately 24.6 million total visitors per year prior to the COVID-19 pandemic to see incredible landmarks like The White House, Arlington National Cemetery, the Lincoln and Washington Monuments, and a laundry list of museums like the Smithsonian National Air and Space Museum, the National Gallery of Art, and the National Museum of African American History and Culture, just to name a few. D.C. also has a wide range of pro sports teams to watch, like the Washington Football Team, the Wizards, the Capitals, D.C. United, and the Nationals, to name a few. What many might not know, however, is that Washington D.C. is a hub for legal cannabis as well!
That's right, folks! On your next trip to the nation's capital, you can stop into a medical or recreational dispensary, pick up some top-notch cannabis products, and enhance your good time. Many would also be surprised that one of the fastest-growing portions of the legal cannabis market is edibles. According to Seattle-based cannabis analytics firm Headset, sales of adult and medical-use edibles grew by about 60 percent in 2020, swelling from $767 million in 2019 to an astounding $1.23 billion. Those numbers mean that edibles sales outperformed the total cannabis market by about 54 percent last year. Needless to say, edibles are clearly on the rise!
So with that in mind, we wanted to highlight some of the best weed edibles in D.C. that stand out from the crowd. These tasty treats represent some of the best cannabis-infused edibles you can find in the nation's capital while visiting, allowing you to enhance your next trip to D.C. This article will highlight where to get edibles in D.C., which brands to look for, and which Washington D.C. edibles brands stand out from the rest! So without further ado, let's get right into it!
If you're looking for a delicious sweet and sour variety of edibles, look no further than these THC edibles from Exotic Blooms. Available in flavors like apple, wild cherry, raspberry, strawberry, and watermelon, each bag contains between 300-500 mg of top-notch THC. Thanks to the outer dusting of sour sugar crystals, these candies full of juicy flavors are a great option for the stoner looking to satisfy their sweet tooth!

Few tasty treats are more tasty, delicious, and iconic than chocolate. So mixing it with a huge dose of THC is never a bad idea, right? That's where Rocket Chocolates comes in. Available in flavors like dark chocolate, cookies and cream, toffee, and mimics of famous candies like Reese's Peanut Butter Cups, Crunch bars, and M&M's, with each bar containing a hefty 350 mg of THC, these candies have enough cannabis power to put anyone into orbit. We highly recommend these treats on your next trip to the nation's capital.
If you're an experienced stoner with a built-up tolerance and taste buds itching for sour candy delights, these Baghead Boys candies are a fantastic option. Each bag of these candies contains four gummies that contain 100 mg of THC each. It's fair to say not only are these edibles some of the pound-for-pound strongest in D.C., but they're also some of the most potent commercial edibles you can get pretty much anywhere. If you're looking for a simple to dose, potent edible for the seasoned cannabis aficionado, look no further than Baghead Boys.
If you're on the hunt for a good, old fashioned cannabis-infused cannabis gummy, look no further than Kaolity. These high-grade full spectrum gummies are 100 percent vegan, come in delicious flavors like apple, strawberry, orange, and lemon, and are powerful enough to take the edge off of anything you're dealing with. These THC-rich Washington D.C. edibles contain 100 mg per jar and 10 mg per gummy. They're simple to dose, effective, and work quickly to take the edge off of any situation. We highly recommend these if you're looking for a discreet edible to get the job done while walking around the national mall.

If you're looking for some stronger gummies, ones that contain enough THC to give anyone a good time, then Chronic Confections is your best bet. These gummy edibles take things up a notch from the last entry on this list, with each bag containing an incredible 500 mg of THC. With flavors like sour apple and sour watermelon, these candies contain a THC kick as good as a well-packed joint. If you're looking for the best nag for your buck during your next trip to D.C., it's hard to go wrong with these THC-infused candies.
For the last two entries on this list, we here at Where's Weed want to highlight two of the best quality local edibles makers in D.C. Since their products are so varied, potent, and tasty, it's hard to pick just one from both. Instead, we're giving a general recommendation that you should check out their stuff.
Some delicious options from Street Lawyer Services, for example, are their infused hot cocoa kits, their Kind-Canna chocolate edibles, their Trolli Peachie O's, and their THC-infused lollipops. Basically, they have one of the biggest selections of different edibles from different brands in D.C. If you're looking for a great edible, you'll likely be able to find it from them. We can't recommend them highly enough!
Last but not least we have CannaiBake D.C. No list of Washington D.C. edibles is complete without these top-notch edibles makers. They're simply the best in the game when it comes to getting tasty edibles in D.C... Offering hand-made options like their hot cocoa bombs, their keto/paleo crunch bars, THC-infused brownies with flavors like chocolate chips, white chocolate chip, marble brownie, blondie, and even Oreo, and a massive variety of cookies in flavors like chocolate chip, snickerdoodle, sugar cookie, M&M, peanut butter, and cinnamon chip, just to name a few.
Simply put, pretty much anything from CanniBake is tasty, delicious, and worth the price. It's pretty much impossible to argue that they don't make the best edibles in the whole of the nation's capital.