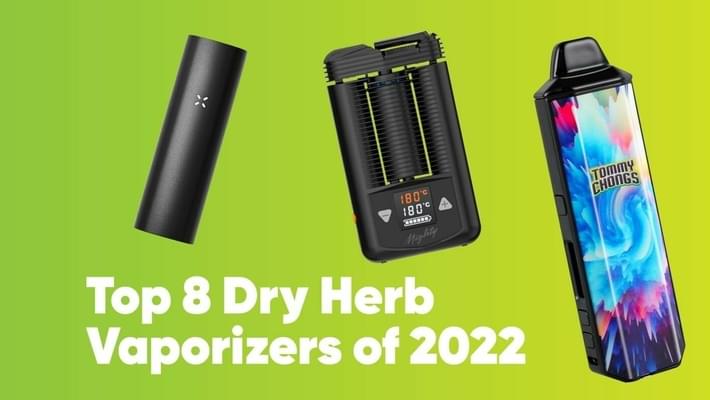 Top 8 Dry Herb Vaporizers of 2022
Dry herb vaporizers have been around for some time, but as technology advances, the devices keep getting better every year. If you've been looking for a weed vaporizer upgrade or if you're looking to try one out for the first time, check out our cultivated list of the best herb vaporizers of 2022.
The Best Dry Herb Vaporizers of 2022
There are a lot of great dry herb vaporizers on the market. Navigating which options are right for you can be difficult, which is why we've collected our 8 top dry herb vaporizers to help narrow your search.

Pax is one of the leading vaporizer brands on the market, regardless of what type of pen you want. The Pax 3 is a dual-use pen that lets you smoke flower and concentrates. At $250, it's one of the higher-end vapes, but with it, you get a long-lasting battery and 10-year warranty along with a maintenance kit and guaranteed quality. It's small enough to fit inside your pocket and is ideal for travel. Additionally, while most dry herb vaporizers are relatively odorless compared to other smoking methods, the Pax 3 is as close as you get to an odorless dry herb vaporizer. You can find the Pax 3 in many licensed dispensaries around the US or purchase it online.
The Elite II is G Pen's highest-performing herb vaporizer with a price tag of $249.99. This portable dry herb vape has been made to celebrate Grenco Science's 10th anniversary and packs a punch with a dual-heater and air-path system for unparalleled flavor. It has a 2-year warranty, a high-res LED display, and precise temperature control. Like most other vaporizers on this list, the G Pen Elite II can be found in licensed dispensaries around the US or via G Pen's online store.

The Aria Vaporizer Kit is already a great deal - the fact that the iconic Tommy Chong inspires this edition makes it even better. At $129, this dry herb vaporizer box set also includes a cleaning brush, extra screen, concentrate chamber, and water tool adapter. The vape itself is tiny with haptic feedback, an isolated airflow system, and a temperature range of 212 to 464 degrees. Perfect for someone looking for portability, this vaporizer set can be purchased online from anywhere in the United States.
At $59.99, the Yocan HIT Vaporizer is a steal. This is the newest of Yocan's dry herb vapes, and it shows. It has an OLED display and a smart vibration feature so you can time your hits perfectly. It also has a dual vaping mode that allows you to run the device in different time frames. It's the perfect portable dry-vape pen if you're looking for something affordable and well-fit for travel. Like most other vapes on this list, you can purchase it in Yocan's partner dispensaries or online from anywhere in the US.

This pocket-sized dry herb vaporizer pipe utilizes a patented heating system that combines full hot air convection and additional conduction to produce a smooth, efficient vapor production with every use. It's the most expensive vape on our list, coming in at $349. Still, its high-quality design, flippable mouthpiece, LED display, portable size, and massive battery life ensures the price tag is worth it if you're a dedicated cannabis consumer. It can also be outfitted with a large variety of accessories which, like the vaporizer, can be purchased at Storz & Bickel's online shop.
Firefly is known for their dynamic convection technology, which ensures rich flavor and a temperature range between 200 and 400 degrees. Your herb will heat in as little as three seconds, and the device cools down as it heats so you can microdose with every breath. The Firefly 2+ is smaller than your phone, making it fairly portable, and it also connects to mobile companions that help you set temperature preferences. This dry herb vape can be purchased at Firefly's online shop from anywhere in the US for $249.99.

This mid-tier dry herb vaporizer pen is priced at a very reasonable $164.99, perfect for cannabis enthusiasts looking for a solid, long-lasting device without breaking the bank. Pocket-sized, designed with a patented hybrid heating system, and outfitted with a digital display, custom session settings, and up to a 3-hour battery charge gives this vape good reason to be on our list. You can purchase this vape anywhere in the US by visiting Arizer's online shop.
The only desktop vaporizer on our list, the Silver Surfer Vehicle packs a massive punch. For $275, this vaporizer is ideal for anyone who wants an at-home tabletop setup and offers glass-on-glass airflow and a ceramic heater element for uncompromised flavor. Its simple design made in Colorado Springs is hand-blown, is highly customizable, and is guaranteed for over ten years of use. You can purchase this beast online or visit their shop in Colorado Springs, CO.
Are there any vaporizers you think should be added to our list? Do you use a dry herb vaporizer? Let us know what you use, how you like it, and how it compares to other vaporizers. Comment below!