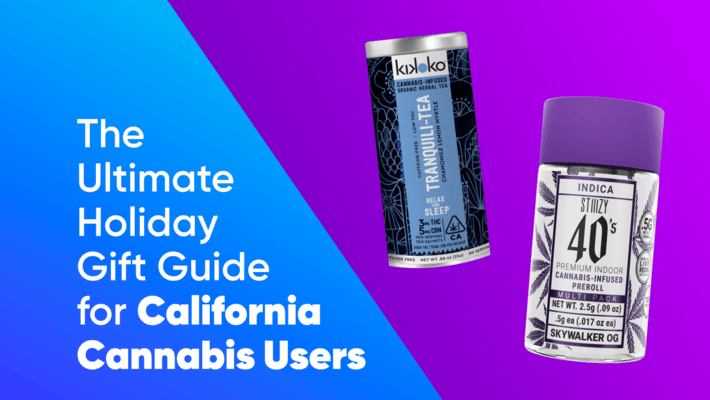 2022 Holiday Gift Guide for California Cannabis Users
The holidays are already quickly approaching, and there's no better time to start gift shopping than today! The earlier you start shopping, the more time you have to find the perfect gift at the best price. If you live in California and want the stoners in your life to get the best gifts possible, you've come to the right place. Our list below offers excellent options and starting points for your 2022 cannabis gift guide.
The Holidays in California
If you live in California, you probably know that how much it feels like the holidays is dependent on where you live. Along the coast, north or south, you'll likely not receive snow. However, if you're further inland and up in the mountains, you could see drastic amounts of snow and traditional, stereotypical holiday weather. Either way, what California does share across the board is a love of cannabis and access to fantastic weed. Living in California makes buying cannabis gifts for your stoner friends super easy.
7 California Cannabis Gifts
Since this is a gift guide for California, most of the gift ideas we list below will be available in local dispensaries throughout the Golden State. One of our favorite dispensary chains across southern California is HAVEN! With locations in Maywood, San Bernardino, around Downtown Long Beach, Los Alamitos, and Paramount. To see if a dispensary near you offers a product you're looking for, make sure to check it out on Where's Weed.

Infused products are a hot commodity - if you live in California and are looking to purchase a one-of-a-kind gift for a stoner friend or family member, you have access to one of the best gift options on the market. Tranquili Tea's Chamomile Valerian tea is a luxury that's great for inducing calm and sleep. It's caffeine-free and both THC and CBN infused, with 5mg of CBN and 3mg of THC per bag. A ten-pack of this unique tea is available in select dispensaries throughout Los Angeles for just $50. When you give this gift, you're providing a vibe and a new way of looking at tea and sleep.

Stiiizy, which is already a standard in California cannabis quality, is upping the game with its new line of pre-rolls. A great gift for any stoner, you can choose from various flavors and effects. They have three Indicas, two Sativas, and three Hybrids to choose from, all offering unique smoking experiences. They come in quality packaging so you can gift as-is, and the lucky recipient can either light up on the spot or save for later. Located throughout California dispensaries (most commonly in the Los Angeles area), you can pick up a 5-pack of Stiizy pre-rolls for just $40.

This heavy Indica cartridge is an incredible stocking stuffer. If you know someone who enjoys vaping and getting really high, Pot of Gold HIGH THC should be your go-to gift for them. This concentrate for vapes provides an enjoyably relaxed and happy high with a sweet and flowery flavor profile. These cartridges are also compatible with any standard 510 thread battery, so the person you gift this delight should be able to plug in and smoke immediately. Jetty Extracts products are available in dispensaries throughout California - we highly recommend checking Where's Weed to see if your local dispensary carries Pot of Gold HIGH THC, which is usually available for roughly $40-50.

Dosist's arouse gummies are specifically designed to heighten your senses and stimulate your mind. They're a great gift for friends who enjoy a delicious gummy at night. As captured by the title, these amazing gummies taste like strawberry mint, are vegan friendly, and pack a punch with 10mg of THC per serving. What's unique about these gummies is that, for $20, you can have a high-end edible that hits hard but also has a 2 to 1 THC to CBD ratio. These gummies, along with most Doist products, can be found in local dispensaries throughout California, specifically in the Los Angeles area.

An award-winning strain produced by breeding two iconic strains, Strawberry Lemonade and Thicc Mint Cookies, Cereal Milk is one of the most visually appealing on the market. If you're going to gift any strain this holiday season, Cereal Milk will provide the biggest "wow" factor and immediate excitement. On top of a beautifully frosted, fresh visual flower, this strain is delicious to smoke with an aroma and flavor profile of sweet lemon and pine. You can enjoy this right after gifting it since this strain is best known for its joyful yet relaxing effects. Available in California dispensaries only, this rare but delicious strain can be yours to gift for about $60 per 3.5 grams.

A lot is going on in the cannabis world today, but one of the most exciting aspects is the continued foray into alternative cannabinoids. CBN, which stands for Cannabinol, is a non-psychoactive cannabinoid often used as a sleep aid or sedative. These Wyld Elderberry Gummies have 10mg THC and 5mg CBN in each gummy, resulting in restoratively sedative effects that are best used at night (or on holidays when you don't have to be anywhere or do anything). Available throughout California, Colorado, Washington, Arizona, Michigan, Nevada, and Oregon, you can snag a box of these gummies for roughly $35.

If you've ever taken a THC bath, you know the incredibly relaxing experience that Kush Queen Bath Bombs provide. Kush Queen a female-founded, female-run company, its flower is incredibly consistent quality, and everything they offer is guaranteed to provide a chill, relaxing experience that's great for cozy holiday nights. Kush Queen has several bath bomb scents - Relieve, Relax, Awaken, Sleep and more! Each bath bomb ranges from $12 to $20, but the cost will be well worth it to surprise your friends and loved ones with such an incredible experience. 1:1 THC bath bombs are a California exclusive, so check out HAVEN or any of your local dispensaries on Where's Weed to see if it's available near you!
Do you do a lot of cannabis holiday shopping in California? Are any of your favorite cannabis gifts on our list above? Let us know what your favorite cannabis gifts are and where we can find them. Comment below!