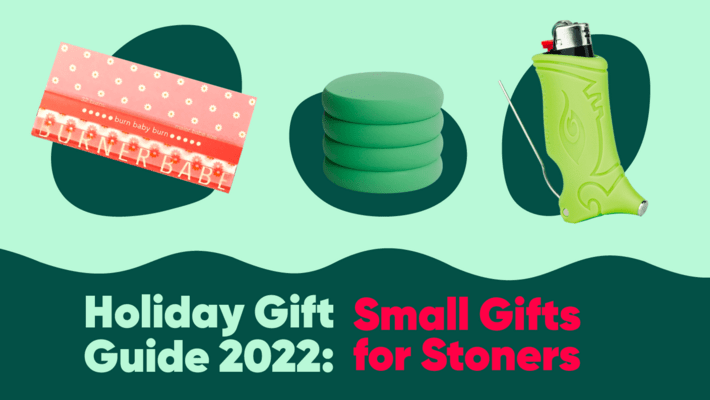 2022 Holiday Gift Guide: The Best Small Gifts for Stoners
It's that time of year again! It's hard to believe, but the holidays are right around the corner, and there is no better time to spoil the stoner in your life. If you know a cannabis enthusiast, or if you happen to be one yourself, there are a lot of products on the market that make perfect holiday gifts. Check out the list below for some of our top 2022 weed gifts.
Why You Should Consider Cannabis Gifts this Holiday Season
From the end of October through the beginning of the new year, there are a lot of holidays to celebrate. Here at Where's Weed, we're firm believers that a holiday doesn't need to specifically call for gifts (like Hanukkah or Christmas) to be a great gift-giving opportunity. We also, of course, believe that cannabis gifts are some of the best gifts to give! If you, a friend, or a family member is a cannabis enthusiast, there's a good chance they don't get a lot of cannabis-forward presents throughout the year. So, to differentiate yourself and your gift, to make a stoner even happier around the holidays, and to break down the negative/taboo stigma still often associated with cannabis, we highly recommend checking out the items below for weed gift ideas this holiday season.
The Best Small Gifts for Stoners 2022

This is a must-have if you are into holiday cards. Marketed as the original cannabis greeting card, Kush Kards has several lines of themed cards that are cleverly designed with a pre-roll holder. The company's tagline is "strike a match and light what's attached," which we think says it all. They have more than holiday-themed cards (so you're covered for every occasion), but who doesn't want to get a Christmas card with a one-hitter attached? You can find these cards online for roughly $7 per.

This is the all-in-one cannabis tool that everyone needs as soon as they know what it is. For $12.95, you get a designed lighter sleeve (with molds for both BICs and Clippers), a fold-in stainless steel poker, and a stainless steel tamper in the same gadget. There are a variety of designs that will work thematically for a variety of holidays and fit many personalities. And if you are looking for a gift for yourself, this is a great little splurge.

This has to be one of the most chic smoking accessories on the market. The Session designer pipe is compact, stylish, minimalist, and comes in seven unique, trendy colors. This pipe has a snug-fitting, silicone carry sleeve that protects the black-tinted borosilicate glass pipe, which is uniquely cone-shaped and designed with an ash-catching indent and flat base for easy storage while you pack your bowl. No matter the holiday, for $40, this pipe is top on our best weed gifts list.

This mini backpack is great for a lot of reasons. It's a stylish, functional backpack that's great for day trips and everyday use, it comes with a smell-proof poly bag for any cannabis items you want to keep on your person, and you even get a Fourth Amendment card and a secret pocket. It has two external water bottle pouches, weighs only 14 ounces, and is the perfect size for a personal item when flying. Additionally, with optional colors including pink, red, yellow, and plum, this is also one of the best stoner girl gifts out there. These bags can be purchased online for $69.99.

This magical, three-compartment grinder is the perfect stocking stuffer or party bag item. Portable and stylish, the cloud grinder is guaranteed to provide a smooth, consistent flower with every use, and its third layer catches kief for later use. The best thing about this grinder, other than its quality, though, is its unique, sleek design that comes in various colors and either a ceramic or silicone finish. At $55, it's hard to pass this gift up.

We all have that one friend that never has a grinder on them. Well, this gift is specifically designed for that person or, honestly, for anyone who wants a sleek, cool grinder. When we think of grinders, we think of the three-compartment circular gadgets that are a little too bulky to fit in your pocket. For $20, the Jane Parade Grinder Card fixes that. It's a gold stainless steel card that works like a cheese grater for your weed while adding some class to your wallet.
This is the perfect gift for anyone who likes to smoke on the go! The Tetra Valise Keychain is a stylish, hexagonally-shaped container that easily fits a variety of rolled smokes. This trendy keychain is only $28 on Tetra's website and comes in various colors, including emerald, navy, and peach. This is also one of the best weed gifts if you want something you can give without everyone knowing it's cannabis-related.

If you have a friend or family member who prefers to roll their joints, the House of Puff Rolling Tray is the gift to give! The minimalist design is inspired by the rolling trays in Amsterdam coffee shops, is intended to provide an effective, simple roll session every time, and can be purchased online for just $59. It's also worth noting that each mini rolling tray is handmade with glazed porcelain and doubles as a unique ashtray. If you have a stylish friend looking for an ashtray that doesn't look like an ashtray, this is the perfect gift!

It's always good to have a gift for the cannabis enthusiast who also happens to be creatively inclined. Goldleaf's cannabis journals are the perfect gift for anyone who likes to write and stay organized. There are eight different journals available, some of which include "The Patient Journal" for people who use cannabis medicinally, "The Grow Planner" for those who prefer to grow their own weed, "The Cannabis Taster," which acts as a cannabis passport for jotting down thoughts on each new strain, and even "The Cooking Journal" for keeping track of cannabis recipes. These journals start at $19.99 and make a great addition to even the best stoner gift box.

The most cost-effective and possibly cutest item on our list, the Burner Babe Party Pack is a booklet that contains 32, 75mm designer papers for rolling your joints. Every pack is unique, comes with at least eight different patterns, and is made completely vegan! For just $8, you can bring a lot of unexpected happiness to your favorite stoner this holiday season.