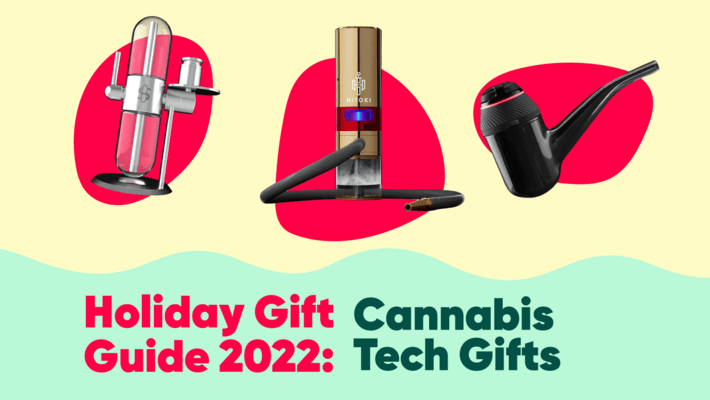 Holiday Gift Guide 2022: The Best Cannabis Tech Gifts
Where's Weed may receive affiliate commissions from purchases made from this Gift Guide.
Every year, we enjoy the same pre-holiday traditions: decking the halls, trimming the tree, and finding the best presents for everyone on our list, of course. The holidays are almost here once again, and there's no better time than now to get started on your seasonal shopping needs.
But just because holiday shopping is the same old task every year doesn't mean that your gifts have to be yesterday's news. When asking yourself what cool stoner stuff to buy for your most plugged-in consumers, look no further than the intersection of cannabis and technology. There have been some significant innovations in the cannabis industry lately, and new products emerge every year that do things with your favorite plant you could never have dreamed of.
Below, we've rounded up a few of our favorite cannabis tech gadgets for every type of weed-lover in your life from the dabber to the home chef.
Pucker Bubble Electric Nectar Collector ($)

Want to make taking a dab as easy as possible? The Pucker Bubble has your back! This portable nectar collector has a ceramic tip and double-layered glass bubbler that allows you to take your dab quickly straight from a dish or container. Add water to the Bubble and it's chamber cools your thick clouds of smoke for a smoother hit. It even comes with a silicone container to store your favorite concentrates! The Pucker Bubble is available for $145 at the time of writing, but you can use code WHERESWEED to save 50% on your order.
LEVO C ($$)

The LEVO C is the stoner gadget's golden standard for making large batches of cannabis-infused oil, butter, honey, vegetable glycerin, and whatever else you can imagine. The LEVO C covers every step on your path to infusion, from decarboxylation to the final result. The glass basin can infuse up to 1L of liquid, and its jumbo pods hold up to an ounce of dry herbs. This would be the perfect gift for the beginner who loves buying weed-infused treats at the dispensary but is sick of the crazy markup and taxes or for the cannabis dinner party hosting legends who could use a digital soul chef. You can find the LEVO C on their website here for $249.99 at the time of writing. Use code WHERESWEED to save 10% on your purchase!
Ardent MINI ($$)

Think of the Ardent MINI as a grown-up Easy Bake Oven that fits in your purse. For getting baked, easily, the Ardent Mini is a portable decarboxylation device that fully activates your plant material, including flower, kief, concentrate, stems, and more. The Ardent MINI can infuse, cook and bake on-the-go. Small but mighty, The Ardent MINI can hold up to 1 ounce of flower (depending on density) and 6 ounces of oil. Perfect for the edible fanatic looking to spice up their family vacation or an at-home infuser without much counter space, the Ardent MINI fits about anywhere you can find an outlet and features the same technology and sleek design as the best-selling Ardent FX, now in a portable size. The Ardent MINI is $260 at the time of writing and is available exclusively on their website.
Elon Device ($)

The Elon Device is the latest innovation in portable, disposable cannabis vaporizing technology. The super compact device is compatible with stelos, disposable flower pods that consist of premium strains of cannabinoid-rich weed blended with terpenes to deliver optimal wellness. The brand's stelos are "pure, potent, and all-natural." The easy-to-use, button-less design is perfect for the stoner on-the-go who doesn't want to mess with loading up a flower vape or heading to the dispensary to replace an oil cartridge. The Elon Device is available on their website for $79.99 at the time of writing, with stelos available for $15.99 for a 20-count pack and $8.99 for a 10-count pack.
Stundenglass Gravity Infuser ($$$)

While many of us are used to making gravity bongs out of 2-liter soda bottles and aluminum foil bowls (not recommended for lung health, FYI), one of the most coveted smoking gadgets and gizmos on the market is the luxury Stundenglass Gravity Infuser, the fanciest gravity bong you've ever seen. The Gravity Infuser is a 360-degree rotating glass piece that uses water displacement, opposing airflow, and the natural force of gravity to give you the perfect hit. Unlike most gravity bongs, the Gravity Infuser also includes an optional 3-foot hookah-like silicone hose in place of the mouthpiece. This gift would be perfect for the bong-lover in your life who could use an upgrade or just someone who deeply appreciates futuristic design. The Stundenglass Gravity Infuser is available for quite a pretty penny for $599.99 at the time of writing on their website.
Houseplant Oil Lamp ($$)

Stoner celebrity Seth Rogen's cannabis company, Houseplant, is one of the leaders in weed gadgets today. This stunningly understated slab of marble is more than meets the eye and includes a built-in oil lamp, ashtray, and match striker. Depending on how fancy you feel, you can use the small well in the marble for either paraffin oil or a tea candle. The sturdy materials like the borosilicate glass lamp, meaning it can withstand fire-level heat, and the polished metal ashtray with removable glass pieces shine in this functional decor. This gift is perfect for the ruminating stoner who loves to light up with a good book or even a non-cannabis smoker looking for the ideal addition to their study. You can find the House Plant Oil Lamp on their website here for $260 at the time of writing.
The Trident ($$$)

The Hitoki Trident is an amazing innovation in the classic bong. This piece features a clean laser combustion smoking device that automatically lights your bud for you when charged, eliminating the need for butane. Its modern minimalist design features a hookah-like hose and the ability to handle any cannabis product, from dry herb to oil. This gift would be great for any bong lover who is always looking to stay on the cutting edge or the design-loving modern stoner who wants to keep their pieces on display with ease. The Trident is available on Hitoki's website here for $499.99 at the time of writing.
Puffco Proxy ($$)

The Puffco Proxy is a portable, modular vaporizer that sits inside a traditional glass pipe for an experience that's the best of both the old-school and stoner gadget worlds. This mini vaporizer has heated temperature settings for various flavor and vapor production experiences. There are also various Puffco and third-party glass accessories that fit the Proxy so that you can keep your unique glass style without the butane or ash. This gift is perfect for those who want to switch to vaporizing cannabis for health reasons but don't want to give up the ritualistic element of toking up. The Puffco Proxy costs $299.99 and is available exclusively on their website.
tCheck - Home Cannabis Potency Tester ($$)

The tCheck potency tester is a super efficient way to measure the strength of your infusions to guarantee that every edible you make at home comes out consistently and satisfactorily. With just a few drops of your favorite cannabis-infused clarified butter, coconut oil, olive oil, or alcohol, the tCheck will provide accurate results in less than sixty seconds. An essential gift for any at-home edible maker or a cannabis lover in a non-legal state who wants to ensure they're getting the goods, getting your loved one the tCheck is sure to land you on the nice list. The tCheck is available on their website here for $299.99 at the time of writing.