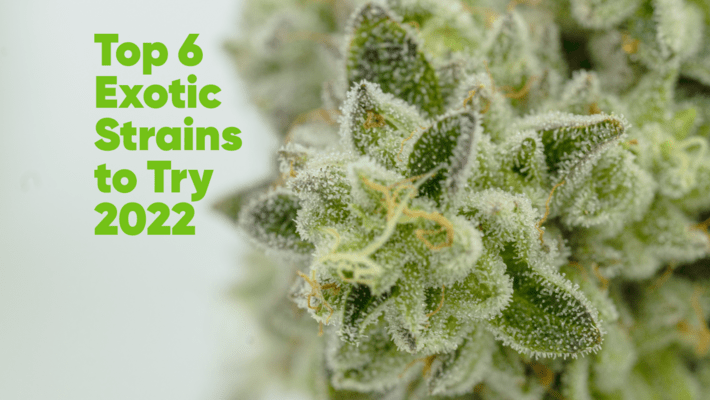 Top 6 Exotic Strains to Try 2022
Have you noticed how popular exotic strains have become over the last few years? Exotic strains have become increasingly popular worldwide, with a handful gaining quite a bit of popularity. If you want to hunt down the most popular exotic strains and give them a try, you've come to the right place. Check out this curated list of the best cannabis strains on the market in 2022 that are exotic.
What Are Exotic Cannabis Strains 2022?
There are a couple of factors that go into determining if a cannabis stain is considered "exotic." In general, a strain is exotic if:
It is rare or hard to come by in your region
It comes from a different part of the world
It has bolder colors and flavors
It has higher terpene and cannabinoids concentrations
It has more potent effects or provides a unique high
Depending on your location and where these strains are grown, they may or may not be considered "exotic." The list we have curated below considers a primarily North American audience. While we don't touch too much on this, there are also plenty of exotic CBD strains out there. Exotic doesn't just mean a unique high. Of course, many of the strains we've picked provide a unique high, so let's dive right in.
The Top 6 Exotic Marijuana Strains of 2022

This hybrid strain boasts a range of 17 to 23% THC and high limonene content. It's made by crossing Gelato and Zkittlez (which you'll also find on our list). It is incredibly potent and known for its dark purple coloration and striking white tips from a high trichome count, making it a sought-after exotic strain. Along with another strain on this list, White Runtz is one of the best exotic weed strains with purple trichomes on the market. It provides a relaxing high that'll leave you feeling giggly, euphoric, and sleepy. It's great for chronic pain relief and insomnia and has a lovely aroma and citrusy flavor profile.

One of the most pungent, hard-hitting strains out there, Snow Cap is a hybrid strain that can boast upward of 22% THC. Unlike many exotic strains, this one is relatively new to the cannabis community. It is a cross between Snow White and Haze, and it has a uniquely cerebral high that produces a creative, happy high. We highly recommend smoking this one in a social setting because of how much fun and giggle-inducing it can be. On top of being a rare, fun high, it has an enjoyable flavor profile that is primarily reminiscent of menthol, with hints of lemon and citrus. On top of all this, Snow Cap is commonly used to treat anxiety and depression.

Rare Dankness Genetics bred Jenny Kush to tribute Jenny Monson, a cannabis activist who passed away in 2013. Jenny was such a positive light in the cannabis community. Rare Dankness wanted to make sure the strain carrying her name would exude the same positivity and happiness that she did. This slightly sativa-dominant hybrid is a well-balanced cross between Amnesia Haze and Rare Dankness #2. This strain is the perfect pick-me-up, featuring a flavor profile of fruity haze with a touch of lemon-lime OG funk. The perfect hybrid coming in at a whopping 28% THC, Jenny Kush is strong enough for indica lovers to enjoy but upbeat enough to keep you moving and focused throughout the day.

Averaging at 24% THC levels, Narnia is one of our favorite exotic strains on the market today! This sativa-dominant hybrid has mind-bending effects that will keep you exploring the depths of your wardrobe for a secret passage to a new world for hours. Narnia's upbeat energy is perfect for a midday smoke sesh, a cross between classics like Jack Herer and Trainwreck created by Washington-based Soul Shine Breeders. Ideal for treating symptoms of depression, ADHD, and migraines, while keeping your mind energized, precise and creative. Narnia's citrus flavor with sweet berry notes with a distinct hashy scent gives the user a smooth hit, but the exhale gives off lingering tastes of pine and sugar, similar to maple syrup.

Found mainly in the Pacific Northwest near Portland, Mt. Hood Magic Durban (also known simply as Mt. Hood Magic) is a unique cross between Durban Poison and Northern Lights #5. Mt. Hood Magic creates an intoxicating and uplifting experience to remember for its users, with THC levels coming in at 23.5%. This strain's flavor profile features jasmine, pine, and turpentine notes, giving off sweet yet spicy berry, lemon, and earth flavors that come together on the palate nicely. Get ready to feel this strain's euphoric, creative, and relaxing effects - perfect for medical users looking to treat pain, nausea, and insomnia.

Bred by Exotic Genetix, Fritter Glitter is a heavily indica-dominant hybrid cross between Apple Fritter and Red Runtz that typically falls at about 23% THC. Fritter Glitter is the perfect strain for people who want to relax. Filled with sweet, cheesy, apple, and vanilla flavors featuring classic terpenes like Caryophyllene, Limonene, and Pinene. This euphoric, relaxing, and happy strain is perfect for alleviating pain, stress, depression, insomnia, and mood swings. While this exotic strain is best for advanced users, it's great for creativity and relaxed conversation.
Are you a fan of exotic cannabis strains? Let us know your favorites and where you can find them in your area. Comment below!