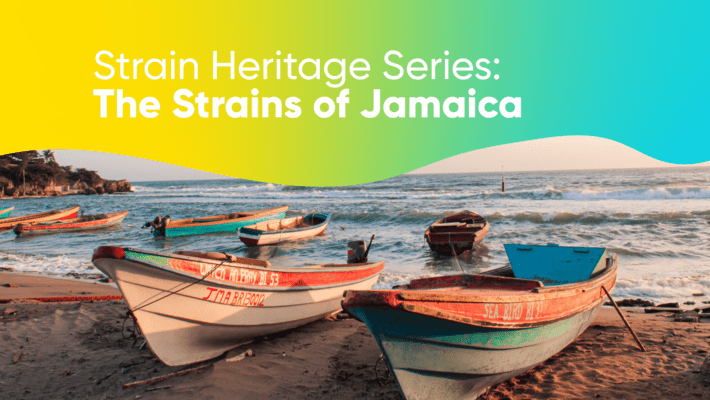 Strain Heritage Series: The Strains of Jamaica
Few places in the whole world are more synonymous with cannabis culture than the nation of Jamaica. This Caribbean island paradise has been enjoying cannabis, or ganja as they prefer to call it, since the early 1800s and has birthed cornerstones of today's cannabis culture like Rastafari and the upbeat, rhythmic reggae music genre. It's fair to say that without Jamaica's influence in the broader cannabis culture, cannabis culture today would be nowhere near the same.
With all of that in mind, however, few know the history, culture, and specific Jamaican landrace strains that this island paradise has produced. Thankfully, we here at Where's Weed are here to change all of that!
As part of our ongoing strain heritage series, we wanted to highlight not only some of the best Jamaican weed strains available for stoners to enjoy today but the past, present, and future of Jamaican legal cannabis culture as well. After all, it's important not only to understand how Jamaica established itself as a cornerstone of worldwide cannabis tourism but also how a handful of these famous Jamaican strains came to be in the first place!
So with that in mind, let's dig right into it! We'll start with a comprehensive look at the history of cannabis culture on the island, and then we'll touch on some of the best Jamaican bud that money can buy!
The History of Cannabis in Jamaica
While it's undeniably true that humanity's connection with the cannabis plant is more than 4000 years old, experts seem to think cannabis was introduced to Jamaica in the early 1800s. After the British took over the island and colonized it, they began importing indentured servants from India to meet the ever-growing demand for cheap labor. Those folks from India brought their cannabis with them, introducing it to the natives of the island.
From there, use and popularity exploded. Not only was it used medically to ease aches and pains associated with hard labor, often unpaid, forced on them by colonial rule, but it was also used for recreational purposes. Unfortunately, soon after it spread to the masses and provided some relief, the ruling powers in the nation sought to ban and restrict access to it.
Pushed by mostly white Evangelical church leaders in Jamaica, cannabis prohibition laws were enacted in 1913. Those laws imposed strict punishments for cannabis use, disproportionately impacting poor people in the nation and leaving the settler "elites" alone to do as they pleased.
Over time, those laws and restrictions loosened, especially after Jamaica gained independence from England in 1962. To say that Jamaica has embraced cannabis culture since then would be a major understatement. While cannabis use on the Caribbean island had been commonplace for them for more than a century, Europe and North America also had massive demand for cannabis. The only problem was that Europe and North America were still in the midst of their own prohibition of cannabis while Jamaica's cannabis culture was thriving. As a result, Jamaican strains and Jamaican seeds made their way to the states, giving North American consumers their first real taste of top-notch Jamaican kush.
Despite the widespread exporting of Jamaican cannabis products and culture, it's interesting to note that both the cultivation and use of cannabis on the island itself were still illegal and carried heavy penalties under the nation's laws, despite being mostly unenforced. In 2015, however, that hard-line legal stance was officially softened.
In February 2015, Jamaican politicians voted to amend the nation's long out-dated cannabis laws, decriminalizing possession and making it only a petty offense. These laws also allow home growing, ensure legal protections for practitioners of the Rastafari faith, allow tourists with medical cards to purchase cannabis legally, and set up a licensing authority for farmers.
Today, Jamaica remains a legal cannabis haven and innovator, as we'll see from the strain we'll go in-depth shortly. Jamaican cannabis and plant genetics are often regarded as some of the best in the world, making the so-called "Jamaican pearl" some of the world's finest pot.
So with that in mind, let's highlight a few of these top-notch Jamaican landrace strains to make sure you keep an eye out for on your next trip to the Caribbean!

For the first entry on our list of Jamaican landrace strains, we have the Lambs Bread strain. This pure sativa is known as a great option for beginners due to its relatively mild cannabinoid profile of only around 15-19 percent THC, a splash of CBD for that much-desired entourage effect, and relatively predictable effects.
A session with some Lambs Bread usually leaves users feeling happy, euphoric, uplifted, and creative, great for those dealing with issues like pain, insomnia, anxiety, stress, ADHD, and depression. For medical patients, this strain is often regarded as one of the best for dealing with inflammation too!
It's easy to see why this legendary Jamaican strain was often said to be one of legendary Jamaican reggae and cannabis culture icon Bob Marley's favorite strains! If you're spending some time in the Caribbean or looking to enjoy the island vibes, you can't go wrong with Lambs Bread.
Known as one of the purest sativas available in the Caribbean, this top-notch strain from Eva Seeds is about as good as it gets for Jamaican cannabis.
It is known for its high THC content, between 18 to 21 percent, and offering a complex terpene profile full of beta-myrcene, beta-caryophyllene, alpha-pinene, alpha-humulene, limonene, linalool, and terpinolene, this strain lives up to its name. That complex flavor profile leaves smokers with a tropical, sweet, woody aftertaste that makes you feel like you have your toes buried in the sand of a Jamaican beach.
Users report feeling uplifted, creative, and happy after puffing on this strain, making it great for those looking for a pleasant full-body high that's great for helping them chill out. It's also a great option for medical patients due to its effect on issues like stress, anxiety, depression, pain, and PTSD.
No matter how you slice it, this strain has a little bit of something for everyone and more than enough cannabinoid power to puff and pass without any issues at all.

With the first hybrid on our list, we have the well-known Jamaican Pearl strain. This sativa-dominant (85 percent) cross between Early Pearl and the pure Marley's Collie indica strain leaves users with the THC-laden wake-up call to enjoy!
Due to this strain's energizing and creativity-inspiring effects, we highly recommend using this strain in a wake-and-bake scenario. Known for its top-notch quality and potency, we bet this strain would be a kick in the pants for even the most experienced stoner.
With an average of 22 percent THC and a good bit of myrcene when it comes to terpenes, this ultra-calming strain is known most well-known for its euphoric effects, breezy tropical flavors, and buzzing cerebral high. Perfect for those dealing with issues like depression, anxiety, and appetite loss, this sativa-dominant hybrid will have you awake, creative, and ready for the day ahead!
A cross between Koolato and a previous entry on this list, Lambs Bread, this indica-dominant hybrid is an interesting hybrid mix of some of the best cannabis strains the Caribbean has produced. Not only is this strain powerful enough to pack enough of a punch without leaving your totally zonked out, containing between 13-15 percent on average, but it has some CBD in there for balance as well.
In fact, taking a close look at this strain's cannabinoid profile is interesting! Not only does it contain trace amounts of relatively rare cannabinoids like CBN, CBG, and THCV, but it has a laundry list of terpenes like caryophyllene, myrcene, linalool, limonene, phellandrene, carene, eucalyptol, bisabolol, nerolidol, and valencene. That terpene profile leads to interesting hints of vanilla, strawberry, blueberry, mint, and tropical fruits like mango.
Simply put, this strain is an experience for your brain and your taste buds. Perfect for those dealing with issues like arthritis, MS, anxiety, stress, lack of appetite, and ADHD, this strain leaves users feeling happy, calm, hungry, sleep and euphoric.
Simply put, this strain is very much worth trying if you're going to be spending any time in the Caribbean!