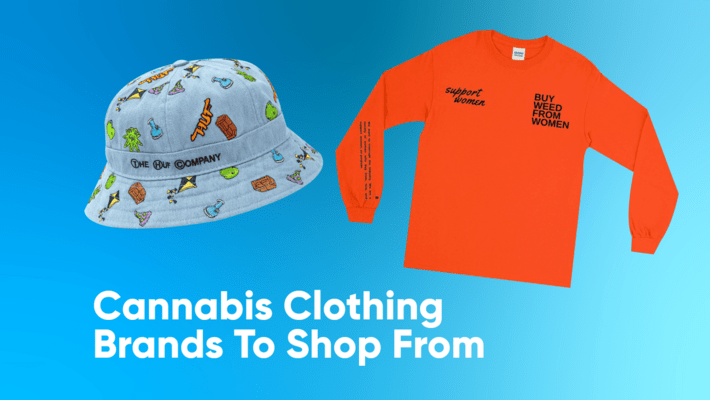 Cannabis Culture & Fashion: Cannabis Clothing Brands to Shop From
Historically associated with rasta colors, fringe, and tie-dye, stoner apparel has significantly evolved alongside the increased legalization of cannabis across the country.
The 70s stoner clothing motifs were dominated by the flower child aesthetic, while the 90s and early 2000s rang in more colorful streetwear looks. One of the more recognizable trends of this time is the pot leaf sock, which dominated the Tumblr dashboards of many at the time. While there's still room in the market for funny stoner shirts emblazoned with bonafide 420 icons like Rick & Morty and Cheech & Chong, the style has significantly evolved in the past few years alone.
Elevating Elegance
As the stigma against marijuana softens, the market for it expands - opening opportunities for a wider variety of designers influenced by cannabis culture. Options have expanded to include even the most recognizable designers, such as Alexander Wang - whose Fall 2016 collection heavily features cannabis and pot leaves as an inspiration. Today, there are more options than ever to sport our favorite plant, so we're sharing some of our favorite cannabis clothing brands, from the low-budget to the high fashion.
Our Favorite Cannabis Clothing Brands
High Sun Shop ($)

High Sun is a Latino-owned brand from New York City. Their mission is to make the world a greener place with their weed clothes and to create and connect with cannabis enthusiasts while emphasizing sustainability. High Sun offers a variety of weed merch, including graphic t-shirts, hats, and sweatshirts. They feature cute phrases like "The sun is high and so am I" and a logo of the iconic leaf. Their designs are generally quite minimalistic in black and white. High Sun's full collection is available on their website.
DRO ($)
DRO is a stoner clothing brand that originated in the streets of Los Angeles in 2012. Since then, they have created one-of-a-kind, streetwear-inspired clothing for "drug smugglers, rap artists, and dimes." DRO offers a variety of t-shirts, sweatshirts, hats, sweatpants, and accessories. Their designs are quite graphic and often feature their logo. They also draw inspiration from video games and Japanese culture. DRO has its complete collection available on its website and in certain retail stores like Zumiez.
Stoner Days ($)

StonerDays is primarily a lifestyle and news website that focuses on cannabis culture. They also have a clothing line offering weed clothes with bright, loud graphics featuring weed memes, catchphrases, and iconic characters.
Stoner Days has a wide variety of 420 shirts, pants, sweatshirts, accessories, tank tops, and more. With collections spanning from Father's Day to Christmas, they also have weed accessories like dab mats. The Stoner Days collection is available exclusively on their website.
Buy Weed From Women ($$)
Buy Weed From Women (BWFW) is Black women-owned and operated and based in Newark, New Jersey. Their apparel blatantly advocates for others to support women entrepreneurs in cannabis as well as demanding equality within the industry. BWFW focuses on clothing and product design for other vendors in the cannabis industry. BWFW features a variety of stoner clothes, including t-shirts, long sleeves, sweatshirts, and totes emblazoned with their signature "Buy Weed From Women" slogan. Their designs focus on themes of female empowerment and equality in the cannabis community. You can purchase BWFW merch directly from their website here or from various dispensaries. See the full list here.
Huf ($$)

HUF founder Keith Hufnagel was a professional skateboarder who wanted to give back to the skating and cannabis communities that raised him. HUF is a clothing brand that seeks to epitomize the spirit of street culture. HUF is most famous for their pot leaf clothing - specifically, the plant life socks. They also offer many other designs that fit into their streetwear aesthetic, heavily featuring their logo and illustrations of characters huffing and puffing away on their favorite plant in the forms of weed shorts, shirts, accessories, and more. HUF's full collection is available on their website or in one of their many retail stores worldwide.
Letter Shoppe ($$$)
Letter Shoppe is a clothing brand based in Michigan that looks to empower its customer and create conversation and community for cannabis lovers. Dina Rodriguez is the founder and original artist behind Letter Shoppe, an art apparel brand.
Letter Shoppe offers its original illustrations in a variety of themes - trippy, empowerment, gothic, and witchy - on high-quality t-shirts. Their stoner apparel in the "trippy" category features cannabis slogans like "pass joints, not judgment" and "it's a cannabis and coffee kind of day." Their designs are inspired by fairies, aliens, and other mythical creatures. Letter Shoppe's line of apparel is available here on their website.