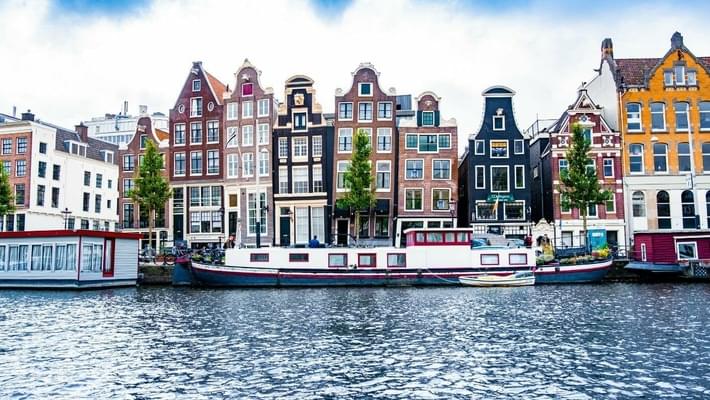 Strain Heritage Series: The Strains of The Netherlands
When you're thinking about the overall scope of the legal cannabis industry, its rich history, and some of the iconic and cornerstone staples, it's hard to overlook the Netherlands. Whether you're talking about decriminalization, recreational & medical legalization, cannabis tourism, or even just something as simple as restructuring their existing outdated laws and criminal justice systems, the Dutch have been innovators and leaders in the cannabis industry.
Despite their position at the forefront of progress when it comes to cannabis, however, they're far too often overlooked and unrecognized by the broader cannabis culture. We all know about their famous Amsterdam coffee shops, but it's far deeper than that. Due to its trailblazing nature, the Netherlands has also long been at the forefront of developing its own potent, flavorful, and unique Amsterdam marijuana strains. That's what we're going to highlight today!
In this article, we're going to take a deep dive into some of the best cannabis strains you'll find on Amsterdam coffee shop menus, breaking down their origins, effects, terpene profiles and aromas, and where to get some for yourself on your next trip to the Venice of the North. We'll also dig deep into the long and storied history of legal cannabis in the Netherlands, giving you a bigger picture of how the industry developed into what it is today over the years.
So with all of that in mind and without further delay, let's get right into it!
A Brief History of Legal Weed in the Netherlands
As we mentioned before, it's hard to isolate a cannabis-related topic, legal status, or policy without giving the Dutch credit for doing so before everyone else. Despite criminalizing all use, importing, and exporting of cannabis as early as 1928, the Netherlands was also one of the first to move in the opposite direction.
It all started with loosening the previously strict criminal justice elements that came with cannabis, with the government reclassifying all drugs into more or less dangerous categories. While harder, more addictive drugs still were classified as hard drugs, cannabis was reclassified into the less dangerous category. As a result, possession of up to 30 grams of cannabis is classified as only a misdemeanor, a simple slap on the wrist.
From there, the floodgates opened. As soon as 1976, strains from Amsterdam were already being sold and distributed by coffee shops for free, legal recreational use. From there, it became clear that the commercial demand for cannabis products was there, further loosening the laws around possession and consumption. Soon after, the possession and personal use of cannabis products were widely decriminalized, opening the doors up to tourists as one of the first fully legal and recreational markets in the Western world. The saying goes, "build it, and they will come," and cannabis-loving folks from all over the world did just that! From there, there was no going back. Amsterdam had established itself as a cannabis tourism innovator.
The Dutch were even one of the first to recognize the amazing medical potential of the cannabis plant as well, legalizing and allowing for the sale of a cannabis-derived prescription drug called "Mediweit" in 2003. Since then, the Netherlands has developed five different types of medical cannabis for patients with various needs and ailments.
No matter how you slice it when it comes to cannabis, the Netherlands likely figured it out sooner than pretty much anywhere else. As a result of that innovation, they've developed a wide array of unique strains to enjoy and take advantage of the next time you're on a trip to the Dutch capital.
Top Five Cannabis Strains from Amsterdam
Now that we've gone in-depth on the history of the Netherlands and its thriving cannabis culture let's look at the results of that culture. These five strains are some of the best of the best you'll find at coffee shops around the Dutch capital, ranging in potency, terpene and flavinoid profiles, history, and effect on the user. Thankfully, we here at Where's Weed did what we do best, digging deep and researching all of that, so you don't have to!
So with that in mind, let's get our list of the best Amsterdam marijuana strains off to a good start, shall we?

For those who have been to Amsterdam on a cannabis tourism adventure, this first entry on our list should come as no surprise. Perhaps the most popular and iconic product of Amsterdam's thriving legal cannabis culture, this strain goes back to the beginning for them.
A descendant of an offshoot of the now-famous Haze genetics introduced to Dutch cannabis consumers decades ago, this modern-day descendant is incredibly popular in coffee shops throughout the city. The sativa hybrid packs a hefty THC punch at 22 percent, while its flavorful terpenes and flavinoids add hints of earthy and citrus to the mix. On top of that, a decent dose of CBD comes with this strain, helping level out and enhance the high due to the entourage effect.
Simply put, this is a must-have strain if you're trying to enjoy the best of the best on your next trip to Amsterdam!

Like the same-name comedy starring Seth Rogan and James Franco, this strain is a hit for consumers. Whether they're enjoying it because it shares the same name as the iconic film or whether it's for the strain's well-balanced hybrid genetics. This strain's tropical scents and flavors remind you of pineapples, citrus, and other sweet goodness or its potent cannabinoid profile. Pineapple Express is still one of the most popular and frequently ordered strains from coffee shop menus all over the city.
With an average THC concentration of around 15 percent, it won't overwhelm you but will still lead to a great time. Often described as having a mild, happy high, this strain is a great choice for a daytime sesh while you're planning to explore the city or grab a bite to eat.
We here at Where's Weed highly (pun intended) recommend this one for your next trip out to the Dutch capital!

Known for its massive yields and incredibly high THC levels, It's clear why Dutch cannabis producers love this strain so much. Living up to its name in both potency and yield, Hulkberry is a cross between OG Kush and Strawberry Deisel with as much as 27 percent THC.
This sativa-dominant hybrid is perfect for experienced stoners looking to make their next session legendary, with fruity flavors and scents to accompany the clear and energetic high that comes along with it.
If you're looking for a choice off the coffee shop menu that will blow your mind without leaving you couch-locked, we highly recommend this powerful strain!

For the first indica-dominant strain on our list, we have the famous Strawberry Banana. The offspring of Banana Kush and Bubblegum strains, this flavorful entry on our list is most well-known for its strong and relaxing effects. Not only does this strain feature a sweet, fruity flavor like its namesake, but it's known for its happy, peaceful effect that boosts creativity and overall sensory awareness.
This strain is perfect for a session before a movie or listening to some lovely music and is highly recommended for those indica-lover looking to toke up and zone out for a while.

Last but certainly not least on our list of iconic strains from Amsterdam is Purple Queen, perhaps the prettiest and most aesthetically pleasing strain on this list. Not only is this indica-dominant hybrid strain potent, packing up to 22 percent THC and only 1 percent CBD, but it's as aesthetically pleasing as it gets when it comes to cannabis.
This offspring of Hindu Kush and Purple Afghani leaves users feeling light, relaxed, and giggly while the buds themselves are alive with color. With hints of purple, dark pink, and the standard deep green of cannabis, along with a rich flavor of citrusy lemon, thanks to its high percentage of limonene, this strain is as enjoyable to smoke as it is to photograph and put on social media!
Whether you're an amateur photographer, a social media influence in the cannabis space, or just a stoner looking to kick back, relax, and melt into the cushions of your preferred coffee shop, this strain has a little bit of something for pretty much everybody!