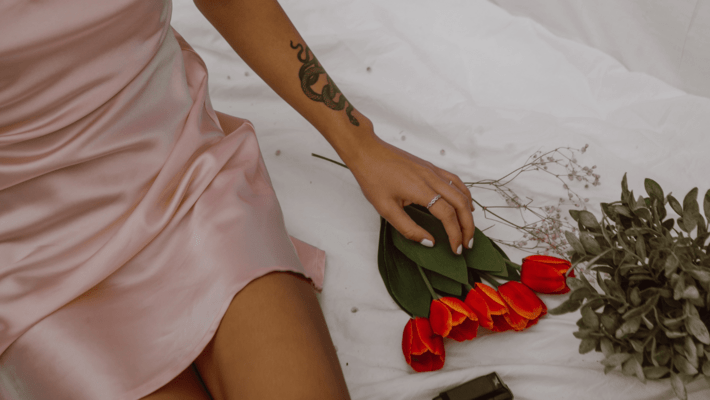 7 Valentine's Day Gifts to Light Up the Night
Valentine's Day is a day to celebrate all of the love in your life, and what better way to do so than with the plant you love the most? No, not roses.. cannabis! For stoner couples or friends who want to spread the love, there's no better way to share an intimate moment together than to share some bud.
Besides the apparent component of just being fun to share with your favorite people, cannabis can also be super helpful in your romantic life at-large. Whether you're taking a toke before your first date to ease the jitters or utilizing cannabinoid-infused lubricant to spice up your sex life, consider making this year a weed Valentine's Day.
But cannabinoids have even more life-changing benefits in the bedroom for those struggling with chronic pain conditions that are exacerbated by sex. There are so many cannabinoid receptors in our reproductive organs and sexual tissue, which accept THC directly. Additionally, CBD increases blood flow to tissues, increasing sensitivity and promoting the body's natural lubrication process.
Besides the obvious gift of the plant itself, we've rounded up some weed valentine's ideas inspired by the good stuff. To give the ultimate gift of pleasure this Valentine's Day, try one of our stoner Valentine's Day gifts below.
1. Thistle & Spire Brooklyn Haze Collection ($$)

Thistle & Spire is a proudly female-founded lingerie brand from Brooklyn, New York, that has been in operation since 2015. Expanding beyond the same old beauty standards and stale style in the lingerie industry, their designs have an inclusive size range, are affordable, and have an extra edge to serve the real lingerie wear-ers of the world. Enter the Brooklyn Haze collection: a delightfully weedy line of bras, undies, and bodysuits that show off skin while covering you in the cannabis sativa plant's botanical pleasure with embroidered mesh pieces. Available in four different skin tones and a vibrant burgundy, consider this leafy lingerie for your pothead valentine this year. Products range from $15 - $98.
2. Blazy Susan Cones ($)

Blazy Susan rolling papers and pre-rolled cones are a staple for stylish smokers worldwide and the perfect gift for your stoner Valentine's Day. Available in their signature pink or seasonably appropriate new purple tone, these cones are perfect for the stoner who doesn't know how to roll their own or, better yet, doesn't want to. Stock up with cases of up to 126 pre-rolls to last well past your celebration, or go for the more reasonable 50 count to toke together all month long. Products range from $4.99 for a 6-pack of cones to $60 for 126 cones.
3. Ritual & Rose Blue Rose Ashtray ($$)

The blue rose is often used to symbolize the attainment of the impossible, as the mysterious hue does not occur in nature. This blue rose is just as beautiful, but you can gift it to your Valentine in the form of this gorgeous white ceramic ashtray. With one notch for a joint and the perfect size to carry from room to room, this personal-sized ashtray is sure to become your lover's new favorite accessory in no time. Ethically handmade in the United States, you can feel good about adding this to your loved one's weed routine. The Blue Rose ashtray retails for $75 on Ritual & Rose's website.
4. Ispire's The Wand Basic Kit ($$$)

Save your lover's fingers this holiday season with Ispire's The Wand, the safer, induction-style torch replacement for dab-lovers everywhere. One of the more highly practical stoner Valentine's gifts, The Wand, when combined with their included borosilicate glass bangers, creates a safe and easy dabbing experience by eliminating the need for the wires and coils often associated with other E-Nails. Using an induction heating method, The Wand is able to precisely heat the banger to the user's desired temperature for the perfect hit every time. The Basic Kit includes The Wand, Angled Banger, Straight Banger, Inner cups, a car cap, and a charging cable to keep the party going all night long. The Wand basic kit is available for $129.99 on Ispire's website.
5. Kush Kards ($)

Nothing screams Valentine's Day more than a card, and finally, there's a solution to the lack of cannacards in Hallmark aisles everywhere: Kush Kards. These stoner Valentine's Day cards range from goofy to sincere and always feature their signature pre-roll holder to include a treat in your note that's way more fun than a gift card. Many of the cards have match-strikers as well to light and puff at a moment's notice. Get them the flower you know they want this Valentine's Day. Cards retail for approximately $7.
6. Malin + Goetz Cannabis Candle ($$)

This super-chic candle is an ode to every stoner's favorite smell without overpowering your space in a cloud of smoke. This candle balances rich, spicy, herbaceous aromas with soft, floral notes of muguet and magnolia. The wax is free of THC but heavy on black pepper and bright bergamot. It grounds these solid top notes with an earthy cedarwood, patchouli, and sandalwood base. This candle will intoxicate you with the scent of your favorite plant without the high all afternoon long. This candle has a long-lasting burn time of over 60 hours and retails for $58.
7. Edie Parker Flower Heart One-hitter Necklace ($$)

Edie Parker Flower is a designer cannabis accessories brand that's always on the cutting edge of the most stylish pieces in the industry. This heart-shaped necklace in pink milk glass with a hot pink braided cord doubles as a one-hitter to take a hit in any scenario. This borosilicate glass piece is sure to hold up wherever you wear it, from the festival grounds to the city streets and everywhere in between. The necklace/pipe combo retails for $85.