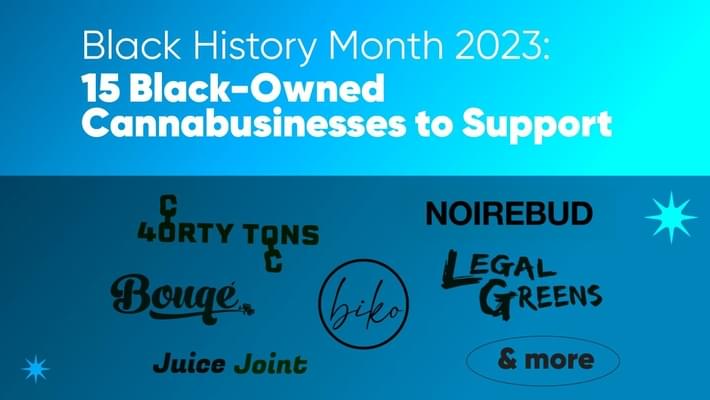 Black History Month 2023: 15 Black-Owned Cannabusinesses to Support
Initially established in 1976, Black History Month is an opportunity to celebrate the accomplishments of black Americans and shine a light on inequalities that persist today.
In the cannabis industry, black entrepreneurs are notoriously under-represented. According to a 2021 analysis from Business Insider, around 70% of executives at major cannabis companies are white, while only 7% are black.
Some states haven't lived up to their promises to promote social equity among minority-owned cannabis businesses. Simply put, the industry needs to do better. And if you want to be a part of the change, supporting black-owned cannabusinesses is an excellent first step.
Here are 15 black-owned cannabis brands, dispensaries, and other companies you can support during Black History Month and all year long.
1. Viola

Viola takes its name from founder Al Harrington's grandmother, who found relief from her glaucoma through cannabis.
Viola offers premium flower and pre-rolls, vegan-friendly gummies, artisan vapes, and frozen-flower concentrates. Their products are lining shelves in California, Colorado, Oregon, and Michigan. And if you're in Canada, you can find them at dispensaries throughout the country.
2. BIKO

BIKO is a black-owned brand offering top-notch flower and pre-rolls for connoisseurs. Their smooth pre-rolls even feature flower infused with extra THCa for maximum potency.
You can find BIKO products at California dispensaries in cities like LA, San Diego, and the Bay Area. Your purchase helps BIKO founder, Timeka Drew, continue her work promoting social change while providing a premium cannabis experience.
3. 40 Tons

40 Tons is a California cannabis brand helping those serving prison sentences for non-violent cannabis offenses. Co-founders Anthony and Loriel Algrete started the brand to raise awareness and funds while their friend, Corvain Cooper, was still serving a life sentence for a non-violent cannabis charge.
You can buy 40 Tons flower, vapes, gummies, and more at dispensaries throughout California. You can also show your support through apparel, like T-shirts, hats, and masks. A portion of profits helps support cannabis advocacy organizations, like the Last Prisoner Project.
4. SF Roots

San Francisco native, Morris Kelly, founded SF Roots as the city's first verified equity brand.
SF Roots offers potent flower in popular strains, like Ice Cream Cake and Cherry OG. Like your weed on the strong side? You can also sample live resin-infused pre-rolls for a real kick. Grab their products at dispensaries throughout Northern California.
5. Bouqe

Led by former college athlete CK Dunson, Bouqe offers organic hemp-based rolling paper to take your joints to the next level.
Their rolling papers have zero additives and are specially made to ensure a slow burn so that you can appreciate your flower in all its glory. Buy packs of rolling paper individually or order a subscription to have fresh papers at your door every month.
6. Simply Pure

Husband and wife team, Wanda James and Scott Durrah, founded Simply Pure in 2009, the first black-owned dispensary in the United States. If you're in the Denver area, you can shop your favorite strains from their recreational menu.
Browse a vast selection of flower, pre-rolls, tinctures, vapes, and concentrates. Or sample some seriously unique edibles, like THC-infused peanut butter cups and artisan chocolates.
7. Legal Greens Dispensary

If you're in Massachusetts, you can visit the first black-owned dispensary on the East Coast, Legal Greens. You'll find a selection of potent flower, pre-rolls, vapes, edibles, and concentrates at their Brockton location.
Founder Vanessa Jean-Baptiste also wanted to help give back to the community. Legal Greens hosts workshops that help other black-owned cannabis businesses get off the ground.
8. National Holistic Healing Center

Scientist Chanda Macias founded the National Holistic Healing Center in D.C. to connect medical cannabis patients with their medicine.
Medical cannabis patients from Virginia, D.C., Maryland, and Pennsylvania are welcome to shop at this black-owned dispensary.
You'll find organic strains on their menu, in addition to pre-rolls, edibles, concentrates, topicals, and more, to help improve your quality of life.
9. Juice Joint

Founded by John Hopkin's University grad Krystal Hamlett, Juice Joint creates refreshing drinks infused with CBD and hemp-derived delta 8. You can order exhilarating fruit juice blends and punch in a full spectrum of unique flavors, like strawberry lemonade and mango pineapple ginger.
It's a great way to quench your thirst, enjoy a legal high, and support a black-owned hemp brand.
10. Inertia's Root

Inertia's Root is a black-owned manufacturing and logistics company for cannabis businesses. Founder Stuart McClean and his team help brands find solutions for their brands with cultivation, processing, and manufacturing.
Inertia's Root also offers their own line of small-batch, THC-free CBD products that can be ordered on their website, which include tinctures, balms, oils, and even smokable CBD flower. They're all 100% organic, non-GMO, and free from chemicals and solvents.
11. Mary and Main

Mary and Main is a black-owned dispensary founded by mother-daughter duo Octavia and Olivia Wiseman, proudly helping medical cannabis patients in Maryland.
Shop high-potency flower and pre-rolls in popular strains in their store or order online for pickup. You'll also find vapes, concentrates, edibles, and more on the menu. No matter what products you prefer, their compassionate staff can help you find what you need.
12. Noire Bud

Noire Bud is the brainchild of founder Carolyn Gray, on a mission to provide affordable yet luxurious CBD products to help you find your chill.
Noire Bud offers a unique selection of full-spectrum CBD products, like infused tea, lavender and vanilla-scented balm, and fruit-flavored hard candies. They also offer monthly subscription services for their most popular products, so you don't need to remind yourself to re-order.
13. Royal Highness

Royal Highness is a cannabis boutique in the elegant El Paso shopping district, the "rodeo drive of the desert." Co-founder and CEO Kevya King strives to curate a luxurious experience for discerning consumers, which shows in their gorgeous storefront.
The menu includes flower, pre-rolls, capes, edibles, concentrates, topicals, and more. They also offer a line of premium CBD products. So, if you want to support a black-owned CBD oil company, now's your chance.
14. Ardent

De-carbing your weed can be a fine art that's tough to get right. Patented inventor Shanel Lindsay founded Ardent to bring lab-grade decarboxylators to the masses.
You can use Ardent's mini decarboxylators to de-carb any flower like a pro. Once you've activated your flower, you can consume it immediately, with no smoke required, or use it to experiment with edible recipes.
15. Black Dragon Breakfast Club

Black Dragon Breakfast Club is a black-owned lifestyle brand helping women and minorities enter the cannabis industry.
Founder Tsehaitu Abye wanted to create a community for individuals like herself. And if you're an aspiring cannabis entrepreneur, you can take advantage of their online meetings and consultations to help get your business off the ground. Shop their unique CBD products to help you unwind, like CBD tea or infused bath salts.