The biggest city in the Midwest, Chicago, Illinois is an exciting city no matter what you like to do. Start your trip by sightseeing the famous skyline at Millenium Park; visitors will love seeing the city's reflection and taking lots of pictures in Cloud Gate (known by most as the Bean). Chicago is also renowned for its incredible museums – ranging from the Art Institute of Chicago to the Museum of Science and Industry, you'll find something to learn for everyone. Smoke a joint before heading to hang with the animals at the free Lincoln Park Zoo, or shell out some cash to hang with the sea creatures of the Shedd Aquarium for a truly fun time.
Chicago is known as the Windy City, but once the state of Illinois legalized recreational marijuana, the city got some clouds. Like the rest of Illinois, anyone over the age of 21 can purchase recreational marijuana. It's important to note that in Chicago, Illinois residents can possess up to 30 grams of cannabis products while those from out-of-state can only purchase up to 15 grams. Smoking marijuana in public in Chicago is illegal, but you can smoke in the privacy of your own home or in one of the city's marijuana lounges. State law permits that dispensaries are only to be open from 6 a.m. to 10 p.m, so make sure you plan your visit to a dispensary nearby accordingly!
Chicago Resources:
https://www.illinoispolicy.org/what-you-need-to-know-about-marijuana-legalization-in-illinois/
https://www.chicago.gov/city/en/sites/cannabis-information-center/home.html
Read More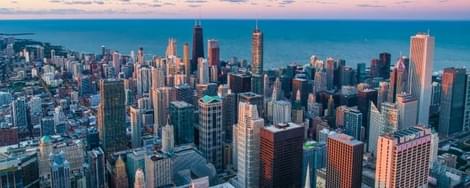 Visiting Chicago?