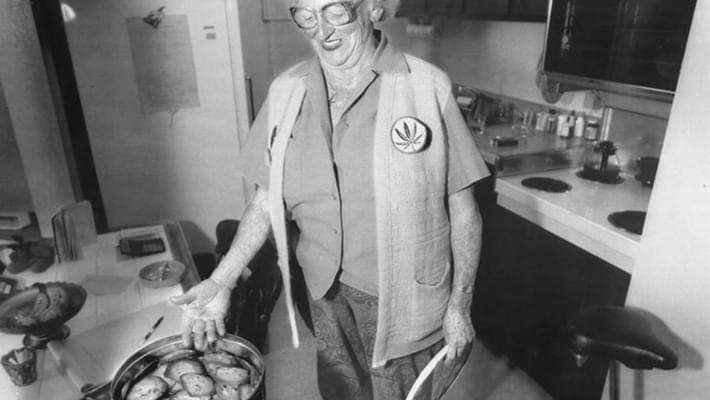 How These 7 Amazing Women Changed the Weed Industry
The cannabis industry has made huge leaps to break down the stigmas surrounding it for quite some time now. As one of the biggest elixirs on the market with 11 states (and counting!) legalizing it for recreational use, this community would be nowhere without its advocates. There have been many weed pioneers pushing cannabis into greater prominence, and there are many notable women who have brought it to where it is today.
Brownie Mary

Mary Jane Rathbun was born in Chicago in 1922 to a hardworking, blue-collar family and is one of the most notable women in cannabis. She found her way to San Francisco in the 1960s, the mother city of activism and counterculture, and volunteered at the SF General Hospital. Here she worked tirelessly with AIDS patients in the height of the crisis and was making close to 600 weed brownies a day. These were more than just tasty treats, as the brownies increased their appetite, combating wasting syndrome while also easing suffering. In 1992 Rathbun was arrested and testified to the board of San Francisco that weed actually has many medicinal benefits. This led to San Francisco making cannabis the lowest priority in arrests and prosecutions, which was a huge win for the weed community. In case you were wondering, the brownie recipe followed her to the grave.
Martha Stewart
We are all familiar with the lifestyle guru who has built herself an empire. Maybe you've even seen her on tv with Snoop Dogg, who taught her a thing or two about cannabis. Martha is now being dubbed "America's Cool Weed Grandma", due to the fact that she has officially moved into the CBD space. Martha Stewart recently became an advisor for the Canadian company Canopy Growth. She's hoping to release CBD pet products this year with the company. She's also looking towards her generation and is hoping to spread CBD awareness to the aging population. Why is Martha Stewart transferring into the cannabis space such a big deal? Martha Stewart Living has over 7.3 million readers, and the demographic is a powerful one. With a median age of 55 and a median household income of $82,175, having this group on board with cannabis will only propel this industry further.
Corrie Yelland

This British-Columbian woman has an almost fantastical story of her experience with marijuana after she was diagnosed with a rare anal cancer in 2011. The radiation was so intense that Yelland decided to stop it entirely, prompting her doctor to think she was looking for a death wish and was given 2-4 months to live. She began using topical cannabis oil which eventually eradicated all signs of cancer. Corrie went from being wracked with pain to living a happy, energetic life. Currently, she is an advocate on the powers that cannabis can create. She has gained an online following and has spoken at cannabis conferences around the world, sharing her hopeful story.
Tulsi Gabbard
This United States Representative, who served in the national guard in Hawaii, is the first Hindu and Samoan-American in congress. However, Tulsi's legacy doesn't just stop there. She has displayed a continual fight for the decriminalization of weed and the ending of the opioid epidemic. She has been a part of the House Cannabis Caucus and introduced two bipartisan bills, in the hopes of enacting change. The Ending Federal Marijuana Prohibition Act of 2019 called for the removal of marijuana from the controlled substance act. This would be a win for researchers everywhere, who are still trying to find out more about marijuana. She also introduced the Marijuana Data Collection Act of 2019, which would allow states to study the effects of recreational and medicinal programs in many aspects such as state revenues, public health, substance abuse and employment.
Mara Gordon
Mara is among other notable women in weed and is an advocate and entrepreneur for the industry. She is the co-founder of Aunt Zelda's, which is a data-driven developer of plant-based medicines. Her company specializes in strain-specific, full-spectrum products that are contaminant-free and THC-rich. In between appearing on TEDx conferences and films such as Weed the People, Medicine of Marijuana, and Mary Janes: Women of Weed, she has also created another cannabis-centric platform. Calla Spring Wellness is a telemedicine platform and clinical service that guides professionals to incorporate cannabinoid-based medicines into standard treatment plans.
Erin Gore

Erin Gore is the founder and CEO of Garden Society which is a cannabis-focused company that is here to serve "canna-curious" women, giving them new holistic ways to rejuvenate their daily lives. Her company is aiming to provide sustainable ingredients and strain-specific cannabis products, giving the power to the plant while breaking down cannabis stigmas. Women and cannabis aren't usually discussed together, but Erin Gore is looking to break that mold and allow women to feel their best and enjoy life with the use of their high-quality products. Erin is also a board member of the National Cannabis Industry Association (NCIA), which serves to protect businesses and advance policy reforms.
Cyo Nystrom
This pioneer is the CEO and co-founder of Quim, a company that is tackling the topic of women's health, specifically vaginal health. Quim is a vulgar, slang term for the word vagina and Cyo is taking the power back and giving the world a sex-positive line of female health cannabis products. Not only are the products sustainable, but they also give women the power to feel their best. Quim firmly believes that vaginal health is a precursor to the pursuit of pleasure. Her company has created products for intimate moments and also everyday living. Nystrom is making women feel empowered about their bodies, using cannabis as the catalyst.
Do you know of any other influential women in the cannabis world? Drop their names in the comments!