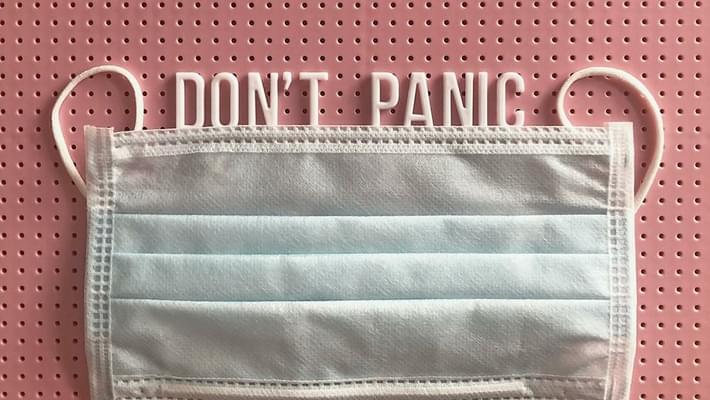 Cannabis Industry Tips: How to Evolve With COVID
After nearly two full years of dealing with the immediate impacts and inevitable fall out of the COVID-19 pandemic, many still find themselves in a bit of limbo. As many were forced to return to their work offices after nearly two years of fully remote or hybrid models, economies around the globe reopened to some extent, and people everywhere struggled to regain their sense of normalcy after a historic global pandemic. That's a significant adjustment to consider, let alone the cost it will have on human life that COVID has taken.
Even today, the waning pandemic continues to take a severe toll on populations and economies around the globe. There have been more than 83.6 million cases recorded in the U.S. alone and over 1 million deaths. Globally, those numbers are even starker. An inevitable result of COVID cases and deaths reaching those horrific heights significantly impacted the American economy.
Data from the Bureau of Labor Statistics showed that 18.1 million in the U.S alone, or 63 percent of folks overall, either lost their jobs or were prevented from working due to COVID. However, one industry that has managed to stay relatively composed since the pandemic began is the legal cannabis industry.
Thanks to cannabis and cannabis products being declared "essential" by state governments where medical or recreational marijuana is legal, the industry has avoided most of the severe effects that other sectors of the economy have suffered at the hands of COVID-19.

COVID, Cannabis & Consumers
While cannabis businesses and dispensaries might be working to produce and sell a product that is considered essential, it is still necessary to adapt to the ever-changing landscape of government regulations and consumer behavior. Like it or not, some parts of that enhanced customer service experience during COVID will now be treated as if they're commonplace.
That's why now more than ever, it's essential to pivot approaches and business models to stay solvent and ensure long-term success during these odd and challenging times.
Here's a brief breakdown of some of the many methods and changes that dispensaries had to make to evolve and change with the times:
Enhanced Web-Based Weed Ordering

Most dispensaries had websites before the onset of COVID-19, but they varied greatly in ease of use and accuracy of the content. More than a few were outdated and did not accurately represent what products were in stock or provide an option to place orders online. Social distancing mandates mean that consumers need to make and get their purchases quickly, conveniently, and safely. That's where online pre-orders and purchases came in!
Dispensaries eased the burden on customers by providing an online ordering platform that is always current with the latest strains and products available in real-time. Photographs of attractive edible packaging, the specific THC content of flower, and bios of farmers and cultivators are great ways to attract online consumers. Purchases can be made easily, all available to be picked up, delivered, or dropped off without putting the customer or the worker in danger.
Furthermore, many dispensaries turn to third-party websites to gain further access to customers in the area. Websites like Where's Weed can help people search for dispensaries in their area, with high SEO search traffic volume to get exposure.
Cannabis Delivery & Pickup
Social habits and consumer behavior have changed dramatically due to COVID. With shelter in place orders and restrictions on retail access, dispensaries must offer options like pickup and delivery. Like other essential businesses, Dispensaries had to figure things out on the fly.
In states where recreational cannabis is legal but delivery is not, some dispensaries have set up outdoor pick-up tents to provide their products to consumers without the need to leave their vehicles. Drive-through windows are also efficient and safe and should be considered if the physical structure of the building is compliant.
An improved web presence that allows customers to choose a precise pick-up time or receive an alert when their order is ready benefits both seller and buyer. Likewise, creating a reliable delivery service in states where it is a legal option for retailers is an excellent way to allow customers and patients to receive their cannabis safely. If it's not yet permitted to deliver, planning for when that day is essential.
And now that the pandemic is mostly over and life has somewhat returned to the way it was before, these handy new pick-up, drop-off, and delivery options are just as utilized and popular as they've ever been. We don't see that going away anytime soon!

Contactless Payment

Due to federal banking regulations, the cannabis industry is still heavily based on the flow of cold hard cash. As a result of heightened germ awareness and social distancing decrees, employees and customers are looking for ways to avoid using dollar bills.
Most stores are discouraging the use of cash as a safety measure, and the cannabis industry is also finding ways to do so. With the growing resistance to money, contactless forms of payment with mobile apps like CanPay and Hypur that do not require substantial fees are becoming popular. They are an excellent way to address health concerns while offering quick transactions. The demand for efficient contactless payment methods will only increase, and there is a hole in the market that savvy tech entrepreneurs could fill.
Automated Marijuana Service

There are some countries where almost everything a person might want to purchase is available in a vending machine. In Japan, consumers can pick up a pair of underwear, grab some fresh vegetables, and even buy a puppy. So, why not weed? One company in Pueblo, Colorado, is doing just that and is the first dispensary in the country to offer customers the option of using vending machines to make their purchases.
Strawberry Fields now has four machines available for use at one of its dispensary locations, and each device holds over 2,000 products, including flower, oils, and edibles. There is no need for human interaction, and you can make purchases swiftly and safely. That's right. They get all of this without even needing to interact with an actual human. Talk about a win-win! It is undoubtedly an arena that the retail side of the industry will most likely be exploring moving forward.

Community Awareness
Marijuana tourism is a big business, but it has suffered heavily due to the COVID-19 pandemic and its accompanying stay-at-home orders; just like any other type of business, Dispensaries that cater almost exclusively to tourists were hit especially hard.
Businesses must change their marketing focus to appeal to local community customers to combat this. Specials available only to customers in local zip codes and a brand strategy that hits local publications and outlets will attract more buyers from the immediate neighborhoods and regions around the dispensary as opposed to tourists. Creating incentive programs and loyalty discounts are also ways to attract local customers. When tourists return, they will only add to the strengthened new local base and build a diverse clientele that will result in a lasting market share.
While this aspect might feel small and insignificant for some, the reality is that modern-day consumers need modern-day solutions. This is a fantastic example of how and why dispensaries appeal to consumers on their customers in new and exciting ways post-pandemic.
The Bottom Line
The cannabis industry is similarly affected by COVID-19 to many other businesses. Still, good complexities within the industry and its relatively new presence in the marketplace give it the agility to continue to make changes that have kept it solvent.
This unique ability to pivot and respond to the current dynamic business environment and the ever-increasing demand for marijuana and marijuana products should make its eventual recovery from the pandemic and ensuing economic fallout more manageable than other retail sectors.