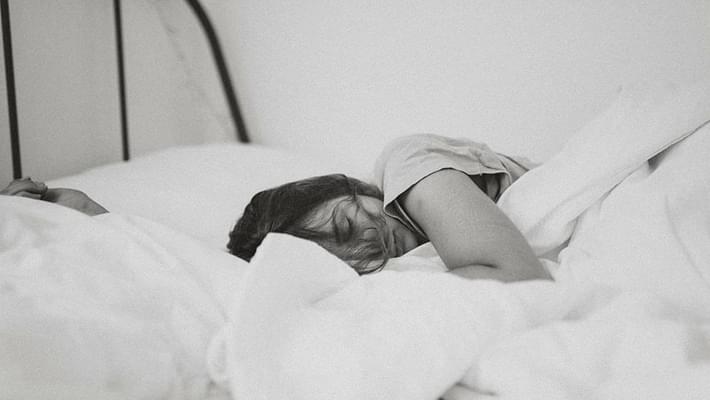 Can CBD Help Me Sleep?
If you struggle with falling asleep at night, you're not alone. According to the Cleveland Clinic, as many as 70 million Americans deal with some type of sleep issue every year. Half of all American adults have reported some kind of insomnia before, with an additional 10 to 15 percent suffering from chronic insomnia. Plain and simply put, many Americans are going through some type of issues when it comes to sleeping at night. However, there are few things as annoying yet universally understood as lying awake to a growing list of thoughts and worries. It's a common occurrence, especially now with so many things to keep most anyone up at night: money, health pandemics, social injustice, and everyday life. It's easy to feel overwhelmed, but that doesn't mean you should be losing sleep.
If you're one of the millions suffering from sleep deprivation, insomnia, anxiety, or other sleep-related problems, it might be time to consider alternative treatments. That's where we here at Where's Weed come in. We're willing to be that some cannabis, particularly some CBD-rich products, might be what you need! We suggest talking to your doctor about CBD oil for sleep. Cannabis has become the subject of increased scientific study, and many recent reports have found good answers to questions like, "does CBD help with sleep?" or "will CBD help me sleep?" Here's what we know so far about CBD and sleep:
What is CBD?

Cannabidiol (CBD) is one of the two most prominent and well-studied chemical compounds in marijuana and hemp. Because of the Agriculture Improvement Act of 2018, CBD products derived from hemp that contain less than .3 percent THC are now federally legal. So, regardless of your state's marijuana laws, you can legally buy and use various CBD products online or in-store.
The World Health Organization has found CBD not to cause dependency or health-related problems. In addition, it has also shown great potential for treating various conditions and chronic pains, including arthritis inflammation, seizures, post-traumatic stress disorder, epilepsy syndromes, insomnia, and anxiety. Additionally, there are very few adverse side effects attributed to CBD, mostly limited to nausea, fatigue, irritability, and raised levels of other medications.

CBD for Sleep
Recent studies have increased our understanding of the endocannabinoid system, underlining the significant impact CBD and THC have on pain and stress. CB1 and CB2 are receptors within the endocannabinoid system that mediate the body's pain and anxiety. CBD interacts with these receptors to promote relaxation and pain remediation, both of which have a direct impact on sleep. CBD works in several ways as a sleep aid. Not only is it thought to help you fall to sleep faster (up to an hour quicker based on this Project CBD survey), but it has proven effective to use CBD oil for sleeping sounder for more extended periods.
Does CBD oil make you sleepy during the day? Does CBD make you tired at all? These are two questions that commonly keep people away from using CBD. Fortunately, the answer is no. We suggest taking CBD before bed not because it makes you tired but because it reduces anxiety and the pain that may get in the way of falling asleep. If you take CBD during the day, it will have the same effect and not cause drowsiness.
CBD Oil for Anxiety and Insomnia

Stress and anxiety actively contribute to sleeping problems and increase the severity of legitimate sleeping disorders (i.e., insomnia). It also works the other way around - individuals with sleeping disorders are more likely to develop anxiety. In fact, according to a recent study, individuals that have insomnia are five times more likely to develop anxiety and depression.
It makes sense that if anxiety and sleep are so closely related, CBD may prove beneficial to both. A 2019 study conducted tests over several months to measure the effectiveness of CBD oil for sleeping and anxiety. They found that one month of consistent CBD use improved most subjects' anxiety levels and sleep quality. This is just the beginning of studies, but results continue to underline the effectiveness of CBD oil for insomnia and anxiety.

CBD and Melatonin
Another method people often use to help quickly fall asleep is CBD and melatonin. Melatonin has been a natural sleep remedy used legally for decades and shares similar effects on sleep with CBD. Companies even offer products infused with both melatonin and CBD. Professionals recommend taking melatonin and CBD an hour or two before bed for practical use, although there are currently no official best-use guidelines.
CBD vs THC for Sleep

Unlike CBD, THC has psychoactive effects and causes a "high" when ingested. Different levels of THC provide different results. Traditionally, indica strains are used for a more relaxing high (ideal for falling to sleep), and sativa strains are used for a focused, euphoric high (ideal for daytime productivity and creativity). Using cannabis products that are higher in CBD and lower in THC is likely to provide a relaxing high ideal for sleep aid.
Together, CBD and THC create the "entourage effect," wherein the two chemicals work together to maximize both therapeutic and medicinal qualities. A recent CBD sleep study (with up to 30 percent THC) showed lowered anxiety levels and increased sleep levels in most subjects. Scientists are still working to understand the exact effects THC has on sleep (with and in contrast to CBD). However, if you are interested in using medical marijuana for supplemental treatment, check if there's a medical marijuana doctor near you and ask about obtaining a medical marijuana card.

CBD Dosage For Sleep

Currently, the FDA has only approved one CBD product, Epidiolex, which treats two forms of epilepsy. Because no other products on the market are regulated, there are no official dosage guidelines. For example, Epidiolex calls for 5 mg per day, with an increase to 10 mg after one week. And while not official procedures, studies have been conducted to determine ideal CBD dosages. For example, one study found that high doses - 150 mg of oral CBD - best induce the therapeutic effects needed to alleviate anxiety and sleeping disorders.
Please note that self-dosing is conducted at the individual's risk because there are no official guidelines. For conditions like anxiety and insomnia, self-dosing has not been proven to have any adverse side effects. Many suggest that CBD should be taken in small amounts at first, increasing dosage over time until you feel a positive, well-tolerated impact. But if you're taking CBD for serious conditions, such as seizures, you must consult a doctor before self-dosing.

CBD Products for Sleep
CBD products include oil, topicals, edibles, and vape pens. While the best CBD for sleep generally comes as oil or an edible, you can find it in almost any form. There are chocolate bars, drinks, gels, patches, and CBD gummies for sleep. You can even buy CBD-infused pillows. But just because there are tons of products out there doesn't mean they're all worth buying.
Because CBD isn't regulated, you must buy products from reputable sources. To cut back on the risk of buying incorrectly labeled products (one study found that only 31 percent of CBD products are correctly labeled), look for brands that have certificates of analysis from third-party testing labs. This extra step means the CBD concentration and other ingredients have been checked by someone other than the manufacturer, which provides an extra layer of reputability. Make sure to read labels, do your research, and know what you're buying before trying something new. Here are some of our favorite CBD oils and gummies for sleep from well-known, reputable brands:
The Bottom Line
The science regarding the matter is precise. Cannabis and CBD isolates have a clear and measurable impact on sleep. That part is undeniable. But unfortunately, there's no magic pill that works perfectly for everyone and solves all of their problems. CBD is just another tool in the toolbox to help, but the real solutions lie with a relationship between you and your doctor.
In the meantime, however, CBD has proven to be effective in helping people relax, feel less anxious, and decompress after a long, hard day. So we highly recommend giving it a try, figuring out your dosage, and having a conversation with your doctor about how CBD can help you both in the short-term and the long-term when it comes to getting better quality sleep!
Have you tried CBD to help you fall asleep? Did it work for you? Let us know your experiences in the comments below!