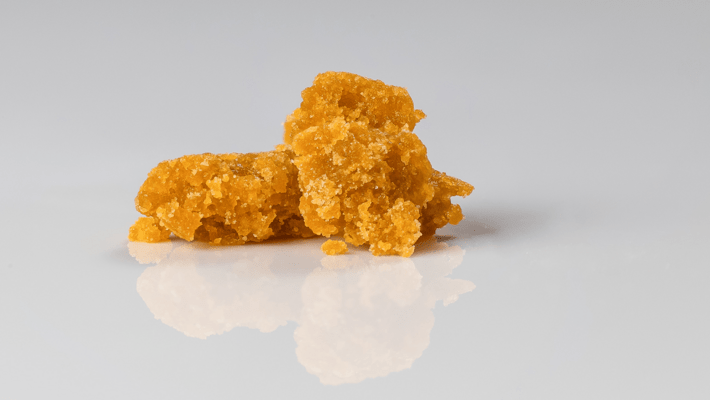 Top Cannabis Concentrates for Medical Cannabis Patients
One of the fastest-growing segments of the overall legal cannabis community has to be the recent explosion of top-notch concentrates on the market today. Gone are the days when your only options at the dispensary were some dried flower full of seeds and stems, some pre-rolls you could roll the dice on or edibles and capsules that take a long time to kick in and can be extremely difficult to dose.
Today's medical patients, in particular, have a wealth of cannabis concentrates to choose from to alleviate their symptoms. However, for new medical patients who aren't familiar with concentrates, the idea of buying and using them can be daunting. That's why Where's Weed is here to give you a full breakdown of some of the best cannabis concentrates for medical patients, how to use them and where patients can get them. Let's get right into it!
What are Cannabis Concentrates
While there is a huge variety of different cannabis concentrates on the market today, the best way to explain to a beginner what they are is to describe them as cannabis in its most simple form. Concentrates take the cannabinoids, terpenes and helpful effects that medical patients need out of the cannabis plant itself, and provide them in higher doses than the standard cannabis flower. That refined and simple form comes in the form of waxes, infused oils, shatter or resin products available at your local medical dispensary.
For many medical patients, cannabis is one of the few things that provide real relief from their often debilitating symptoms. For many dealing with chronic pain, for example, high doses of THC are the best way to deal with the issues without having to turn to addictive and harmful opioids. For those patients, cannabis concentrates are likely their best bet. That's because cannabis concentrates typically have much higher levels of THC than the standard cannabis flower. In fact, on average, concentrates have between 50 to 90 percent THC levels, while the traditional flower usually comes in around 10 to 35 percent.
For patients with limited or fixed incomes, concentrates are likely the most cost-effective ways to get high doses of the THC and other cannabinoids they need to manage their symptoms and feel better without breaking the bank.
Where to Buy Concentrates

For medical patients in states where recreational cannabis has yet to be legalized, their local medical dispensary will be the only place they can legally purchase any medical cannabis concentrates.
For patients in states where recreational cannabis is legal, however, they'll have a few more options. In states where recreational cannabis use has been legalized, like California, Colorado, Washington and Arizona, patients can pick between either medical or recreational dispensaries.
For those in states where medical cannabis is legal who are looking to get a card of their own quickly and easily, Leafwell is a great resource!
How to Use Marijuana Concentrates
Depending on which cannabis concentrate product your pick up from your local dispensary, using a cannabis concentrate product can be as easy as just inhaling. Instead of you having to pull up your favorite search engine and type in "how to use THC concentrates," let us break everything down for you.
As a general rule, you should always check the product labels on any of the medical products you buy. Those labels are important for several reasons. Firstly, they'll likely give you some idea of what the proper dosage looks like. Secondly, reading the product label will give you a better idea of the cannabinoid and terpene profile of the product, which will allow you to better treat your symptoms. More accurate medicine is always more effective medicine.
On top of reading your product labels, you should speak with the budtender at your local dispensary. Not only do they work hands-on with the product daily and likely have a decent understanding of how it impacts patients, but they're also likely to be medical patients themselves with first-hand knowledge of how a product impacted them. The budtenders are always a great resource!
Top Medical Cannabis Concentrates for Patients

Now that you know the basics of what concentrates are and where to get them, let's break down some of the best options available for patients out there today!
Vapable Oils
While you might not immediately think of THC or CBD-rich cannabis oils as concentrates, that's exactly what they are! Vapes are great for patients for two key reasons.
Firstly, they come in a massive range of potency options. That means whether you're looking for only a little bit of relief for aches and pains or relief from chronic pain or other debilitating issues, you'll be able to find a vapable oil that's right for you. Secondly, they're easy to dose. Just a puff, gauge the effects, then puff again if necessary. They're about a simple as it gets for concentrates.
Tinctures
If you're health-conscious and looking to avoid vaping anything, then a tincture is a great choice for you. Just like the vapable oils above, tinctures come in a variety of strengths and different options, are super easy to dose and are available everywhere patients exist. Just a few drops under the tongue or into some food or drink and you'll be good to go!
Rick Simpson Oil (RSO)
Unlike the vapable oils we mentioned above, RSO is something special. Formulated specifically for medical patients to be able to either vape, make in edibles or applied to the skin topically for powerful pain relief, RSO's are a great option for those dealing with serious pain and even cancers.
RSO's are a straightforward, powerful and often smoke-free way for patients to get relief from their symptoms.
Hemp Oils
If you're looking to harness the power of the cannabis plant without the mind-bending, intoxicating aspects of THC being involved, then hemp oil is your best bet.
These oils are great for easing inflammation, reducing stress and anxiety and improving mobility without getting you high. Hemp oils allow users who, for example, might be dealing with anxiety disorders to just be able to cut loose and take the edge off without being inebriated in a public space.
Ingestible Oils Capsules
If you're looking for a concentrate product that's as simple to dose as it is to ingest, then look no further than capsules. Each one is pre-filled with a specific dose of cannabinoids and can be taken with just a gulp of water quickly and discretely. With capsules, the process of controlling how much you take in is about as simple and easy as it gets! Start with a small dosage, and use the "slow and low" approach to work their way up to the dosage that works best for them.
Have you tried any of these cannabis concentrates as an MMJ patient? Share your experiences in the comments below!