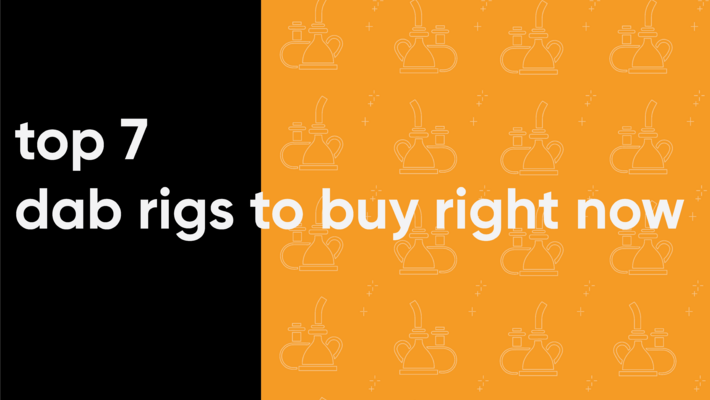 Top 7 Dab Rigs to Buy Right Now
The dab revolution is here to stay. Thanks to rapid scientific, technological and horticultural advancements in cannabis cultivation and manufacturing over the past few decades, THC oil has become one of the weed world's most sought-after products at dispensaries. When it comes to cannabis concentrates, dabs are the best way to experience the full terpene profiles and high cannabinoid contents of live resin and shatter. No matter what, every dabber needs a proper rig.
Whether you're a longtime pro with a custom torch or a newbie who doesn't even know what a dab rig is, we're here to help you navigate the thousands of options for dabbing devices. We compiled a list of our 10 favorite dab rigs on the market today, covering everything from the best electric dab rig to the best silicone dab rig and everything in between.
What To Look for In a Dab Rig

Just like its standard waterpipe predecessor, there are literally thousands upon thousands of different dab rigs online for sale. And while that might complicate your selection process, it also means that there is a perfect rig for every type of dab consumer.
If you want something cheap and nearly indestructible, you should check out a rig made out of silicone. However, if your main goal is to taste every last terpene in your dabs, make sure you've got a high-quality glass piece with percolator filtration, a quartz banger and a bubble carb cap. And lastly, if you have no interest in purchasing a blowtorch and want something that's simple and easy to use, there are more top-shelf electric dab rig options on the market than ever before. No matter what your preferences and specifications are, we'll help you find a dab rig that is perfect for you.
The Best Dab Rigs For Sale Right Now
PuffCo Peak Pro
When it comes to e-rigs or battery-powered electric dab rigs, the PuffCo Peak is the most talked-about model on the market. And after two years on the market, the team at PuffCo is back with an upgrade. The brand new Peak Pro features the same great rig contained in a handheld base that combines a power source and heating chamber with a glass chamber for incredibly easy dabs on the go. With the new Pro, though, PuffCo added an improved, larger atomizer, a bigger glass bubbler and even a first-in-class wireless charging dock. Style-focused dabbers have always loved the Peak for its sleek, spaceship-like design, and the new model is still interchangeable with a slew of custom glass bubblers. The Peak Pro also comes equipped with a compatible app that allows users to set hyper-specific dab temperatures. If you want to stand out from the crowd at your favorite sesh while enjoying hefty clouds of concentrate vapor, the Peak Pro is a perfect upgrade. Buy Peak Pro from PuffCo now for $399.99.
Pulsar Rok

The Peak may get the most attention in the e-rig category, but if you ask us, the Pulsar Rok is the cream of the crop for battery operated dab rigs. A small, heavy, ergonomically molded rig with a built-in percolator, a standard quartz nail and three heat settings, the Rok is easy to clean, hits like an All-Star and gives you consistently great-tasting dabs. If there is any downside of the Rok, it would be the short battery life and slow charging time. Other than that, the Rok is one of our top choices for all-in-one e-rigs. Buy the Rok from Pulsar now for $250.
KandyPens Oura
KandyPens made a name for themselves by making high-quality, affordable dab pens in the years before dab rigs took over the concentrate accessory market. As the times changed, KandyPens adjusted, and these days produces one of the industry's best e-rigs; the Oura. The Oura comes stock with both quartz and ceramic heating plate so you can pick depending on preference, as well as four standard heat settings, and a very quick 5-second heat-up time. With all those features packed into a small, touch-sensitive body with a bubbled out glass chamber, the Oura is also one of the more expensive handheld vapes, so that quality will cost you. Buy the Oura from KandyPens now for $299.95.
Dr. Dabber Switch

If you are in the market for an e-rig but don't like small, handheld styles, the Dr. Dabber Switch is the rig for you. The large, desktop e-rig uses induction heating coils for near-instant dab heating. The ceramic nail-equipped Switch is also the only e-rig model that includes a high-temp self-cleaning mode that will save you from cleaning with an alcohol-soaked cotton swab ever again. Additionally, the Switch is also one of the only e-rigs that can be used while it is charging, saving you from any long waits between dabs because of a low battery. Lastly, the Switch also includes a separate mode and bowl attachment to vaporize flower, making it a great option for fickle vapers. Buy the Switch from Dr. Dabber now for $399.95.
Eyce Rig II
Not ready to invest in an e-rig, but worried you might break a pricey glass piece? No worries, the Eyce Rig II is a small, nearly indestructible rig made almost entirely out of silicone. The Rig II comes with a small borosilicate glass collar to keep the titanium dab rig nail in place, while the silicone body includes a standing surface with four separate holders for dab tools. If you love using your torch, but don't want to burn your money on dab accessories, the Eyce Rig II is the one for you. For a little added pizazz, the Rig II comes in more than a dozen interchangeable colors like "cotton candy" and "coral snake." Buy the Rig II from Eyce now for $49.99.
Higher Standards Heavy Duty Rig

If all you want is a classic borosilicate glass rig that produces big clouds of filtered cannabis vapor, then the Higher Standards Heavy Duty Rig is for you. Unlike most standard rigs, the Heavy Duty model from Higher Standards comes outfitted with a quartz banger nail, a carb cap and two dab tools. Outside of a torch and your favorite strain, the Heavy Duty Rig has everything you need to instantly turn yourself into a dab pro. As the name suggests, the Heavy Duty Rig won't break that easily because it's constructed entirely out of 7mm thick glass. Buy the Heavy Duty Rig from Higher Standards now for $180.
Jacob Vincent Rippledisc Sphere Rig
Of course, no list of dab rigs would be complete without at least one hand-blown heady piece. The recent popularity of dabbing has sparked a resurgence in the world of cannabis-focused glassblowing and sparked a whole new segment of fine art. And while some rigs can go for upwards of $10,000, you can still find a tremendous selection of one-of-a-kind custom made smokable art pieces for less than $1,000. We could spend hours perusing fine art glass dab rigs at online headshops, but as of now, our favorite semi-affordable piece for sale is the Reppledisc Sphere Rig from artist Jacob Vincent. Buy the Rippledisc Sphere Rig from The Cave Smokeshop now for $640 but act fast, there's only one in stock!
What's your favorite dab rig for smoking your tastiest concentrates? Drop a link and tell us why you love it so much in the comments below!