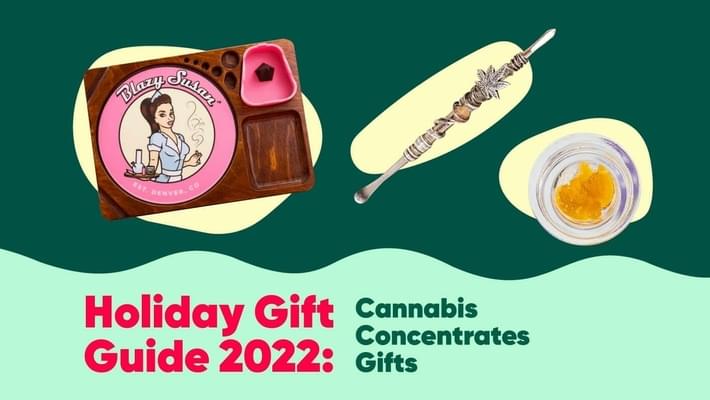 Holiday Gift Guide 2022: Top 9 Cannabis Concentrate Gifts
The holidays come with plenty of opportunities to show people just how much you adore them, including your favorite stoners!
Cannabis concentrates are set to be the gift of the season, and they're always well-received by people who love a potent dose of THC.
Read on to learn about concentrates and discover some of the best cannabis concentrate gifts you can buy for the upcoming holiday season.
What Are Concentrates?
Cannabis concentrates are a form of cannabis that is, as the name implies, concentrated. Available in various forms, concentrates allow you to experience high levels of THC and other cannabinoids, with some pushing past 90% in total. Concentrates generally include the best parts of the cannabis plant while filtering out the rest.
Types of Cannabis Concentrates
What is Dabbing?
Dabbing is one of the most effective ways to use cannabis concentrate. For this process, you'll use a dab rig, which looks a bit like an oddly shaped bong. You'll place the dab concentrate or wax on the nail, then use a blowtorch to heat the concentrate.
The vapor that appears can be inhaled, offering a highly concentrated hit of THC. Using a vape pen is also technically considered a form of dabbing, though it's less common to refer to it that way.
Is Dabbing Better Than Smoking?
Some people swear by dabbing and have traded their traditional flower for hard-hitting concentrates instead. This might have you wondering if dabbing's better than smoking. In truth, there's no right answer to this.
People who prefer dabbing generally like it because it brings an aggressive, instant hit of THC that can have significant effects. Some people really enjoy this, while others find it to be overpowering.
Always try dabbing in a safe environment and start as small as possible when ingesting it for the first time. This will help you determine if the dabbing method is right for you.
9 of the Best Cannabis Concentrate Gifts
You have people you love who also love marijuana, and cannabis concentrates are the perfect gift for celebrating the holiday season with them. Let's get into some of the best cannabis concentrates we recommend for the 2022 holiday season!
Natty Rems

Natty Rems places quality at the center of everything they do, so it's no surprise they make cannabis concentrates that people love. Offering everything from cold-cured live rosin to live budder and live rosin gummies, they're a great match for concentrate lovers of all kinds. You can find their products in more than 200 dispensaries.
For Sale in Colorado
Price: $45+
Viola

Viola creates premium concentrates to expand the market and increase the quality of products available. Known for investing in communities and supporting those impacted by the war on drugs, they also offer clean and crisp rosin and live resin. People who want to support a company that gives back to local communities will love this gift.
For sale in these states:
California (live resin only)
Colorado (rosin and live resin)
Oregon (live resin only)
Price: $20+
Olio

Some brands believe concentrates are the future, and Olio is one of them. They offer cartridges, live resin, live rosin, and live edibles that are all specially made to provide a clean and powerful cannabis experience. With a growing library of strains, they offer concentrates to suit every preference.
For sale in these states:
Colorado
Massachusetts (recreational only)
New Mexico
Price: $50+
Green Dot Labs

Green Dot Labs has been entering dispensaries with their powerful and effective vape pens and concentrates, and people love them. They believe in creating extracts that are the "purest expression of cannabis" and offer high-end wellness benefits. Green Dot Labs is currently selling live badder, extracts, and cartridges. Buy their products for any stoner in your life who enjoys a good, clean hit. Their products are currently available in 100+ dispensaries.
For sale in Colorado
Price: $40+
Feeling Frosty Extracts

Feeling Frosty makes all its products in what they call the Feeling Frosty Igloo. Focused on quality and the terpenes that make cannabis products so amazing, they fresh freeze cannabis as part of their primary process. They offer a variety of icy goodies, including ice water hash, hash rosin, and live resin, that are perfect for experimental cannabis users.
For sale in California
Price: $28+
Crystal Dab Tool

Every good cannabis concentrate fan knows that having the right dab tool can make all the difference. These vibrant and beautiful dab tools from ESCNW are the ultimate gift. Available in gold, rose gold, and silver, these tools are as easy to use as they are pleasant to look at (especially after a nice, big dab). Gift one to anyone who loves a designer flair while they dab.
Price: $25.99
Blazy Susan Dab Tray

Give the ultimate dab accessory gift with this beautiful cherry dab tray from Blazy Susan. Designed to keep your rig safe and fitted with all the accessories you could ever need, this convenient kit has everything dabbers want. This is a good match for the most dedicated and stylish dabbers in your life.
Price: $12.50
The Honeydabber Nectar Collector

Honeydabber is committed to giving you the ultimate dabbing experience in a convenient and easy-to-store container. This brand makes stunning rigs in various sizes and designs, designed to be put away directly after use. They're one of the best gifts for the dabbers in your life.
Price: $43
Mushroom Terp Pearls

Creating an excellent dab experience means using all the right tools, and few things play a bigger role in quality than terp pearls. These adorable mushroom terp pearls from Anthea's Glass Shop work just as well for design as they do for function. Ideal for retaining heat for low-temperature dabs and creating an even hit, these cute dab accessories are easy to love.
Price: $40-$250