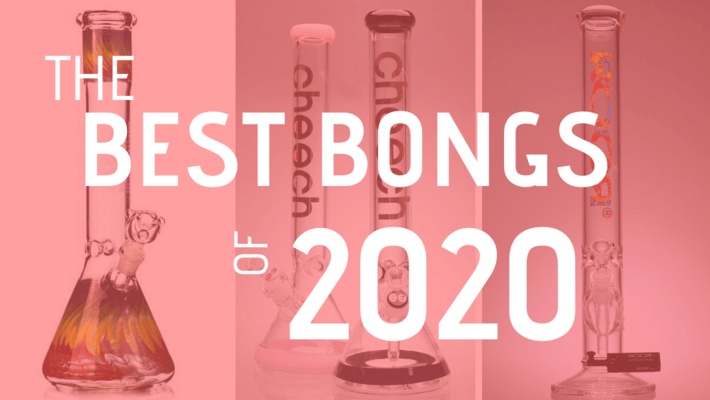 The Best Bongs To Buy In 2020
Updated: January 27, 2022
With the growth of the marijuana industry and wider acceptance of marijuana in society, bongs have evolved from a traditional straight tube with a removable bowl into works of modern art. Now one can go into any smoke shop and find high-end bongs shaped like animals, or coral reefs, with embedded jewels to boot. However, all good bongs can be traced back to a very simple and effective design.
Whether you like it or not, and it's clear that the vast majority of Americans do, the legal cannabis industry here in the U.S. is here to stay. Not only have legal cannabis businesses earned states that pushed through legalization efforts more than more than $10 billion dollars in tax revenue since the first state legalized in 2014, but that massive influx of money shows zero signs of slowing down or dropping off. Even amid the COVID-19 pandemic, sales numbers for cannabis products went up. Cannabis is, simply put, about as much of a can't miss money-making cash cow as there is when it comes to businesses here in the U.S.
Despite the massive rise in popularity for cannabis and, in turn, the innovations in new ways to enjoy it like vapes, concentrates, and edibles, smoking cannabis flower is still the most popular form of cannabis consumption here in the U.S. In fact, according to a recent poll conducted with over 6,100 adult cannabis consumers in twelve states, 59 percent reporting that inhalation "was their only mode of marijuana use."
So with all of that smoking going down, it only makes sense to have a top-notch bong to enjoy it with, right? After all, rolling up blunts and joints can be messy, time-consuming, and overall annoying. Sometimes it's just simpler and easier to pack a bowl, spark up, and take in some huge bong rips. That's why we here at Where's Weed put together a comprehensive list of ten of the best bongs on the market for smokers. We want this to be your one-stop shop for the best quality bongs you can imagine. Let's get right into it!
What Makes A Bong Great?
Before we get too into the weeds about which bongs are the best available, we think it's a good idea to break down exactly what exactly a bong is, how to use it, the different types that are available, and, most important, how to use one. After all, with the legal cannabis indsutry bringing in so much money and spreading so quickly there's bound to be folks out there who aren't exactly cannabis aficionados or are just looking for some advice. Thankfully, we've got you back here at Where's Weed. Think of this as Bongs 101!
Bongs are a ubiquitous smoking tool found the world over. Basically, a bong consists of a tube, preferably glass, with one end closed off for water, with a removable bowl piece near the bottom closed off portion. Water is poured into the tube until it covers the stem, a separate tube that extends from the removable bowl piece to the bottom of the main tube. Marijuana is loaded into the bowl and lit, the user inhales from the open end of the bong and the water filters smoke particulate out, catching it, as well as reducing the smoke's overall temperature. Bong users love the smooth and cool hits that accompany a well-made bong, especially one loaded up with ice water for an even better cooling effect. Another advantage of the bong is that one can taste unique strain flavors better due to the cooler temperatures and cleaner smoke as opposed to a joint or blunt, which both can be very harsh on the throat and lungs.
Different Types of Bongs
There are a wide variety of iterations of bongs, but most top glass bongs adhere to general frameworks that have been around for decades. There is the common straight cylinder bong which can be found in every head shop. And for those who want more water to help reduce the smoke's temperature, there are beaker-shaped bongs. A beaker bong looks a lot like a science tool, with a straight cylinder tapering outwards towards the bottom quarter of the tube to allow for a greater volume of water. These bongs also tend to be more stable as they are wider towards their base and also can carry more water. This makes them a little heavier, so beware when picking one up.
Another type of quality glass bong is a percolated bong. These tend to be a little more expensive but come with the added benefit of having a percolation system at the bottom that filters the smoke into smaller bubbles which then travel through the water. The advantage of a percolator bong is that the smoke is broken up, increasing the surface area exposed to water, making the hit even smoother and cooler than a beaker bong. Percolated bongs tend to look more complex and can be an interesting conversation piece as well as a functional smoking tool.
Although these are the three main categories of bongs, there are countless iterations that get ever more extravagant. From triple percolated bongs to bongs with ice-catching features to bongs with multiple bowls, the design of a bong is limited only by the imagination of the creator.
The best quality bongs are traditionally American-made from glass or Pyrex. Although durable silicone bongs have made a splash in recent years, glass is still considered the best material for a bong due to its aesthetic nature and high-temperature resistance, giving the user a guarantee that their smoke will be undiluted by particulate from the bong itself.
There are endless amounts of bongs and companies marketing themselves as "the best bong for weed," but we here at Where's Weed are here to help you sort out the signal from the noise when it comes to the best possible bongs on the market today. So with that in mind, let's take a deep dive into some of the best quality bongs available for cannabis consumers to light up, puff on, and enjoy!
The Top 10 Bongs of 2020

For the first entry on our list, we have the Bushmaster Recliner bong. When it comes to finding a great introductory bong, it's hard to overlook this one. Designed to be smoked from a reclining position, this bong is perfect for after-work sessions when relaxation is of the utmost priority. A low price tag, with bongs starting around $30, makes this a perfect introductory bong for the after-work smoker. It's a perfect, low-cost, low-risk investment for the former stoner looking to smark up again and takes the edge off now that recreational or medical cannabis is legal or decriminalized in their state, city, or town. It's hard to go wrong with this one!


If you're on the hunt for a bong that's as unique and eye-catching as it is effective to some with, then you can't go wrong with a Tsunami bong. These quality glass bongs are made from high-quality borosilicate glass, making them extremely durable and made in the USA. Tsunami makes a wide variety of bongs from percolator bongs to beaker bottom bongs, all of which we recommend. The beaker base ice catcher bong is a simple yet sturdy bong costing an economical $68. If you're looking for a cool-looking bong that's sure to get the job done and last, then this one is right for you.

These are incredibly high-quality and expensive bongs made under the supervision of master glassmaker JP Toro. Toro Bongs aren't just a pipe to smoke out of, they are exquisite pieces of functional art that are as eye-catching as they are functional. For those looking for a high-quality glass art piece, these bongs are a great choice. Every piece is inspected by JP Toro to ensure that only the best pieces make it to their website to be sold. Prices range from $300-700, but while it may be pricey it's hard to pass up something as breath-taking as these wonderful works of art. If you're looking to spend big on something pretty, then this bong would be a great choice.

We love Diamond Glass bongs for their great style and lower price-point. As far as we see it, they're the perfect fusion between style and price, a great option for an above-average bong aesthetically and easy on the wallet. Their bongs are well percolated and easier to clean than some other options of equal complexity, and most are small enough to transport without worry of breaking it or being obtrusive. Prices range from $65 - $300. If you're looking for an easy-to-clean bong that won't break the bank, then the options from Diamond Glass will be perfect for you!

Why have a simple, ugly bong when you can have a piece of ar like this one? We love The China Glass for their sleek and artistic designs that can be displayed in our house for all to see. More than just decoration, you can also be sure you'll get a good hit from these high-quality pieces made in China. These gorgeous bongs perfectly straddle the line between quality and beauty, with wonderful designs that help them massively stand out from the crowd. With a decent price point and gorgeous looks, there are really no downside here when it comes to these bongs.

Blaze Glass is a reputable European company known for their quality of glass. That's a massive selling point in and of itself. After all, of the glass is quality and well made, then the bong will simply hold up better for longer. The percolator series can be bought in either a straight or beaker bottom, and depending on the price one or more percolators will be included. These bongs are a little pricier but are worth the cost. Blaze Glass Bongs start at $200+.

This venerable company is based out of Eugene, Oregon and is one of the oldest glass companies in the U.S. One of the OG's in the cannabis glass game, Mountain Jam makes artistic bongs in a variety of styles. The simple three hole diffuser Beaker Bottom Glass Bong is a reasonably priced thick-glass bong, which is perfect for those the cannabis connoisseur on the go. This is a beautiful piece of glass reminiscent of late-90s glassware with a modern and striking ice catcher. Prices start at $100, so the prices are more than fair when compared with other sites and brands that have been at it for a fraction of how long Mountain Jam has been around.

Grav's large clear beaker bottom glass bong is a perfect home piece. It's quite large, so not the best travel bong, but the smoothness and coolness of its hits more than makeup for its sedentary nature. This bong provides massive amounts of incredibly smooth smoke, so you're much more likely to just look to chill out on the couch after taking a few hits off of this thing. Prices start at $60.

Roor is one of the best glass bong companies out there today, making a wide range of glass products with prices to suit any stoner's needs. Their official website advertises their higher-priced range, but they're likely going to have something that suits your needs no matter what they are. The stunning one-of-a-kind sandblasted floral pattern on their Beaker bottom glass stands out a bit from the rest, however. A customer who picks up one of their own will get a wonderful lifetime piece of glass that will never go out of style.

We can't get enough of AMG Glass here at Where's Weed. Their simple bongs are classy and provide a reliable hit every time. AMG has been at the top of the bong market for decades, with generations of glass-making experience which that helps them craft some of the best bongs in the game today. Bongs range from $80-$130 and are well worth the price!
Tips on Buying Your First Bong
With so many companies touting their products as the best glass bongs, it can be difficult to decide who to go with.
Here are a couple of tips about how to ensure the bong your buying is quality and as economical as possible:
Look at the Bong in Person
When it comes to bongs, seeing really is believing. Before you go online and drop a big chunk of change on a bong you've only ever seen through a phone or computer screen, consider buying a bong at the local head shop. This has the dual benefit of supporting a local business, but it also allows for a visual and physical inspection of the glass bong. Look for thickness of glass and check for cracks or scuff marks. Basically look it over to make sure it's a piece that will withstand cleaning, moving, potentially a drop or two.
Avoid Cheap Bongs
Yes that $20 price tag looks good, but this an item that needs to withstand repeated heating, cooling and cleaning, not to mention that it's a vehicle for smoke inhalation. Having a higher quality piece is worth the peace of mind that the bong being bought was made in a sanitary facility and made with care. While it might cost a little bit more, that cost works itself out in the form of a better smoking experience, more time using the bong, and a better experience overall. , not to mention it will provide a more enjoyable smoke.
Avoid Unknown Companies When Buying Online
They may have great deals but the quality and origin is unknown, making it easier for scammers to advertise one product and ship another. Online sales make it too easy for scammers to sell poor-quality glass bongs that may also be dangerous to use. Industrially manufactured smoking products, and bongs in particular, run the risk of being made with dangerous chemicals and materials. If you want to support lesser-known companies and artists, go to a real storefront and see what the local glass blower is making.
Look for Deals!
Bong companies frequently have sales and specials and many offer online coupons that one can find with a simple search engine search. That few minutes you spend scouring the internet for deals might be the difference between you saving money or having to pay through the nose for a rig when it didn't have to go that way at all!
What's your favorite bong style? What's your go-to glass company? Tell us in the comments below!