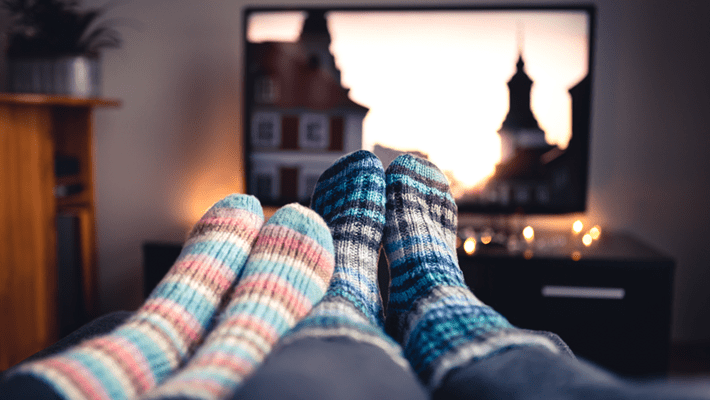 Top 5 Holiday Movies to Smoke Weed With
Stoners absolutely love Christmas (or at least they should), and there are multiple reasons why: It's a national holiday so there's typically no work or school for a day or two. There's yummy food for Christmas dinner, as well as giving and receiving presents and spending time with loved ones. Last, but certainly not least, watching Christmas movies while simultaneously getting extremely baked is usually also a part of the wonderful holiday traditions. If you're a cannabis connoisseur looking for some of the best holiday movies that will be sure to have you hootin' and hollerin' for your next smoke session, we've got a list for you. Also, we included the best weed strains to be smoked with each movie- because what pairs better with a good movie than good weed?
Best Christmas Movies to Watch While High

Hulu premium subscription
Many stoners already know the classic, Harold and Kumar Go to White Castle, but this one can't be missed around the holidays. In the third installment of this stoner flick former best friends, Harold and Kumar, have grown distant from one another, lost touch and found new friends. Right before Christmas, a strange package addressed to Harold shows up on Kumar's doorstep, leading the two old best friends to meet again. This results in a series of hilarious shenanigans and a lot of cannabis, as expected whenever Harold and Kumar are together.
Recommended Strain Pairing:
Fire OG (indica) ~24% THC
Terpenes: linalool, pinene, myrcene, d-limonene, beta-caryophyllene.
Perfect for kicking back to watch A Very Harold and Kumar Christmas, Fire OG is arguably one of the best cannabis strains out there. It starts off with an energizing high before the indica portion takes over, enabling the ultimate relaxation.
Sling TV
A company's Chicago branch is not having the greatest year. Interim CEO, Carol, dangles the threat of closing them down and canceling their annual office Christmas party. Clay, Carol's brother, along with Josh, an employee at the branch, come up with a plan to save the Christmas party by landing a deal with a major financial firm. In order to close the deal, Clay throws the office Christmas party, inviting Walter Davis, who is head of the previously mentioned financial giant. However, absolute pandemonium quickly ensues as things never quite go according to plan.
Recommended Strain Pairing:
Terpenes: terpinolene, limonene, linalool.
The uplifting effects of this particular strain are ideal for a social movie night, giving a slight increase in focus as well as creativity.

Disney+ subscription
Approximately one year after Kevin McCallister was accidentally left behind while his family flew to Paris for the holidays, he finds himself in a similar predicament. His family rushes to the airport and realize once they land that Kevin got on the wrong flight. All by himself once again, and this time in New York City, Kevin gets into his usual troublemaker antics. However, just like the first movie in the Home Alone series, he is pursued by the same Wet Bandits. You'll be sure to get lots of laughs from this nostalgic movie!
Recommended Strain Pairing:
Terpenes: caryophyllene, linalool, limonene.
One of the more popular hybrid strains, Bubble Gum quickly gives users a smooth head high paired with a boost of energy, making it easy to get into the mood for chatting and/or dancing.
Buy/rent from Youtube, Amazon Prime Video, Vudu, etc.
Willie and Marcus, two low-level thieves, have an annual Christmas tradition of posing as a Santa Claus and elf duo so that they can rob department stores. However, when Willie befriends a little boy, his holiday season starts taking a turn for the better. Don't miss this R-rated holiday classic!
Recommended Strain Pairing:
Terpenes: beta-caryophyllene, alpha-humulene, limonene, beta pinene.
This flavorful strain is a perfect pairing for a raunchy comedy. Coming from Sour Apple and Animal cookies, it's one you won't regret lighting up as you sit tight and laugh the night away.

Hulu premium subscription, Starz, Sling TV
A holiday classic, Elf is about a human baby named Buddy who had been raised in the North Pole as an elf. When Buddy discovers who he really is, he sets out for New York City to find his real family. However, once he finds his real father, Buddy does not get the warm welcome he had been expecting. Starring Will Ferrell, this movie is perfect for a stoned night in.
Recommended Strain Pairing:
Terpenes: beta-pinene, d-limonene, beta-myrcene, linalool, alpha-pinene, beta-caryophyllene.
Another one of the best strains of weed, Cookie Monster is known for its extremely soothing effects on stress and anxiety. This strain is perfect for blazing during the day as well as night with long-lasting effects on your system.
Indica vs. sativa, which one do you prefer for watching movies? What are your top cannabis strains? Everyone likes all sorts of different strains of weed, and we'd love to hear about yours. Let us know in the comments below!