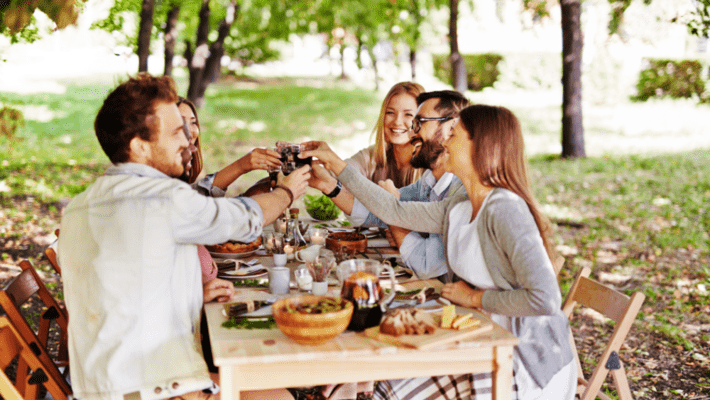 Danksgiving: How to Host Thanksgiving with Cannabis
If you think about it, Thanksgiving and cannabis is the perfect combination - smoke weed to get super hungry, then dive right into the biggest meal of the year. It just makes sense, which is why Danksgiving has become such a popular trend. There are many different ways to do Danksgiving, from simply getting high before a meal to providing a full-blown cannabis-infused menu. However you want to do it, we're here to help you be as creative as possible to come up with the best Danksgiving for you and those you're most thankful for.
A Brief History of Thanksgiving
We've all grown up with a very specific, clean version of Thanksgiving tradition, but the truth is far from turkey and peace. Our modern Thanksgiving is built around a festival held between European colonists and the Wampanoag Indians at Plymouth in 1621. The three-day festival (not called Thanksgiving at the time) was held to celebrate the first crops successfully harvested by the Europeans, with the help of Wampanoag instruction. The first Thanksgiving was more about celebrating survival than peace - it marked a turning point in early colonist prosperity, with Plymouth and other colonies quickly transitioning from death and starvation to prolific cultivation of a wide variety of plants, including hemp. Unfortunately, the next several decades also brought strained relationships between the colonists and Native Americans, which quickly deteriorated into distrust and unconscionable death and war.
Roughly 150 years later, thanksgiving was proclaimed for several days each year during the American Revolution to express gratitude toward freedom and the U.S. Constitution - George Washington proclaimed the first official Thanksgiving in 1789, a tradition that was then upheld by several of his predecessors. However, it wasn't until 1863 (over 240 years after the initial Plymouth feast) that Thanksgiving day was officially declared a national holiday by Abraham Lincoln to raise the country's morale during the Civil War. Since then, the modern Thanksgiving has continued to build into what we experience today, weed Thanksgiving festivities included.
Ways to Host Danksgiving
Thanksgiving, no matter what our culture has long described it as, is up to you to define. Thanksgiving is a time to appreciate and consider our blessings in any way we choose, which brings us to the beauty of celebrating with Thanksgiving weed. Similar to cannabis consumption methods and different levels of high, there are many ways to conduct Danksgiving. Here are some of our favorite ways to host an old fashioned Thanksgiving dinner party (with weed, of course):
Offer Cannabis Before Thanksgiving Dinner

Throwing a weed party for Thanksgiving should start with, well, smoking some weed. Begin smoking just an hour or two before the meal, that way the munchies can kick right before dinner time. To be especially accommodating, have several consumption methods on hand for your guests, such as edibles, vapes, and a pipe or two. Especially with Thanksgiving 2020 and health concerns due to Covid-19, edibles and smaller joints might be your best option.
Decorate With Cannabis
If you're feeling festive, put up some weed-inspired green alongside your traditional Thanksgiving decorations. Put some mock cannabis leaves in the table centerpiece, light some dank candles around your place, and get cheesy with some marijuana garland or weed-themed snack bars. For a diverse idea board with plenty of cannabis inspiration, check out Pinterest.
Infuse Your Foods

If you want to fully embrace Danksgiving and impress your guests, there's always the option of making weed Turkey. Yes, it's possible. Pretty much any food can be infused with cannabis if done correctly, and it's as simple as creating a cannabutter or canna-oil that can replace traditional ingredients. If you're going all out, why not make some dank mash potatoes, cannabis-infused green bean casserole, a delicious weed turkey, or even a weed-friendly pumpkin pie. The possibilities are endless, and it's probably best to just let your imagination run wild. Be sure to warn your guests that the food has been infused with marijuana, and keep all THC-infused foods away from children.
After-Dinner Infused Drinks
Between the weed and the Thanksgiving dinner, chances are good that you and your guests will be ready for a post-dinner nap sooner than later. Before you get that nap in, though, we recommend winding down with a cannabis-infused drink. Put a spin on something seasonal by making cannabis-infused hot buttered rum or an apple cider mule We also recommend having both alcoholic and non-alcoholic options so your guests can decide how to partake. If you're not in the mood for a cocktail, try making something a bit more comforting, like a cannabis pumpkin spice weed latte.
Using Cannabutter for Danksgiving

If you're wanting to make Thanksgiving 2020 a truly special experience, you really should consider putting cannabis on your ingredient list. One of the best ways to infuse any meal with weed is to use cannabutter in place of traditional butter or margarine. Making cannabutter is an easy process that only has a few steps, is easy to keep, can be added to almost any recipe, and gives you control over how much of an effect you want your infused food to have. Check out our detailed instructions on how to make cannabutter and use it to make this next Thanksgiving the most memorable yet!
Do you have experience hosting Danksgiving? Share your favorite cannabis-infused holiday recipes and Thanksgiving weed ideas by commenting below!