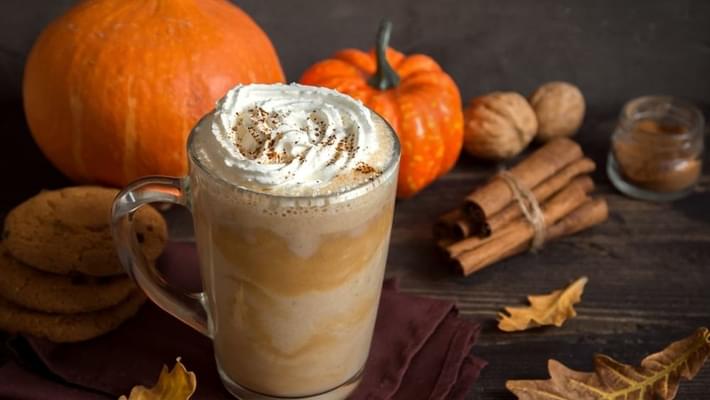 Making a Cannabis Pumpkin Spice Weed Latte: Marijuana Recipes

As Autumn sets in, we're excited about the Halloween season and evenings bundled up on the couch watching scary movies amidst declining temperatures. It's also that time of the year when the hype for a certain flavored coffee drink increases: the signature pumpkin spice latte (PSL) - a seasonal fall beverage that everyone either loves - or loves to hate on. Regardless, we think you'll enjoy our THC - infused version of this popular autumn drink. It's the perfect way to discreetly integrate some marijuana into your seasonal festivities as well as indulge yourself with a cozy and relaxing beverage that you can curl up on the sofa with.
How to Make Cannamilk

Before we jump into making a THC-infused PSL, you will need both decarboxylated marijuana and milk. Decarboxylation is the process where THCA and CBDA cannabinoidsare converted to THC and CBD so that our body's endocannabinoid systemcan absorb them for us to feel the psychoactive effects. This involves heating up weed for a certain amount of time (instructions for this process here). Be sure to calculate the THC dosage carefully using this online calculator. The general rule is .5 - 1 gram of weed per quart of milk. If you prefer to make your PSL CBD infused instead of THC, you can substitute the decarboxylated cannabis and replace it with CBD oil, CBD flower or even CBD tincture. You can use either dairy or plant-based milk, but just remember that the fat content is ke. Cannabinoids have to bind with fat in order to be effective, so whole milk always works best.
Directions - Cannamilk
Pour milk and cannabis into a crockpot, setting the heat on high for an hour.
Lower the heat and let it sit for another hour.
Strain the cannabis with a cheesecloth, and pour the cannamilk into a mason jar. Store the finished cannamilk in the fridge.
Pumpkin Spice Weed Latte
Ingredients
2 tablespoons pumpkin puree
1/4 cup hot espresso or strongly brewed coffee
1/4 teaspoon vanilla extract
1/4 teaspoon pumpkin pie spice
Optional - 3 tablespoons whipped cream
Optional - 1 teaspoon fresh ground nutmeg
Directions - Cannabis-Infused PSL

Combine sugar, pumpkin puree, cinnamon, vanilla extract and pumpkin pie spice together with cannamilk into a microwavable bowl.
Cover bowl with plastic wrap, leaving a small vent hole. Place in the microwave for 1 minute on the highest setting.
Whisk using a hand mixer or immersion blender until the mixture is frothy.
Pour your hot espresso or coffee into a large mug, adding in the cannamilk mixture.
To make your latte extra tasty, top with whipped cream and freshly ground nutmeg.
With this delicious recipe, you can enjoy a medicated PSL from the comfort of your own home without even needing to leave the house - especially during a pandemic.
Have you ever tried a THC-infused pumpkin spice latte before? Do you have any other yummy cannabis recipes to share with us? Let us know in the comments section below.