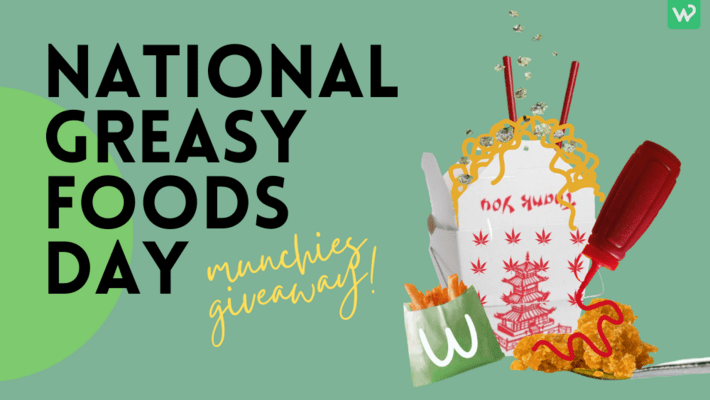 Got the Munchies? Enter Our National Greasy Foods Day Giveaway!
French fries. Chicken fingers. Cheeseburgers. Mozzarella sticks. Is your mouth watering yet? At Where's Weed, we're celebrating National Greasy Foods Day because marijuana and greasy foods go together like pepperoni on pizza. These days, we find ourselves celebrating greasy food more than just one day a year, but the official holiday takes place on October 25th, 2020. We're so excited that we decided to throw a contest for the holiday! Read more to find out how you can win $200 to spend on all the greasy food you want, plus a $100 Visa gift card.
What is National Greasy Foods Day?
While the origins of National Greasy Foods Day are lost in history, we don't need a reason to celebrate our favorite fast foods. Fast food in the United States dates back all the way to the early 1920s when the first White Castle opened in Wichita, Kansas. The chain helped popularize quick, inexpensive burgers that could be ordered from one's car. Eventually, chains such as McDonald's and Burger King opened, building on to the fast food craze in America. In 2020, it is estimated that the fast food industry in the United States will reach 293 billion dollars in revenue - a 100 billion dollar increase from where the industry was in 2010. Is it a coincidence that as more and more states legalize cannabis, fast food sales are rising? We're not sure, but we wouldn't be surprised if the two are at least somewhat related.
Cannabis & Fast Food
We're no stranger to the munchies here. One of our favorite activities is to spark up a joint and order some GrubHub. But why do we get so hungry when we smoke weed? A big part of why we get the munchies is because of how marijuana affects the endocannabinoid system. When we consume cannabis, THC, CBD, and other cannabinoids enter our system and cause different effects such as increased hunger and uplifted mood. While any food will help cure the munchies, fast food is often cheap and quick for when you need it right away.
National Greasy Foods Day Giveaway
And now to the fun part: This month, Where's Weed is looking for one lucky person to taste test which greasy foods make the best munchie foods. Enter below to win a $200 GrubHub gift card (or similar delivery service) to purchase a variety of delicious food options over a month period. Afterwards, the winner will also get a $100 Visa gift card if they fill out a survey letting us know what foods topped the list and snap a few pics of their orders! It's that easy.

Want to win? Click the button to enter today. Good luck!