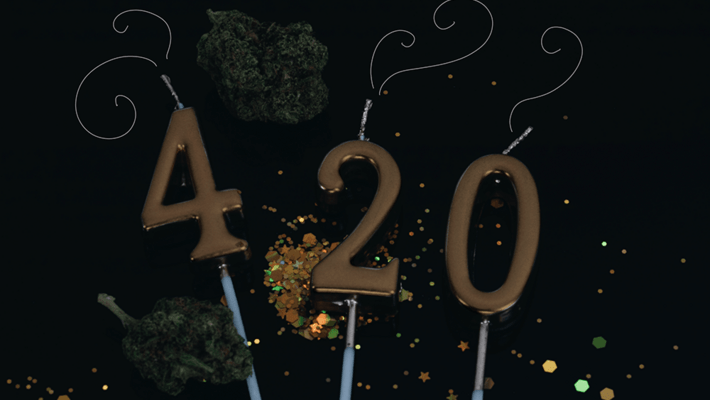 The Definitive 4/20 Guide for Stoners
If you're part of the cannabis community, there's a good chance you're already counting down the days to one of the best holidays of the year: 420! There are so many ways to celebrate that sometimes it's hard to decide how you want to spend this incredible day, which is why we've created this definitive guide to 420! Read on to learn about the origin of 420, ways you can celebrate, what strains are the most popular to smoke and some of our favorite 420 activities.
The History of 420

420 is celebrated by cannabis enthusiasts throughout the United States every year, but not many people know the holiday's real origin story. What is 420? What does 420 mean? Where did 420 come from and why do we celebrate it? Well, it all started in California with five teens - who called themselves the "Waldos" - looking for a small, abandoned cannabis crop. These five teens, who all attended San Rafael High School in San Rafael, California, spent their fall semester of 1971 meeting up at the school's Louis Pasture statue at exactly 4:20 PM (after school and various sports practices) to search for the fabled stash. They would then proceed to smoke weed and search the nearby Point Reyes Forest and while they never did find the hidden weed, the 4:20 code time they'd created for conducting their search would prove much more valuable.
The Waldos serendipitously had very close connections to the Grateful Dead and spent a lot of free time hanging around backstage smoking weed with the band. Every time they passed a joint they would use their code phrase "4:20," which eventually was picked up by the Grateful Dead and their followers. It was only a matter of time before the phrase spread to become an international phenomenon. Fast forward almost half a century later and the world is still celebrating 420 as the ultimate cannabis holiday. If you look up "420 events near me" any given year, you're likely going to find at least a few cannabis-inspired gatherings and festivals.
420 festivals and more public celebrations have been made mainstream over the years thanks to several major 4/20 events that have continued to this day. Denver, Colorado is home to the Mile High 420 Festival that has raged at the state's capital Civic Center Park every year since the state legalized weed. It is the largest 420 event in the world. Upward of 50,000 people gather and smoke copious amounts of weed outside the capital at this free event. It shouldn't be a surprise that San Francisco holds the second-largest 420 event at the 4/20 Gathering on Hippie Hill at Golden Gate Park. This event has been around since the 1970s, although it has grown into something much more legitimate over the last few years. Other events include the National Cannabis Festival at RFK Stadium in Washington, D.C. (this one is a paid event with live music) and the High Times Cannabis Cup at the Cal Expo Fairgrounds in Sacramento.
The Best Ways to Host a 420 Event

Thanks to the Waldos and the Grateful Dead, we all now have a memorable day every year to get high and celebrate marijuana and cannabis culture: April 20th (also known as 4/20). Now that you know how the holiday and the true 420 meaning, the question is how will you celebrate it? If you're planning to host a 420 event, make sure to check off these big list items that will help you celebrate this perfect holiday the right way:
Stock Up Early & Look for Deals
Since 420 is an unofficial national holiday, it's best to stock up beforehand so you aren't the person running from one dispensary to another on the day of trying to find something to smoke. We recommend going to your local dispensary a few days or weeks ahead of time to make sure you get everything you want. Plus, a lot of shops will have 420 sales going throughout the weeks leading up to the holiday. Keep an eye out on social and your favorite dispensary websites for the best 420 deals!
Get a Variety of Cannabis Products
Whether you're celebrating by yourself or throwing a 420 event, the holiday calls for many types of weed. We suggest having a few edible options (i.e., brownies, gummies and mints), a tincture, some concentrates to dab and one or two strains for smoking. It's also good to get products with different effects and THC/CBD percentages. If you're going to experiment with cannabis, 420 is the day to do it. Find a dispensary nearby at Where's Weed!
Switch It Up With CBD Products From CBD Infusionz

While we all love smoking marijuana, it's good to have some CBD around on 4/20 when you want to take a THC break. Plus, full spectrum CBD products help build the entourage effect, which makes you feel the effects of THC better. Head over to our friends at CBD Infusionz or Terpy J's for some high-quality CBD and hemp products! We recommend the CBD fruit snacks or the CBN tinctures.
Roll Up Personal Joints
A very simple touch that will make your 420 party feel planned out and official is to provide pre-rolled joints for everyone. Not only do pre-rolled joints feel like a sort of cannabis party favor, but it's an excellent way to take safety precautions as we're slowly coming out of the pandemic.
Create a Theme
Every good party, even 420 parties, has a theme. For 420, it's easy enough to make it green or leaf-themed, but you can also base it on what you're doing during the event. Are you powering through a Star Wars marathon or playing a certain party game? Not only can themes be fun, but they also become increasingly amusing throughout the 420 celebrations.
Make Some Edibles With the LEVO II

There's nothing better than a little baking party, and making infused edibles is the perfect way to add cannabis to the mix. It's also easier than ever to make edibles with the LEVO II infusion device. With this handy tool, consumers can decarboxylate their cannabis and infuse oils all in one. If you're looking for a recipe to make, we've got you covered. Head to the Where's Weed cannabis recipes page and simply add your LEVO-infused oil to any of our tasty recipes!
Have Movies, Video Games and Board Games at the Ready
If you're throwing a 420 party, you're going to want some games and movies to choose from once people start smoking. Enjoying media from a new perspective is one of the best parts of getting high and sharing that with friends on 420 can be very rewarding. We'll cover our favorite movies, TV shows, video games and board games for 420 down below.
Stash Your Cannabis with Stashlogix

If you're on the move at all on 420, be sure to grab a smell-proof storage case from our friends at Stashlogix. We recommend the Silverton bag to keep your goods discrete and locked away. If you want to give your guests some party gifts, a reusable bamboo doob tube makes for the perfect stoner gift.
Going Virtual
While it's not always as fun as an in-person event, going virtual 420 can still be a lot of fun. First of all, you've only got to worry about what weed you want to smoke and even in a socially distanced world, there are still some great 420 deals to be found. Then it's just a matter of setting up that Zoom link and getting the right games going. Jackbox Party Packs are hysterical and easily streamed to all your friends no matter where they are, as is the murder mystery phenomenon Among Us. Or you can stream movies at the same time or simply share music across a call and chill out together. Get a little creative and you're sure to still have one high of a time.
Dress Up With Letter Shoppe

It wouldn't be 4/20 without some cannabis-inspired gear, right?! Letter Shoppe has some amazing designs that feature joints and cannabis galore. We love the "Pass Joints, Not Judgments" hoodie or their "Weed Queen" poster. They also sell mugs and other gifts to give your favorite 4/20 friends.
The Best 420 Strains
There are two strains you should always have handy on 420: your favorite strain and something new. So, to help you find something new (or perhaps even your new favorite strain), here are three strains we think you should give a shot on 420:
Yes, Strawberry Cough smells and tastes a lot like earthy strawberries. Strawberry Cough also packs a punch and is prone to leave its consumers coughing after a hit. This THC-heavy Sativa comes in at roughly 23% THC and is known for providing a clear-headed high for focus, creativity and problem-solving. This is an excellent strain to start 420 with if you're going for an all-day high. It'll keep you sharp and ready to enjoy anything you have planned!

This strain is perfect for smoking cannabis 420-style. It hits hard, will give you an incredible head high and tastes like lemon and lime with floral citrus notes. Chernobyl is a Hybrid strain with THC at over 30% (although the average is 26%) and it an ideal pairing if you're feeling stressed and anxious. It is known to provide a long-lasting, euphoric high that will put you in a dreamy headspace perfect for enjoying 420 festivities.

Another heavy-hitting Indica strain, Kosher Kush won the High Times Cannabis Cup for Best Indica in 2010 and 2011. It's known to come in at 29% THC, has a strong, earthly aroma and tastes pleasantly nutty and fruity. While not quite as intense as Chernobyl, this strain is known for providing a unique body high that could be the perfect way to round out 420.
The Best 420 Movies & TV Shows
If you're wanting a chill celebration or a great way to finish the day, smoke some weed and sink into one of these incredible movies and TV shows:
This science-fiction blockbuster stretches the imagination and makes us rethink what the future of mankind might be. Watch Matthew McConaughey travel across the galaxy to discover a safe home for humanity amongst treacherous alien planets and follow him through the depths of a massive black hole to discover secretes of relativity with his robot friend. This movie's description is the only justification you need to watch it on 420.

An instant classic and pillar of cannabis culture film, The Big Lebowski is a great 420 movie for anyone looking for a laugh. Jeff "The Dude" Lebowski is a man of few needs whose life gets turned upside down when men come into his home, rough him up and pee on his favorite carpet because they think he's a different Jeff Lebowski. Upset about his ruined carpet, The Dude is hired by the intended target to help clean up the situation and get his kidnapped wife back. The Dude's journey, with the help of his off-center friends, is a rancorous ride that's best experienced completely stoned.
Come for the laughs and stay for the characters. This animated Adult Swim series follows the antics of Rick, the smartest man in the Universe and his very average grandson Morty. The two travel through portals to other planets and dimensions getting into all sorts of odd trouble on mind-boggling alien worlds. It's one of those shows that make you increasingly sure it was written to be watched while high.
One of the most popular shows of the last two decades, you probably know a few things about The Office. Even if you never watched an episode, nearly every other meme originates from the Office. Oddball characters that work boring, repetitive jobs for a paper company are watched by a camera crew in their tiny little office. Dry, uncomfortable, situational humor is the go-to for this insanely quotable show. The ridiculousness of the characters and their conversations make the show even funnier when you watch high - this is a 420 must-watch.
The Best 420 Video Games
420 presents the perfect opportunity to get your best friends together for a super high gaming session - playing video games and getting stoned might be one of our favorite pass time, let alone one of the most enjoyable 420 activities. Here are some of our favorites:

The Mario Kart series is probably one of the most 420 friendly video games ever made and the most recent entry is packed with content from all of its predecessors. It's colorful, spastic, cartoonish, funny and best played with friends in a party setting. There might be nothing more "420" than getting high with your best friends and having an old-fashioned Mario Kart tournament. If you haven't given it a shot, we highly recommend making this a priority for your next 420 day.
This video game is for those of you wanting to enjoy your 420 solo. Elder Scrolls V: Skyrim is one of the most immersive and expansive games of all time - it gives itself to an all-day binge where you get high and lose yourself in a massive fictional world for countless hours. The mechanics are straightforward, the stories are fun but not overly complicated and the fantasy becomes all-too-enjoyable when experiencing it with a 420-level head high.
Minecraft has long been lauded as one of the best video games to play stoned and is equally fun to play alone or with a large group of friends. This game is all about exploration, harvesting natural resources to make massive building-block-style creations out of. The maps are endless and randomly generated, full of color and dark unnerving places and easy to lose yourself in. Unlike Skyrim, you can build your world with up to 30 friends on the same map. Complete with a killer lo-fi soundtrack and mind-bending cyclical gameplay, Minecraft easily stands out as one of the best games for celebrating 420.
The Best 420 Board Games

Video games are great, but sometimes there's nothing better than getting high and playing an old-fashioned board game. Here are some of our favorites:
One of the more popular games on the market for the last decade, it's also one of the best games to play high and should be considered for anyone's 420 celebrations. It's simple. Build cities, collect resources, build more cities and roads to collect Victory Points and win. Needless to say, there's something endlessly entertaining about trading sheep for wood when high. Up to 4 people (or 6 with the expansions) can play this trade and building game, making it ideal for smaller parties. Not sold? Just give it one try and you'll be hooked.
Kick open the door and see what you face. Munchkin is a meta fantasy game that spends most of its time making fun of itself and the genre. Build up a character by defeating satirical monsters and collect stupid-named loot that will have you rolling on the floor. This game is amusing sober and unforgivably funny stoned. It's even more fun when you play one of their spin-off editions. Try playing Munchkin: Disney, Munchkin Zombies, Munchkin Pathfinder, or even Munchkin: Rick and Morty.
The ultimate family board game also happens to be the ultimate 420 friendly board game. Spending countless hours rolling die, collecting money and screwing over your friends by owning half the board is something we've probably all experienced more than once, but playing it high is completely different. The monotony and outlandishness of this iconic game is something best experienced stoned. Of course, if you want the most from a 420 Monopoly experience, you should probably try to find a Star Wars or Pokemon Monopoly board. Because why not? It's 420!
Catch a Virtual 420 Event!
While most in-person events are canceled or held with limited capacity due to COVID-19, we're turning to the worldwide web to find some virtual events to celebrate with.
The Emerge Virtual Cannabis Conference is one of the most immersive cannabis events in the world. While the "live" event ran from 3/30-4/1, visitors on 4/20 can still access all of the speakers and discussions that took place. This amazing virtual event space will also have some fun things planned for 4/20 that you won't want to miss! Get tickets for just $39.
As a part of Chicago Cannabis Week, the Illinois Cannabis Guide Awards are set to crown only the best of the best in this booming market. Awards are given to dispensaries, cultivators, and more in this exciting event. Tickets are just $25!
If you're looking to have some fun while giving back to the community, 420 for a Cause. This free event (donations welcomed) offers a variety of live musicians and helps support restaurant workers and other community organizations. Don't miss out!
This free event put on by Cannected Marketing promises to be a blast. With DJs, guest speakers and giveaways, you won't want to miss this!
Enter The Ultimate 420 Giveaway
The best cannabis holiday of the year calls for something big - so we've decided to create our biggest giveaway yet! The Ultimate 4/20 Giveaway! Where's Weed is celebrating 420 by giving a few lucky winners some incredible cannabis-inspired prizes. We've partnered with our friends at Stashlogix, CBD Infusionz, LEVO, Terpy J's and Letter Shoppe to bring you some of the best products in the industry (that can legally be shipped to all 50 states)! Click here to find out how you can enter to win!
Like any holiday, we all have our special ways of celebrating 420. Let us know how you celebrate 420, what your favorite strains are and if there is anything you think is missing from our definitive guide! Comment below and have a very happy 420!