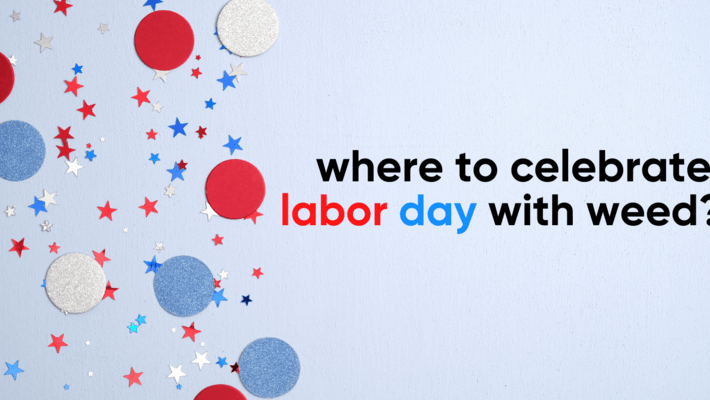 Where to Celebrate Labor Day with Weed
Why do we celebrate Labor Day? It's a simple question with a complex answer. If you are lucky enough to work at your dream job, you only need to watch a movie like "Office Space" to see how 99% of the working world is frustrated by their employment. Work is hard, not always rewarding and rarely fulfilling, but it's been a foundation of human society for hundreds of years-. Within the past two centuries, however, the work-life balance of mankind has shifted with restrictions on working hours, working conditions and compensation. Unlike the factories of the Industrial Revolution, where workers spent 12 hours around dangerous machines and didn't get bathroom breaks, our modern workplaces now have to give weekends off, overtime pay and are not allowed to employ children. However, this shift towards workers rights didn't come easily or quickly, and the struggles of our great-grandparents who joined Unions in the 1800s and 1900s are the true Labor Day meaning, to be recognized and honored.
Work & Play
When is Labor Day? The first Monday of September: Labor Day 2021 will fall on September 6th. Is Labor Day a federal holiday? Yes, all federal employees are given the day off, while businesses must pay employees bonus pay if they require work on that day. Today, it is a celebration often associated with family cookouts and long weekend getaways. If you are thinking about how to spend it on a cannabis vacation and have a particularly happy Labor Day, there are several great spots to choose from.
Washington, D.C.

Our nation's capital is an excellent spot for people who enjoy history and the stories of our American culture. It's also an excellent place to get some bud since the city legalized it several years ago. DC's weed market is hard to navigate since you can't just walk into a dispensary unless you're a medical patient, so be sure to learn before you buy.
One of the major attractions to Washington D.C. is the long list of free museums. From the Air and Space Museum, containing the Spirit of St. Louis plane that first crossed the Atlantic, to the National History Museum's rich collection of dinosaur fossils, every museum is open on Labor Day weekend. Better still, they are all free of charge. If you prefer a more active vacation, whitewater rafting on the Potomac River will be sure to get your heart rate up to pace.
Portland, OR
Known as one of the weirdest cities in the United States, Portland may seem a more unorthodox choice, but it has both mainstream and off-the-beaten-path attractions. It has a bustling pot scene, with dozens of dispensaries around the city to choose from. Smoke some good reefer and take a walk through the Japanese Garden or rhododendron gardens, where the beautiful flora of the Pacific Northwest are on full display. The Portland Art Museum is one of the best in the country, featuring both local and international work.
Denver, CO

The gateway to the Rockies has all the attractions of a big city: a baseball team, an opera, and a good public transit system (the light rail), but its cannabis culture is perhaps second to none in the entire United States. Many dispensaries took root here first after the state was a legalization pioneer, and you can't walk down a city block without seeing a billboard for one dispensary offering its bud. Once you've got some good cannabis, the big attraction isn't the city itself, but going into the mountains to hike, bike, or simply wander around in the beautiful state and national parks.
San Francisco, CA
The Golden Gate symbolizes the state of California itself, and the junction of many peoples from all over the world who come to our most populous state in search of new opportunities. Including the opportunity to make it big in their booming cannabis industry. A Labor Day weekend in San Fran is hard to beat: while the price tag for most activities, meals and hotels is higher than other cities, there's so much you can't find elsewhere. Not only does it boast world-class museums like the Museum of Science and Industry, but a quick car ride away is Napa Valley and award-winning wines.
Ann Arbor, MI

The quintessential sleepy college town, Ann Arbor is best known as the home of the University of Michigan but is also the home of indie craft brewing and craft cannabis that is better than many mainstream strains. Labor Day weekend gives you the chance to take in a college football game at the famous Michigan Stadium, the largest college football stadium in the country, and one of the largest overall in the entire world with over 100,000 seats.
Boston, MA
Massachusetts has been a forerunner of cannabis cultivation and legalization for decades, offering some of the most liberal laws in the nation and lots of choices to pick from. On top of that, the city has fantastic history on just about every corner, including the Freedom Trail walking area of the wharfside, with details on how the city played a key role in the American Revolution. Boston seafood is some of the best in the country, furthermore, and you can't have a trip without a great bowl of chowder at restaurants like Atlantic Fish Co.
Do you have suggestions or recommendations for a great Labor Day weekend? Are there any cannabis-friendly destinations that people should know about? Let us know in the comments below!