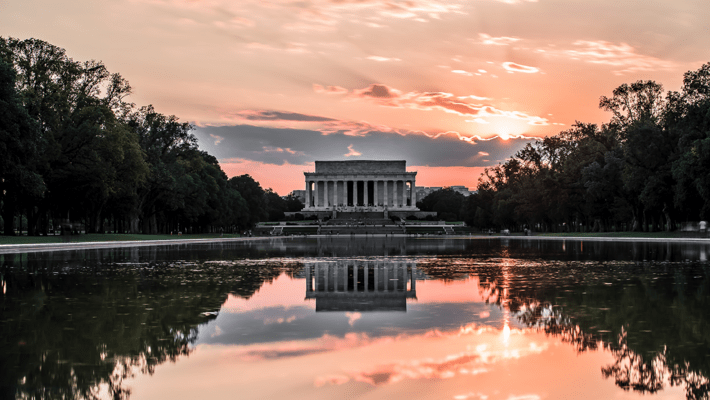 Will Washington D.C. Ever Legalize Recreational Cannabis Sales?
Washington, D.C.'s recreational cannabis scene is complicated, to say the least. It is legal to possess and use cannabis, but you will have a hard time buying marijuana in DC if you don't have a medical card because adult-use marijuana sales are prohibited. Additionally, it is illegal to transport marijuana across state borders, so there is no straightforward way to legally get marijuana as a recreational user in Washington, D.C. However, it is legal to gift cannabis, so delivery services have begun to operate in that gray area of cannabis-policy technicalities. Hopefully, soon when we're asked, "Is marijuana legal in DC," we can confidently answer "yes." Until then, let's take a look at where Washington, D.C. is at and whether we will soon see a recreational dispensary in DC.
Washington, D.C. Marijuana Laws

In 2010, Washington, D.C. legalized medical marijuana - patients are allowed to purchase four ounces over a month and can possess up to two grams at a time. Only five years later, in 2015, Initiative 71 (the Legalization of Possession of Minimal Amounts of Marijuana for Personal Use Act) was passed and put into effect. Now, it is legal to possess and use recreational marijuana, and adults 21 years or older can cultivate up to six plants in a single household. Since the passage of Initiative 71, possession arrests have dropped to nearly single digits annually but public usage arrests have more than tripled.
While Initiative 71 legalized the possession of up to two ounces of adult-use marijuana by anyone 21 years or older, it did not allow recreational dispensaries to open. Therefore, even though it is legal to possess adult-use cannabis, there are no recreational marijuana stores in DC where you can legally "buy" weed. It is legal, however, for marijuana to be "gifted" when purchasing another item - so it is common to see popup shops where you can buy something like a T-shirt and be "gifted" marijuana on the side. This has left adult-use cannabis in Washington, D.C. a very muddled affair over the last six years. If you choose to get "gifted" weed while in DC, please be aware that fraud does occur. Not all shops or delivery services that offer this gray-space gifting are legitimate businesses. Make sure to do your homework and read reviews before you go the gifting route.
Why There Are No Recreational Dispensaries in DC

There have been several attempts over the last few years to change the current situation with marijuana in D.C., but thanks to something called the "Harris Rider," the District has not been able to allow the sale of recreational cannabis. Unfortunately, this is due to the fact that Washington, D.C. does not have control of its own budget - Congress currently oversees it. In 2014, right before Initiative 71 took effect, Republican congressman Andy Harris proposed a rider (extra legislation) to be added that prevents Washington, D.C. from using any money to create and regulate recreational marijuana. Republicans have held the majority in Congress for years, and so the Harris Rider continues to be passed - effectively blocking any legalization attempts by Washington, D.C.
The results of the November 2020 election have hopefully paved the way for this to change. First, four states legalized recreational cannabis and Mississippi legalized medical cannabis. Secondly, Democrats took control of Congress, which means Harris and his anti-cannabis agenda are not guaranteed to pass the Harris Rider in 2021. So, although Washington, D.C. is unable to execute adult-use marijuana regulation until the Harris Rider is voted out of the appropriations bill, there is nothing that keeps D.C. from building out the framework and proposing new legislation for when the time does come.
The Safe Cannabis Sales Act of 2021

The newest and most promising wave of complete legalization in Washington, D.C. began in February 2021 with May Muriel Bowser's introduction of the Safe Cannabis Sales Act of 2021. This Act would legalize the sale of adult-use cannabis and, perhaps even more importantly, provide social equity to communities that have been disproportionately harmed by the War on Drugs. Specifically, the Act would provide automatic expungement of records for non-violent cannabis convictions, reduce the barriers to getting a license to work in the cannabis industry, put tax revenue back into social equity programs, and place millions into start-up assistance. It would also promote micro-businesses and prioritize D.C. citizens for employment and benefits - these are all incredibly important to bringing equality and diversity to the cannabis industry.
Washington, D.C.'s City Council Chair, Phil Mendelson, also just introduced The Comprehensive Cannabis Legalization and Regulation Act of 2021, which has the same overarching goal as the Safe Cannabis Sales Act but slightly different regulations regarding taxes, tax revenue, and licensing. Between these two Acts and a Democrat-controlled Congress, we are very hopeful that Washington, D.C. will soon have a functioning, clearly navigable adult-use cannabis policy that allows the proper sale of recreational weed. Stay tuned to hopefully learn the answer to when will recreational dispensaries open in DC!
Do you live in or frequently visit Washington, D.C.? Let us know how you navigate the current adult-use cannabis scene in D.C. and what you think we should expect from upcoming legislation regarding legalization. Comment below!