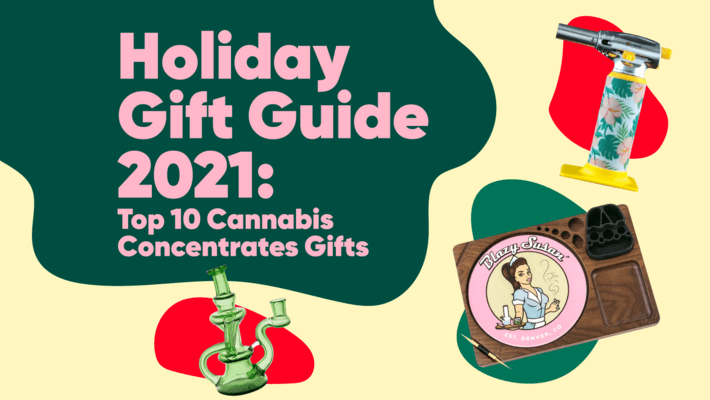 Holiday Gift Guide 2021: Top 10 Cannabis Concentrates Gifts
You shouldn't have to overthink the presents you give to friends and family, which means that for the stoner on your list, give them what they really want. If your friends are a big fan of concentrates or think that they could be if they have the right gear, then getting them the right equipment to enjoy dabs can turn a cannabis hobby on its head.
What's in a Name
Cannabis concentrates, as the name suggests, are a form of cannabis that have been distilled down to have much more punch in a much smaller package. Most concentrates are in the form of dabs, also known as wax or shatter, which themselves can be smoked on a dab rig. A dab rig looks like a bong, and indeed performs similarly to a bong by cooling down the air before you smoke it, but has some key differences. For starters, you need higher-end equipment than the average bong, because you have to heat a dab up much higher, and have to use equipment that can maintain the temperature. Additionally, quality dabs need to be cleaned more frequently than bongs (which, let's be honest, are barely cleaned in the first place) so that they don't become gunked up. Here are some of the best rigs, tools, cleaners, and caps you need to enjoy good cannabis concentrate.
Top 10 Cannabis Concentrates Gifts for 2021

$30
Some of the best shatter on the market, Raw Garden Diamonds are flowers that have been cryogenically flash-frozen (just like Austin Powers) to make certain that the crystalline and terpene chemistry is not changed. These diamonds do indeed look like their real-life counterparts, featuring a beautiful white-gold hue that turns into a lovely shade of smoke once they are ignited.

$80
Not all gifts have to be high-tech or cutting-edge. The Blazy Susan tray is simple but beautiful, carved out of solid walnut, capable of keeping all your equipment and dabs in good order while you set up your rig. Featuring a golden dab tool and a silicone dab pad that can take all the heat of the concentrate itself, this is an intricate gift for those who think they have everything.

$45
If the Vessel Compass looks like a nifty camping device, there's a reason for it. The clean black aesthetic is meant to be useful but low-key, featuring a high-capacity battery capable of holding a long charge needed to get your dab rig up to top speed. Featuring a cartridge swivel for mouthparts, the Compass is everything you need to make certain that temperature hits the right benchmark.

$130
The popularity of e-nails has expanded significantly as electronic devices allow for greater consistency and delivery of heat than standard torches. The Kromedrome e-nail is one of the top products on the market for dab rigs, a four-in-one device that serves as cartridge battery, rig device, portable e-nail, and nectar collector. The Kromedrome delivers cleaner, faster, and more intense effects than its counterparts, making it perfect for those who are just starting out.

$29
It's not just a torch (although it's a very good torch); the Errlybird is a true work of art, one that provides support for small-time artists looking to break into a new industry. The Errlybird comes with a variety of print options, like canine chic, forest supply, and The Great Wave.

$35
Nothing fancy or complicated, just everything you need to make sure your dab rig stays clean and shiny.

$300
Don't get sticker shock at the price tag of the Dr. Dabber, because it's worth every penny. An induction heater for both flowers and oils, the good doctor provides 150 uses off of a single charge. Usable as both a portable vaporizer and a desktop rig, the Switch is versatile as well as powerful.

$250-$4000
If price isn't an issue, and you want to make certain a friend is smoking from a work of art, there's no substitute for Heady Glass. These caps, bases, and glass fixtures come in styles ranging from giraffes to fortune cookies, intricately blown in beautiful, vivid patterns, making sure that everyone who walks in will take notice.

$30
A carb cap is a simple device that helps you to regulate temperature more efficiently. A custom-designed carb cap allows you to make your rig into a work of art, with Etsy's designers providing direct-to-customer solutions without a big corporate middleman.

$24
The HoneyStick tools are for a high-end concentrate connoisseur, allowing you to more carefully and intricately manage a dab of wax or fish out a strangler. Capable of being cleaned in rubbing alcohol or a dishwasher as you need, the Dab Tool Kit is perfect for the stoner on your list who uses a cheap chopstick every time they need to pry something out of their rig.
Do you enjoy concentrates? What are some of your favorite products, brands, or techniques? Let us know in the comments below!