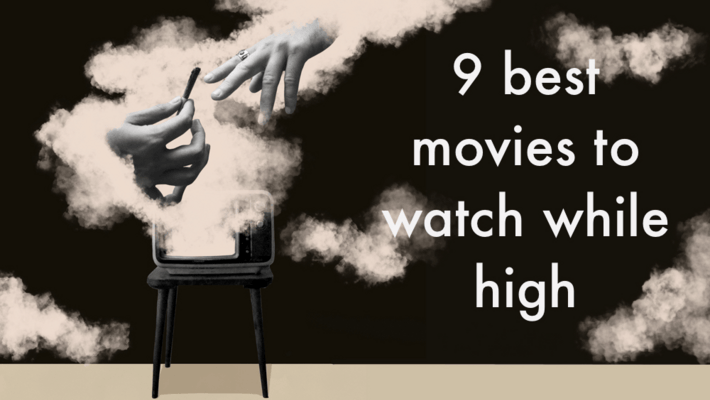 Top 9 Movies to Watch While High in 2021
Let's face it, winter is a time to slow down and enjoy a few more cozy nights in than normal. We also can't forget that there is a pandemic still lurking around us for at least a few more months, so we decided to make a list of the best movies to watch high. Instead of spending too much time sifting through all of the streaming platforms, keep reading for the best below.
Netflix Movies to Watch When High

Best Cannabis Pairing: For viewing one of the best gangster movies ever made, pair it with Kali Mist, arguably the "Queen of Sativas", for a clear-headed, lightheaded focus to keep you in touch with the movie.
If you haven't seen this classic by Martin Scorsese, there is no better time than now to do so. Featuring the likes of Robert De Niro and Joe Pesci, this 90s film follows a young man navigating his way through the mob life in New York City. This movie is packed with action, following the luxury, money and drugs that are often associated with the mob scene.
Best Cannabis Pairing: You don't want to be too in your head for this one, so relax with an indica like Blueberry to provide relaxing effects and a pleasant euphoria.
Arguably one of the most trippy movies, this film looks at a dystopian future where violence is front and center for some young men. It follows a youth gang and it's central character, Alex, through his trials and tribulations. This film was extremely controversial upon release, but has now gained a cult following.
Best Cannabis Pairing: Light up with Cherry Pie, a hybrid that delivers effects within minutes, as this thriller delivers the drama just as quickly.
See Jake Gyllenhaal as a con man who gets engulfed in the world of L.A. crime journalism. As he turns nocturnal searching the city for the most gruesome and terrible crimes, he finds himself blurring the lines between reality and fantasy.
Hulu Movies to Watch When High

Best Cannabis Pairing: You won't need to do much thinking here, so sit back and relax with an indica such as L.A. Confidential to slip into a couch-lock bliss.
If you're a millennial, this was among the best comedy movies that we all grew up with and still love to this day. See the beginning of a very successful career for Seth Rogen as two high school seniors attend a party, with every possible thing going wrong along the way. This coming-of-age tale will have you laughing from start to finish, and you'll see the likes of Michael Cera, Bill Hader and Emma Stone on screen.
Parasite (Comedy/Drama/Thriller)
Best Cannabis Pairing: Switch things up with a sativa strain high in CBD, like Harlequin. You'll feel clear-headed with the ability to relax and focus on this wild ride of a movie, without the intoxicating side effects.
This 2020 Oscar award winner for Best Picture will absolutely not disappoint. Follow a destitute Korean family as they infiltrate the lives of the ultra-wealthy in this film that is all about greed and discrimination. You're in for some laughter with an ending that no one saw coming.
Deadpool (Action/Adventure/Drama)
Best Cannabis Pairing: Settle into this one with the help of Clementine, a sativa strain, to deliver an energetic mood and a sweet taste to go with it.
If you're wild over the Marvel universe of "comic book movies", this one is a little different than the stereotype. You'll witness Ryan Gosling as a vulgar, hilarious and disfigured mercenary who hunts down the man who practically destroyed his life.
HBO Movies to Watch When High

Best Cannabis Pairing: Smoke a hybrid, like Gelato, and feel some physical relaxation with a cerebral buzz. Warning, this strain is not for the novice smoker.
Starring Elisabeth Moss, this movie follows a woman who believes she is being stalked by her abusive and wealthy boyfriend, even after his apparent suicide. Eventually concluding that he is invisible, Moss delivers a strong performance that shows the manipulation that occurs in some relationships.
Cats (Comedy/Drama/Musical)
Best Cannabis Pairing: Roll a joint with the indica Bubba Kush. Perfect for drifting away into a euphoric, laid back mood as you watch one of the worst movies of all time.
Hear us out on this one. This musical, based on the Tony-award winning musical of the same name, follows a tribe of cats who decide they will descend to the Heavenly Layer and come back to a new life. An absolute box office bomb whose ensemble cast included James Corden, Jason Derulo and Taylor Swift, just to name a few. Sit back and watch one of the best stoner movies while you laugh the whole time at just how bad it is.
Best Cannabis Pairing: Sit back with an indica like Papaya, known for its mental calmness and perhaps some productivity to allow you to really sink into this thriller.
Based on the famous Ray Bradbury novel, Michael B. Jordan leads as a fireman who must burn all books which were banned in this dystopian society. After he starts reading in secret, he learns of an underground rebellion to protect literature.
What's your favorite movie to watch while high? Have you seen any of these listed above? Let us know your thoughts below!